How Filecamp can support remote work
Like many businesses that have been trying to lend a hand during this time of crisis, we too want to do our part. As a product that enables remote work, we know we're in a position to help.
---
The times have become challenging, no doubt about that. Many industries must go the extra mile to deliver promises or just to break even. Lifestyles have had to change completely overnight, so it goes without saying that not many people were prepared for these sudden changes.
One of the biggest changes has been to introduce remote work on a mass scale.
---
---
We know that this can be incredibly troublesome, which is why we decided to help businesses by offering a free trial of Filecamp for six months. We believe that this can help businesses dealing with the transition to remote working by giving you control over digital assets, wherever you work from. That's not all though. We're also going to explain how you can use Filecamp to make the most of remote working so that you can both weather the storm now and work more effectively after the dust settles.
Scroll down to learn more.
---
Remote work now vs in the past
Twenty years ago, the term "remote working" was practically non-existent. Working away from the office required far more effort: you needed an equivalent PC station at home, and getting access to files meant hours of downloading or, if there was no internet connection, transferring them from CDs or even floppy disks. Mobile phones and laptops have only started replacing these older technologies relatively recently, and the same goes for the Internet paving its way into homes. Also, the management style of a regular company in the recent past was more about micromanagement and control.
Ten years ago, something started to change. Letting employees work remotely started to be perceived as a privilege, and the decision of a highly modern employer. As more companies started to introduce this model in their management, they observed the benefits for both employees and employers.
With the development of technology and change at the forefront of people's minds, remote working is now regarded as something completely natural. Yet still, not all businesses are prepared for such a solution. Whether as a result of some data safety reasons, outdated systems or otherwise, many companies have objected to introducing remote working into their daily routines.
As such, with the current coronavirus outbreak, these businesses are now facing a struggle. Several governments around the world have introduced curfews and laws to restrict the necessity of leaving homes, as a remedy to the virus spreading. Going on with your business in these times of the coronavirus outbreak means opting for remote work.
While this works as a solution for a temporary problem, it also serves as a wake-up call. Was your business prepared for such a change?
---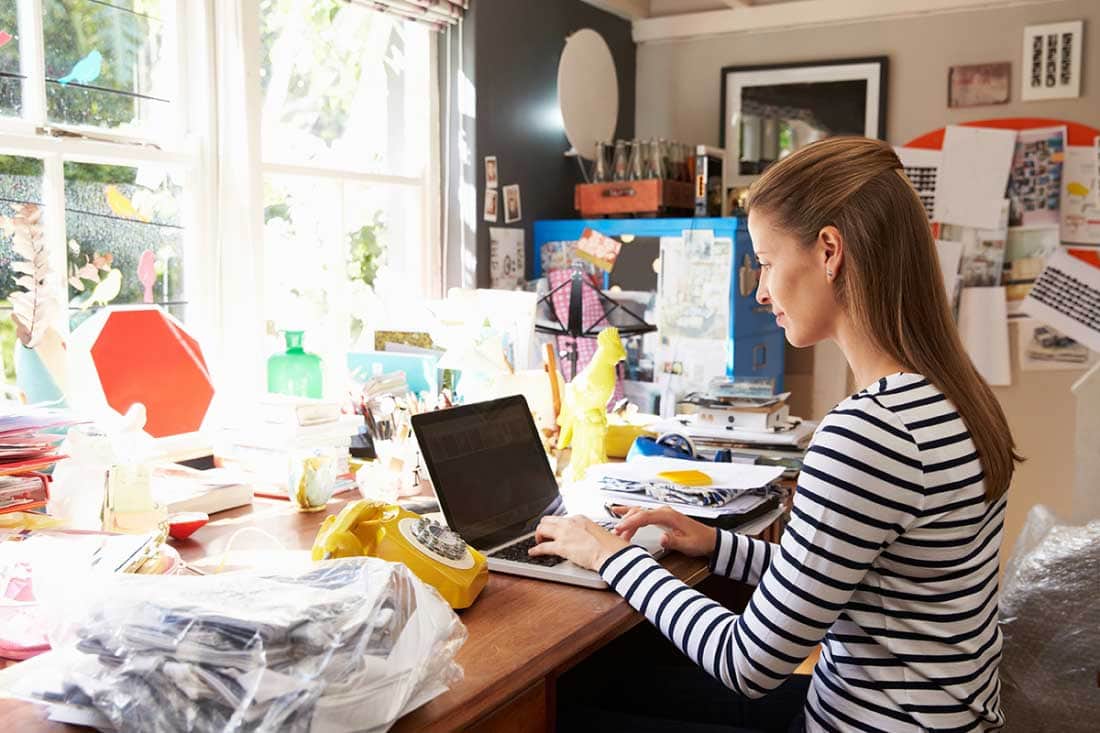 Why remote work is the future
For a lot of companies, the coronavirus outbreak meant "just" introducing remote working on a broader scale than ever before: they had already made that way of working possible to their employees. This situation may prove that remote working is the future for many businesses, as it uncovers countless new possibilities. Let's take a look at what it can bring.
---
For employees
Employees can be more productive, especially if they are able to adjust working hours to fit with their own rhythm. It also allows them to work from any place that has a stable Internet connection, so they don't have to waste time on commuting either.
For employers
What's in it for employers? They can reduce expenses since a remotely working team means no need to rent an office. They can also gain access to talents worldwide: no matter if the perfect person candidate lives in another city or country, they can still cooperate.
For the environment
Choosing to work remotely may be dictated by your values. In this way, you will use fewer resources on a daily basis: no commuting, one workplace, and less space being used. If you care about these values then you will be happy to know that Filecamp uses Google data centres, which have been 100% carbon-neutral since 2007.
---

---
How Filecamp can help remote work
Almost every cooperation requires collaborating and exchanging files, and Filecamp is here to help with that.

File sharing made simple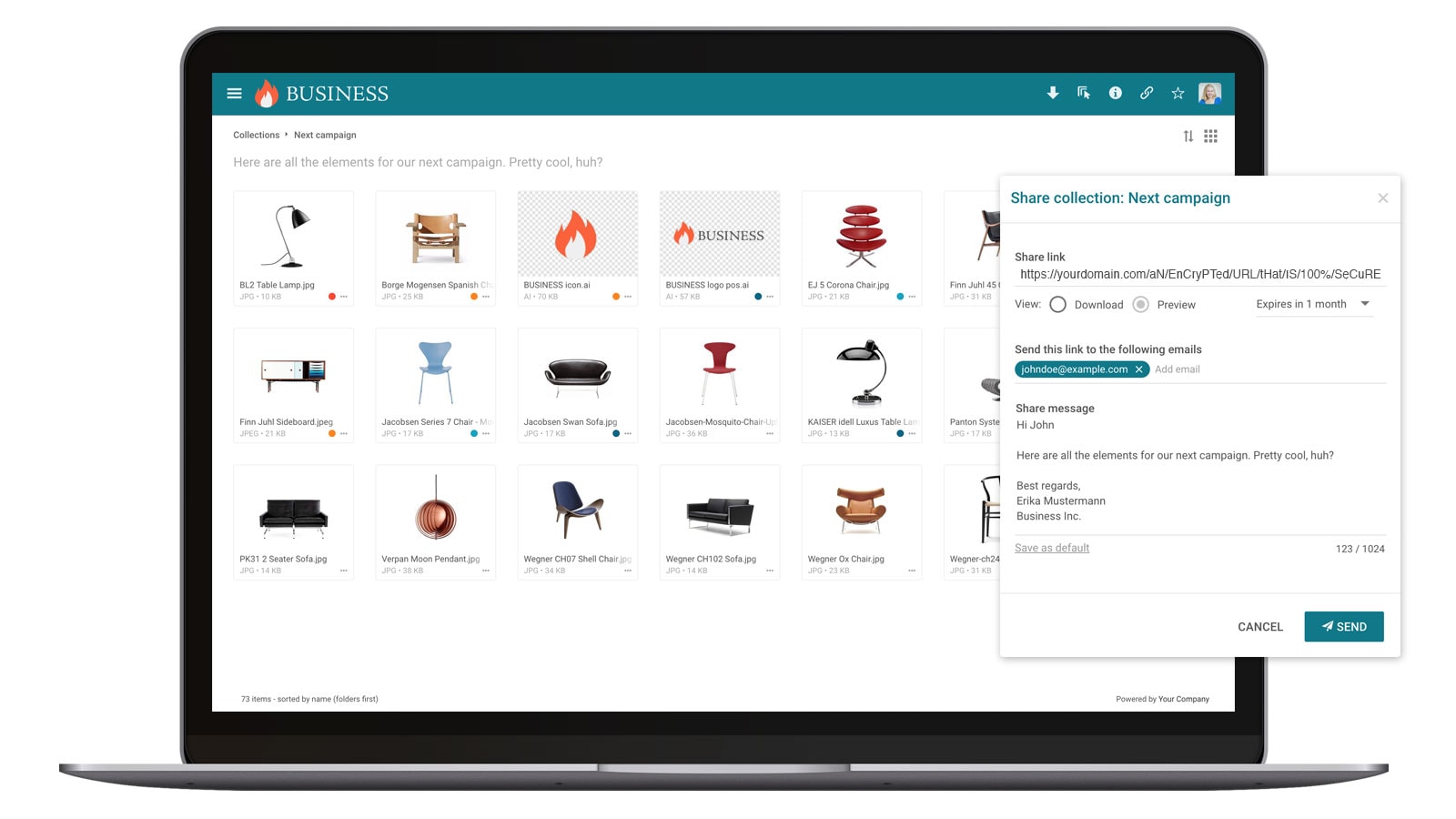 When it comes to file sharing, being organised is the key. Filecamp helps you set up such a system so that it suits your needs, ensures that everyone is on the same page and gives them access to the right files whenever they need them. You can set up folders for given projects or organise them with tags. When setting up a workspace, talk with your teams about their needs and ways of working. After all, you want to make the uploading and cooperating process easier for them too.
No matter how you organise yourself, the files will be there in the cloud, independent of location and time.

Remote proofing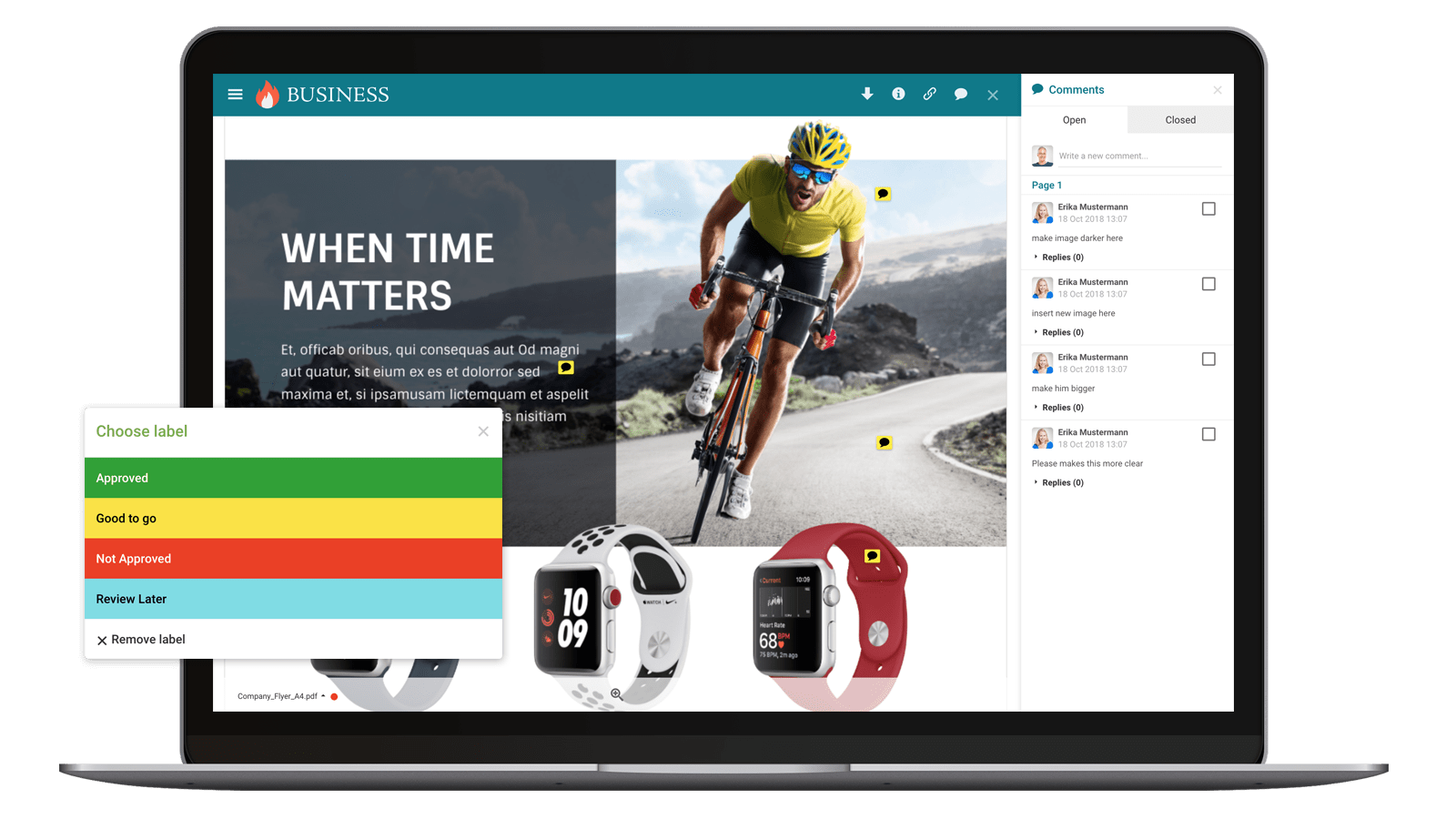 This feature is useful not only when your team is working remotely, but whenever you cooperate with a client. Remote proofing allows you to share an artwork file to a client, and to receive approval or comments directly on the file. Imagine no more email exchanges being necessary to get feedback and to finally approve a project. This makes the process easier for both sides, so your clients will appreciate the change too.

Accessible media library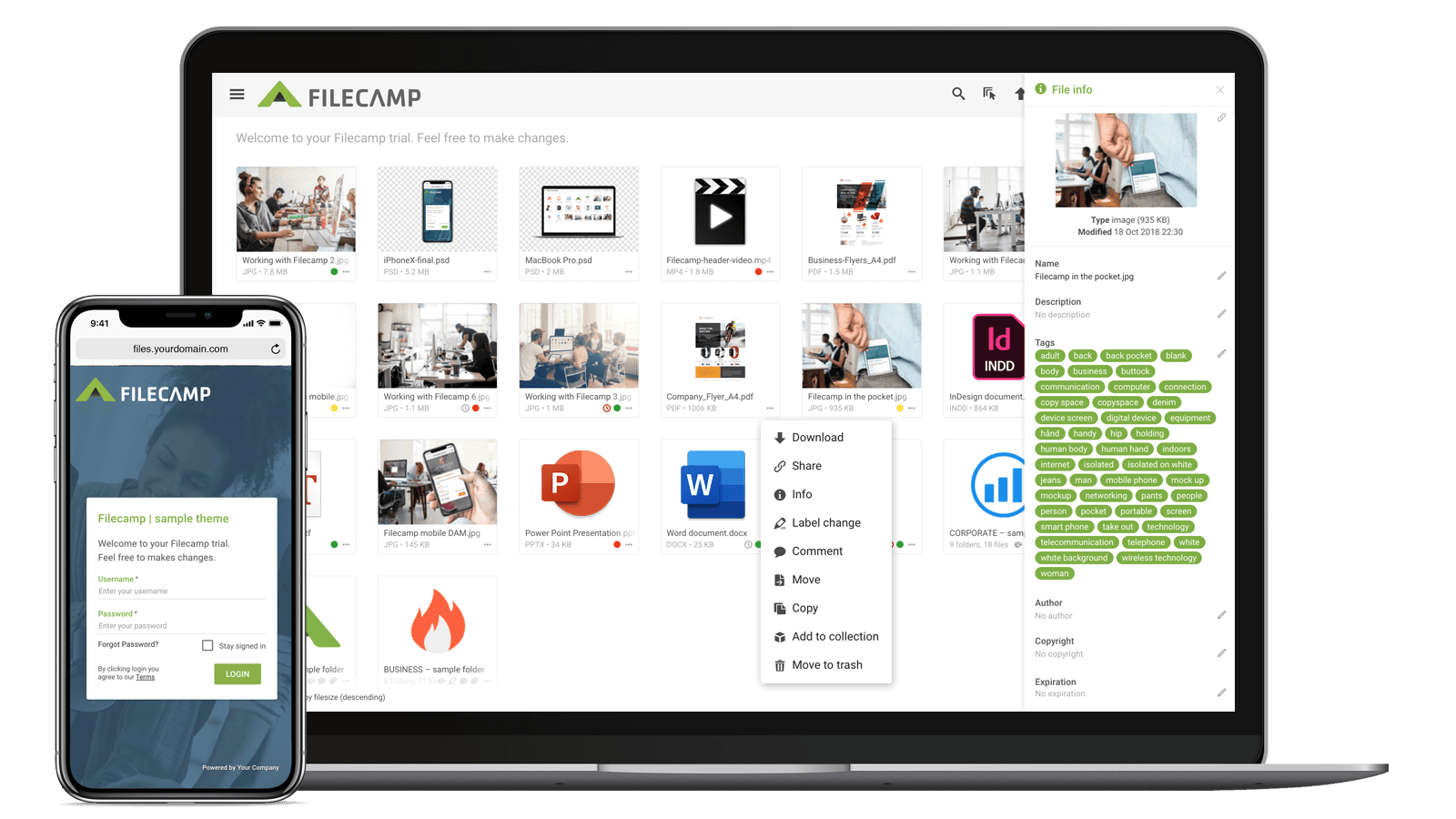 Create your own base of all logo files, company stock photos, articles and other relevant material available for every employee. Save everyone time by having the most important materials available at their fingertips.

Brand guidelines in one place
Consistent communication is crucial. Make sure that your brand guidelines are available for every stakeholder. Whenever they need a colour code, typograph or a company logo of a given file type, they will know exactly where to find it. Also, as soon as you change anything in the guidelines, you can just upload the new version. This diminishes the possibility of accidentally using an old logo or colours.

Safety first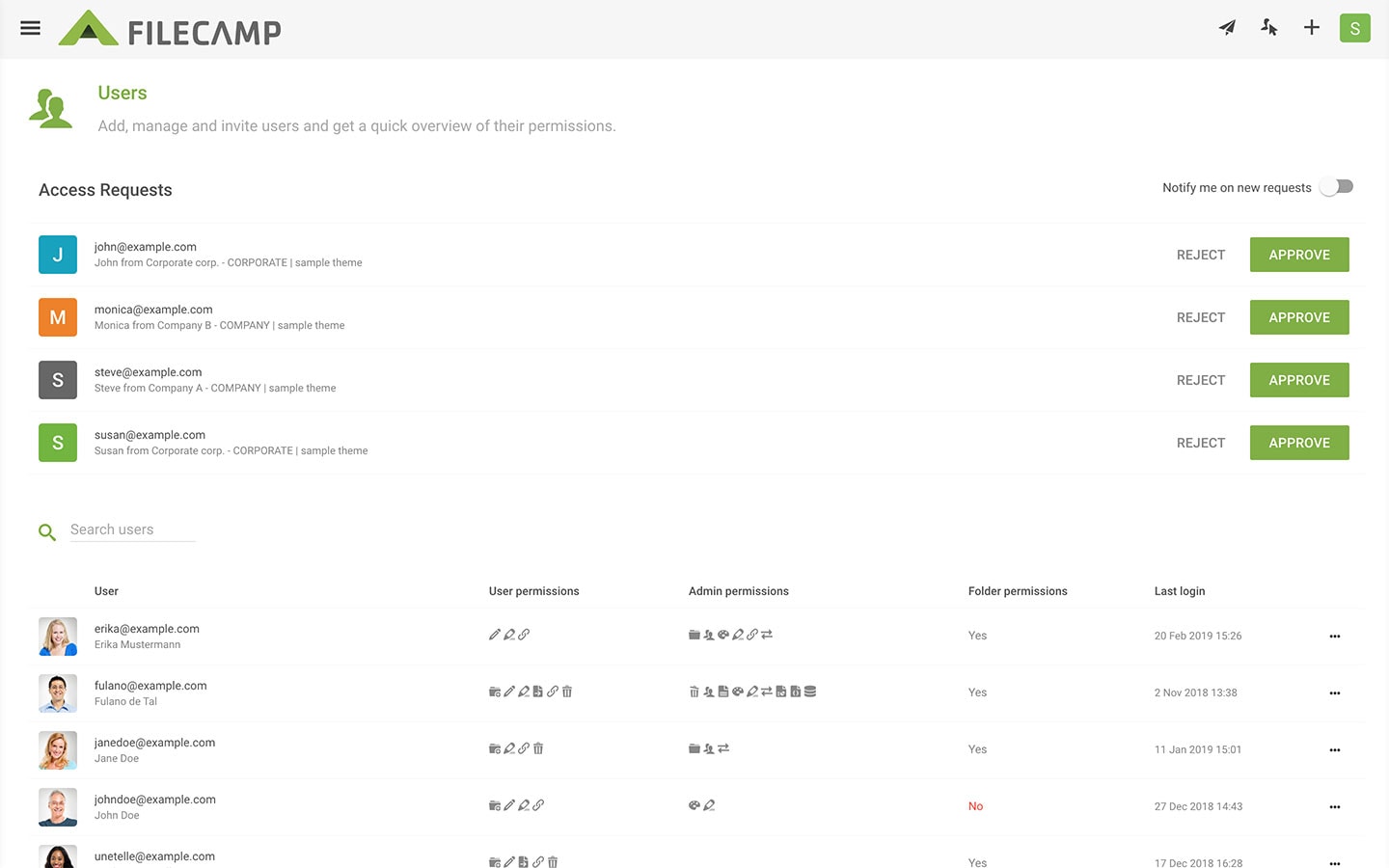 You should care about the safety of your files just as much as you care these days about washing your hands (and if you don't, you'd better start now).
Filecamp is built on rock-solid HTTPS technology, so you can rest assured that your digital assets are stored securely. The same technology is used by banks and high-level eCommerce websites. Files are stored in data centers of the Google Cloud Platform, which makes them secure both via the Internet and physically, under 24/7 surveillance.
Another facet of security is total control over who has access to your files. Thanks to granular access control, you can also know who is able to view, download or delete certain files. The same procedure applies to folders. Also, files can be viewed by external users (like your clients) using a specific link. These characteristics help you to ensure that no one has undesired access to your files.
Also, you don't have to worry if you accidentally delete any files. Even if you have cleared the trash, you can still restore them within 30 days.
Filecamp helps you to establish the same level of security as if your employees worked in the office.
---
To wrap-up
To deal with new challenges you often need new tools, and Filecamp is definitely a great option to consider. It can help you now when your team is working remotely, as well as when things return to normal later. As soon as this tragic period comes to an end, you might consider switching to remote working for good. And if not, Filecamp will still be there when you work from the office, making it easier for you to organise files and cooperate with clients.
Give Filecamp six months to prove its value and help you weather the storm.
---
All accounts start with a 30-day free Filecamp Pro trial.
To continue after the 30 days just send an email to support@filecamp.com, with the subject line "COVID-19".
Then we'll secure and upgrade your trial to a Pro plan (10GB) free of charge for 6 months
(where everything hopefully are back to normal again🙏)
Start my free trial
No credit card required!