Simplify the process of storing, managing, finding and sharing your media assets by centralizing them in your own custom branded and secured media library.
---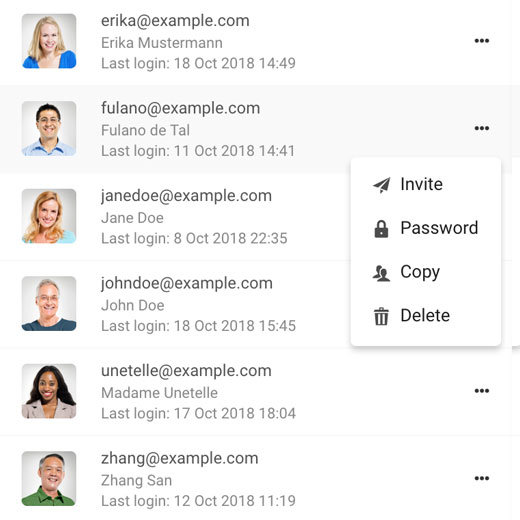 Easy to manage
Filecamp is a secure Media Library solution, that comes with unlimited users, advanced granular sharing permissions, file previews and mobile ready user interface.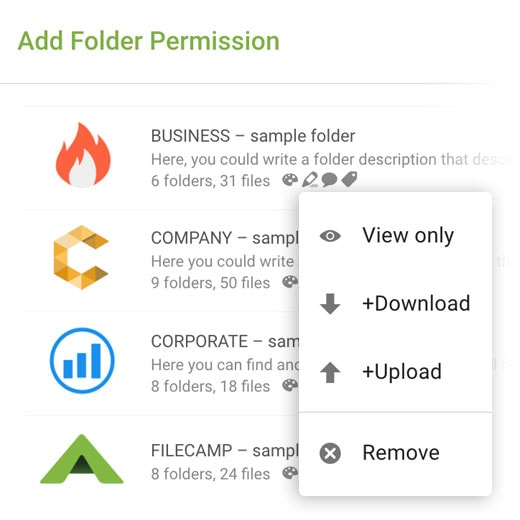 Custom Folder Permissions
Filecamp's permissions and folder access settings give you flexible and intricate ways to control file and folder access. Some administrators need sophisticated permissions where others just want simple yet adaptable access rules. Filecamp gives you both, and more.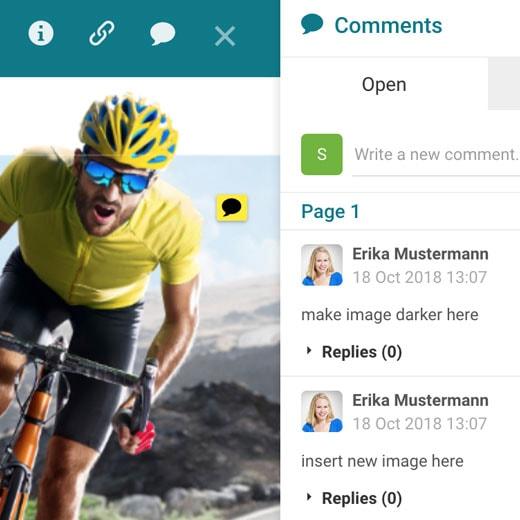 Online commenting
Filecamp's online commenting and annotation tools make it easy to get feedback on creative projects. With a simple and beautiful interface, your clients, partners, and team can access files for commenting, editing, and review.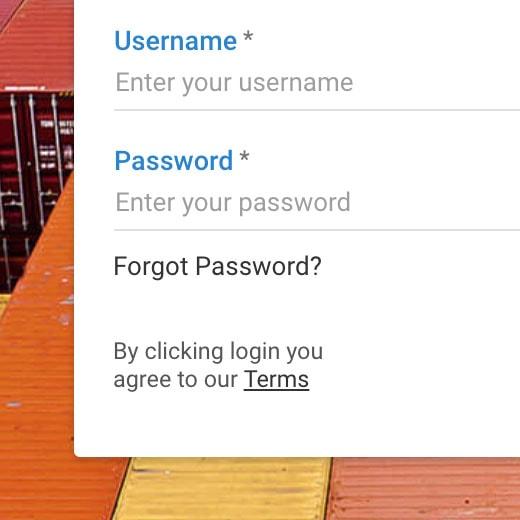 Download agreements
Make specific folders public and link to them from your website. Add permission controls to other folders, or prompt your users to login and agree to a customized license agreement before downloading files.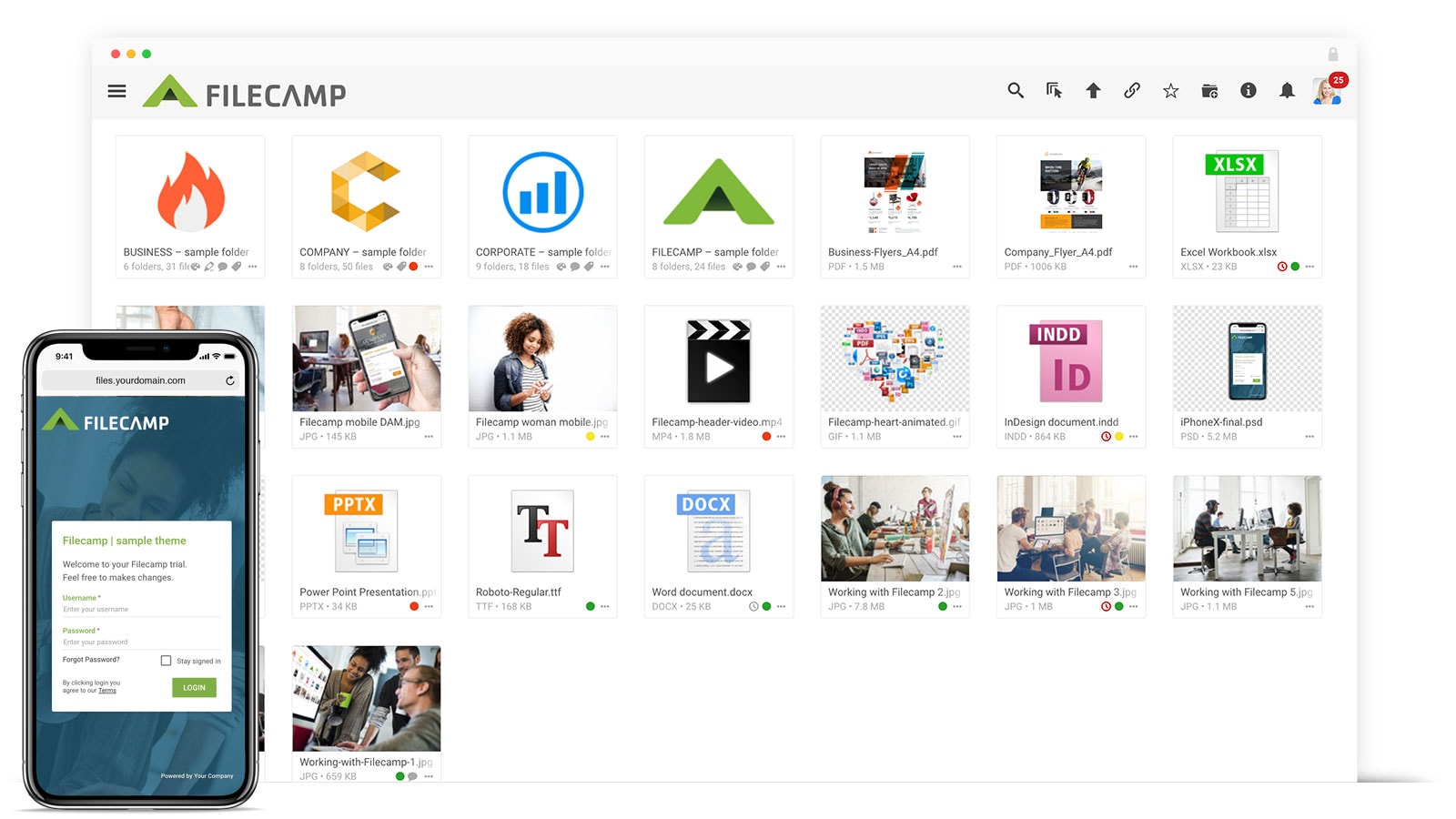 Share files and folders easily with internal and external users
When your users can't find the right file version in an unwieldy email chain or when they get throttled by an attachment size limit, productivity is crushed.
Filecamp lets your team share files inside and outside your organization through their favorite access methods.
Designed with your brand in mind
Filecamp comes with some unique branding possibilities, and you can brand as many separate "sub-accounts" for your Filecamp as you'd like. You can customize the login page and overall logo and colors for each client so they have a unique experience that is centered on their brand.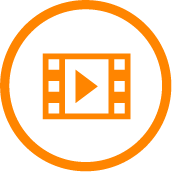 Media library made easy
Filecamp offers you a central place to manage all your media assets. Filecamp is a secure media library system. You've got the tools to share and collaborate on a range of graphics and rich media files.

Get started fast
Drag-and-drop interfaces and familiar file and folder structures make using Filecamp a breeze. There is no training needed for your staff and no software to install. Your Filecamp is a cloud based and secure media library system available via the web 24/7.

Easy distribution
Share and collaborate with clients and partners with the simple click of a mouse. You can use your Filecamp as a secure Media Library system as well as for everyday file sharing tasks.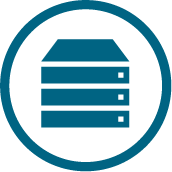 Hit the growth curve
Filecamp is made to fit companies of all sizes, from freelancers to firms. Used by businesses in over 60 countries around the world, Filecamp lets you upgrade easily as your business expands. From gigabytes to terabytes, we've got your back with a reliable media asset management portal.

Seek and you will find
Every Filecamp account includes a robust search function which quickly parses your files and meta data to help you find what you need, and fast. Quickly and securely share your files as soon as you find them with the different sharing options Filecamp provides.

Better for your brand
We're all about your business and it shows. Every Filecamp includes custom branding features so you can truly make your Filecamp your own with a custom logo and colors. Professional Plans take it up a notch and let you brand folders for your clients too!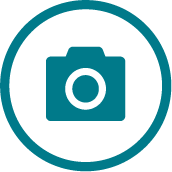 All your media in one place
Using Filecamp as your own secure media library system, you can streamline your working processes. All your graphics and rich media files can easily be viewed, downloaded and shared.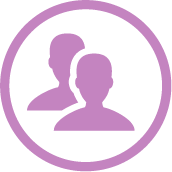 You're in control
With Filecamp you get unlimited users in every account and complete control over permissions to files and folders. To provide added piece of mind, Filecamp servers are securely backed up on a daily basis.

Collaborate like a pro
Featuring built-in approval and commenting tools, you, your team, clients and partners can all login to review work and make comments on projects. Long and winding email threads with attachments are a thing of the past.
---
Filecamp is all about
beautiful and intuitive Media Management.
---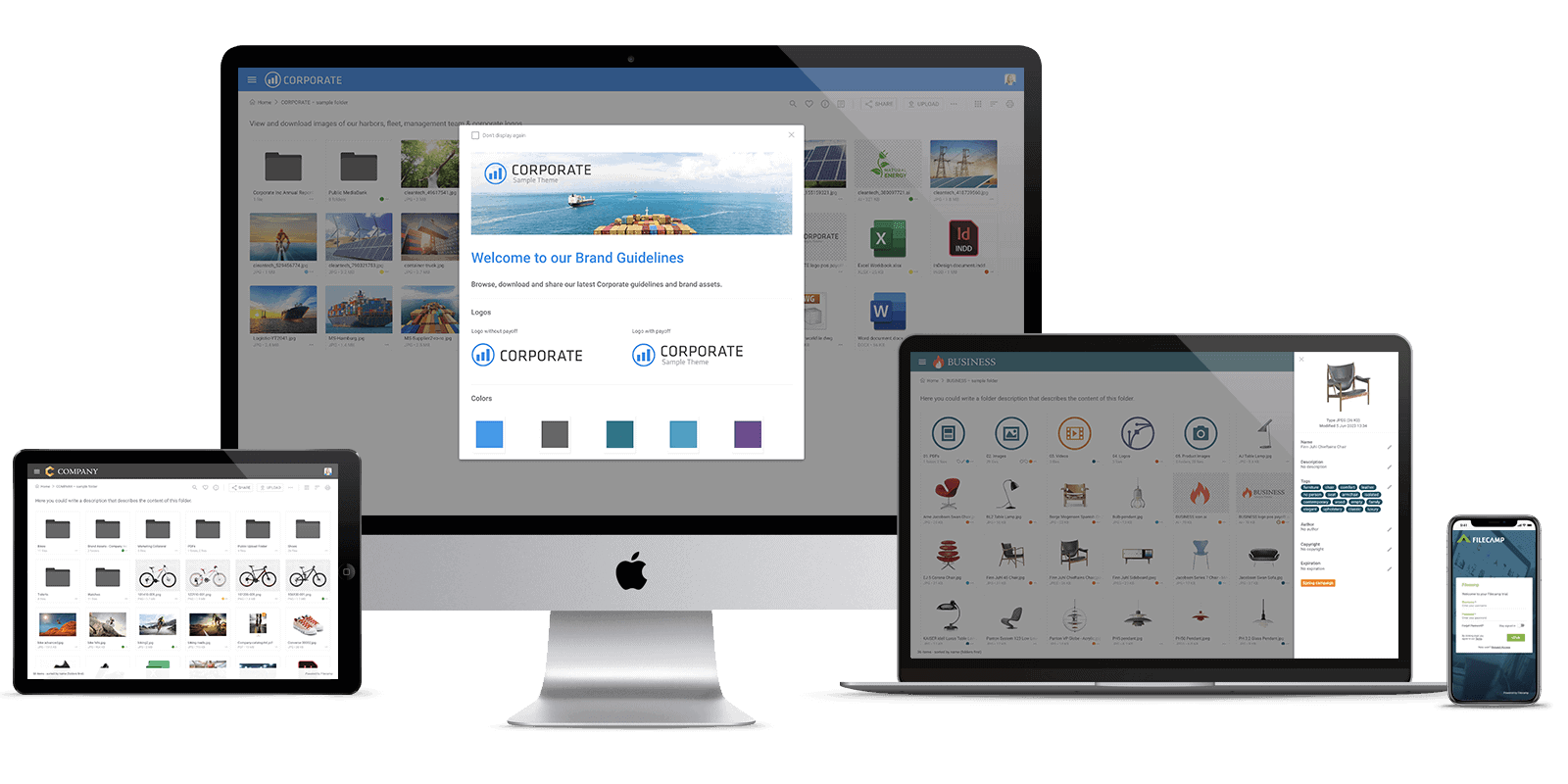 You're in full control
From downloading, uploading, viewing to commenting, Filecamp allows you to control what your users can do with your media assets.
Search made easy
Find the right files within seconds with Filecamp. Search for filenames, description, tags, keywords, labels and more.
Brand portal
The robust and customizable interface allows for easy sharing of marketing materials while optimizing brand consistency on all platforms.
Drag to upload
Just drag and drop files and folders directly from your computer into Filecamp and organize them to suit your needs. You'll be ready to start sharing your media assets straight away. 
1-click share
No need for third-party file transfers services – just click to share files, collections or even complex folder structures.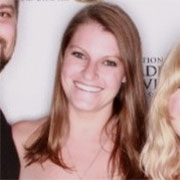 "I'd definitely recommend Filecamp to anyone looking for a file sharing or digital asset management platform!"
Filecamp has allowed my team and those we collaborate with internally and externally to share all formats of files seamlessly. It has streamlined our file sharing and digital asset management system, keeping us organized and increasing productivity. The ability to adjust permission levels for users and to customize folder access for individuals has been extremely useful.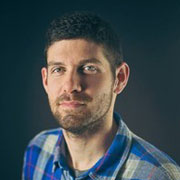 "Filecamp has been the perfect platform for us..."
Our company spent considerable time searching for a perfect platform for our needs in media sharing while remaining password protected. Filecamp has been the perfect platform for our communications to representatives, writers, and marketing partnerships.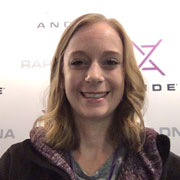 "Thank you Filecamp, we highly recommend it!"
Filecamp has been the perfect media management tool for our corporation. Before Filecamp, we had company photos, logos, marketing materials, documents, and videos all over the place. Employees didn't know where to reliably access our materials and were left often using outdated images and documents. Filecamp's design is easy to use for both administrators and users. Having our media organized and accessible from one place will (and has already) greatly improved our company's operations … and all of this for a fair price. Thank you Filecamp, we highly recommend it!
Mark your files with
Custom Labels.
Create custom labels to tag your media assets in ways that makes sense to you and your workflow. Name each label with a title and a color. You can easily search for and locate folders and files that have specific labels assigned to them.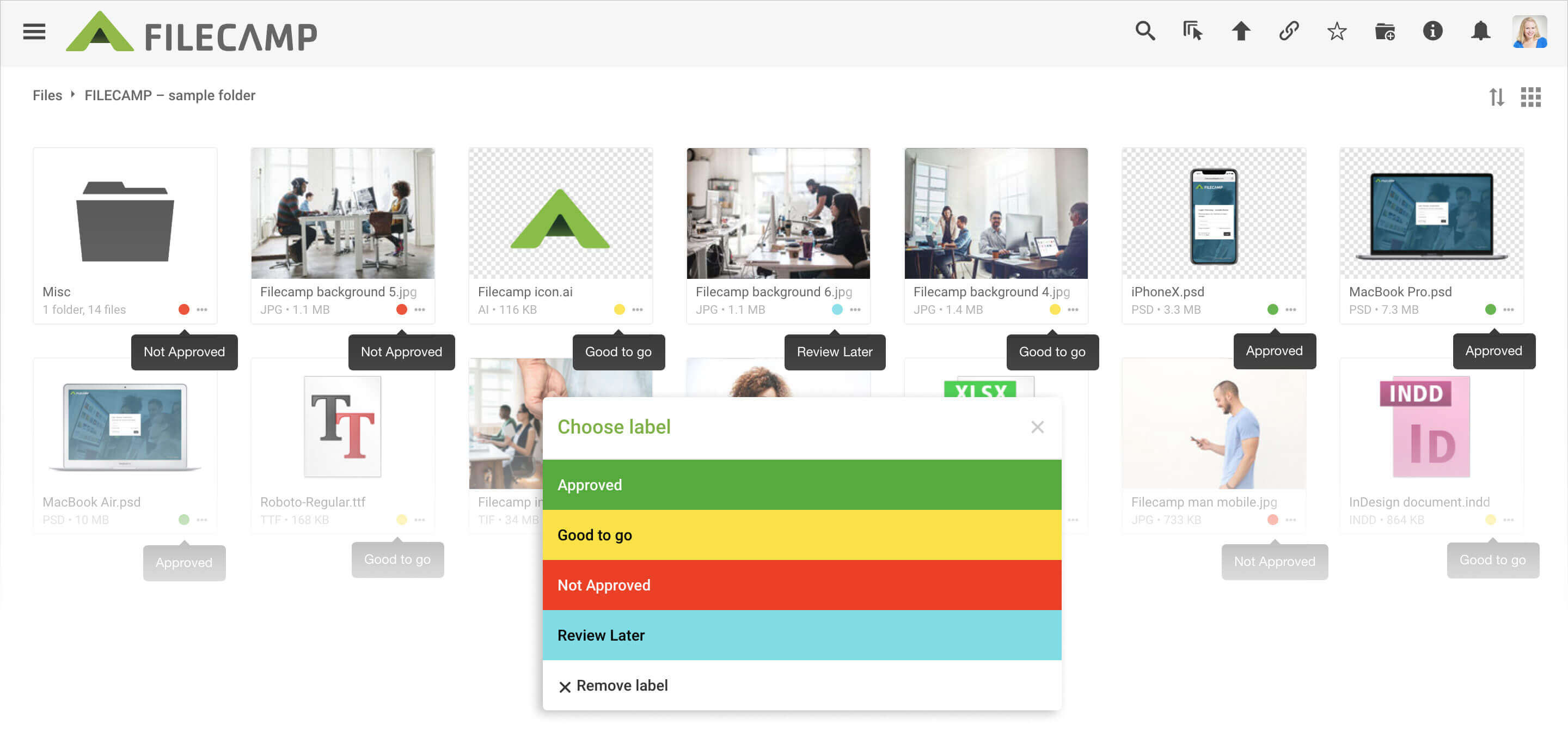 What is a Secured Media Library?
As your organisation grows it gets harder to keep your digital files under control. Time is wasted dealing with requests for images, logos and other files. People are given the wrong file type for their needs, and a lack of control leads to branding issues. A secured media library is designed to not only let you store media assets but also assign metadata to your library of images, videos, presentations, logos, design files, documents and other brand assets for increased searchability.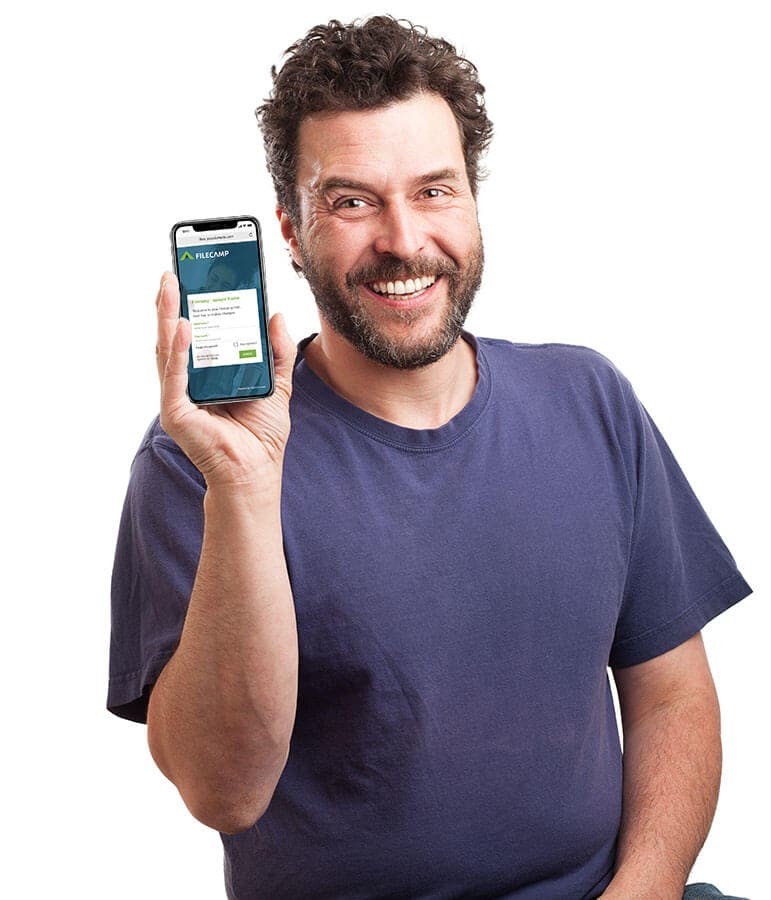 ---
---
Filecamp is a cloud-based and secure Media library solution that allows you to easily store, organize, track and re-purpose your media assets – such as images, videos, illustrations, brand guidelines, text documents, presentations, and more.
Online, and from any device.
Try Filecamp for free. All features included. No obligations!
Start my free trial
No credit card required!