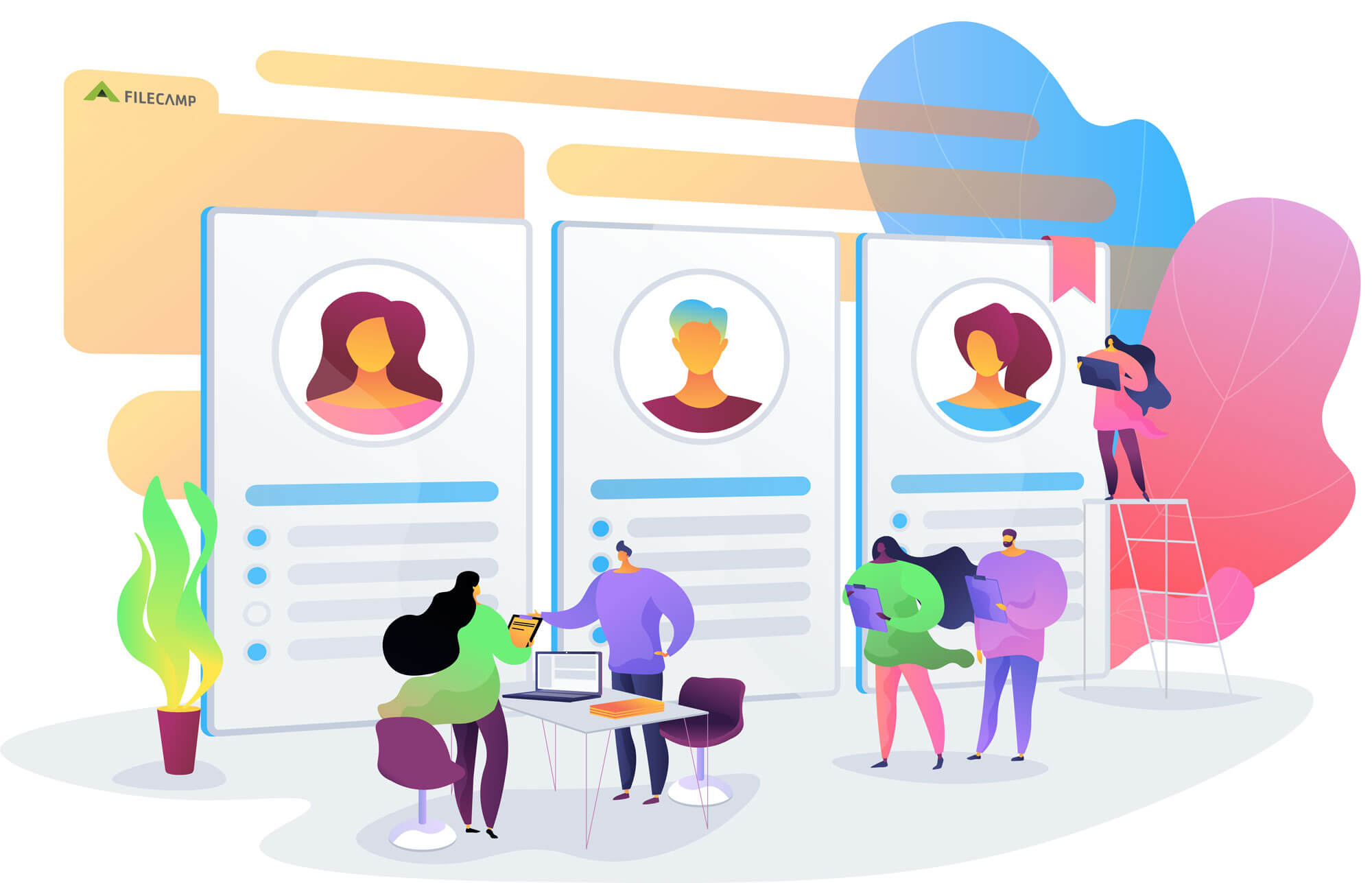 Digital asset management:
What is it, and why do you need it?
For years, major businesses have been relying on DAM systems to organize their digital assets. Now that digital asset management systems have become more customizable and with a greater range in prices and features, it's time to ask: Is DAM right for your business?

Find out whether you too can secure a competitive advantage by centralizing all your assets sooner than later.
What constitutes a digital asset?
Any media content can be defined as a digital asset, but this definition is incomplete.
According to DAM expert Theresa Regli, such an asset must be accompanied by metadata. This metadata can range from the very basics (e.g., the name of the asset and its date of creation) to include more comprehensive details such as tags, which not only facilitate searchability, but empower users to find an asset as quickly as possible.
Digital assets come in several forms, but the most common ones include images, videos, and documents. And with many roles involved, with numerous permissions, versions, and so on, it quickly becomes apparent that there must be a way to organize all these assets to make use of this data most effectively.
And this is where DAM comes in.

What is digital asset management?
Digital asset management (DAM) is a system that lets you organize your assets quickly and efficiently. Think of it as a library, where all the information you need is accessible at your fingertips. (And sometimes, literally at a glance.)
This means, with a single click, you can determine whether you're about to use the correct version of a client's jingle in an ad, as well as its usage rights. Another major benefit is that this means you can maximize the value of each of your assets because you can repurpose them and extend their life cycle: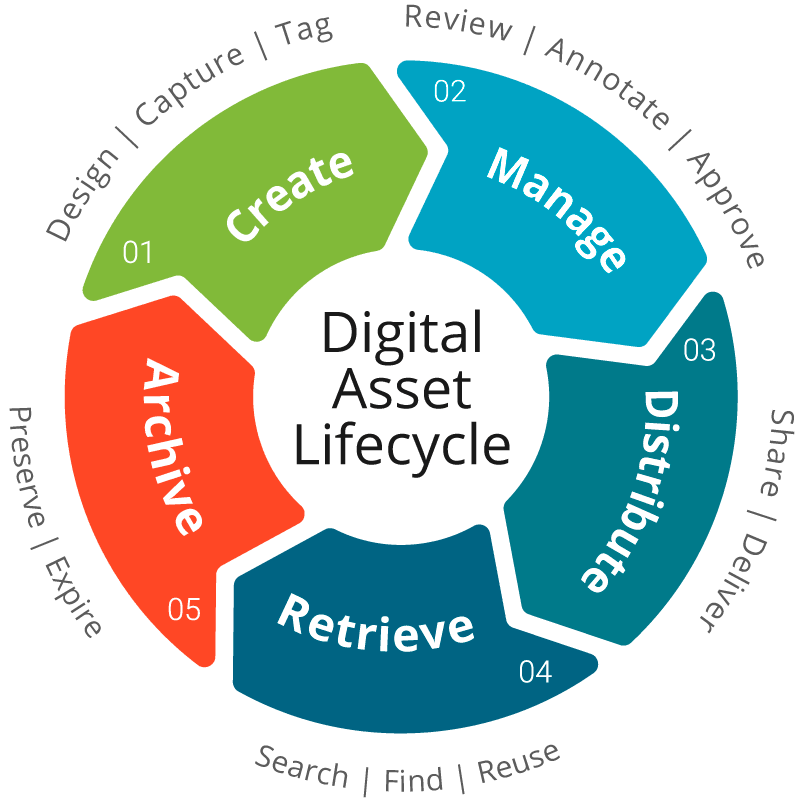 Sounds excellent, right? But believe it or not, DAM services have actually been around for quite some time, and have only become a major service offering in the past several years.
Let's go over the various types of DAM, as well as a few examples.
Types of DAM
There are many types of DAM software, and before diving into them, it would be wise to first make a couple distinctions:
DAMs can be either client-facing, strictly for internal use, or a combination of both.
You can also have SAAS (software-as-a-service) DAMs (like Filecamp), and you have on-site DAMs, or some combination of the two.
It really depends on your needs, which we discuss in greater detail in the next section. For now, DAMs generally fall under one of these 4 categories:
A library or archive for bulk storage of visual assets, like 3D models, photographs, and webinar clips.
A system to ensure brand consistency. Such a system would function by granting access only to specific team members, keeping brand assets like fonts and logos consistent and up to date, to be used for the correct placements (e.g., on packaging versus for the web).
For production management, to facilitate the management of assets with various deadlines, to be combined together or to be presented separately.
As a service provider for digital content consumption (e.g., images or movies). (One need look no further than Pinterest or Netflix as examples, which rely on gorgeous and user-intuitive client-facing DAM systems.)
Every single type listed here fulfills the following general purposes:
Project management (which is basically what DAM is designed to optimize)
Ensuring a smooth workflow
Collaboration benefits, especially for remote teams working on tight deadlines
Revisions, keeping assets up to date, and controlled access
Now that we've covered the basics, let's dig a little deeper into who stands to benefit the most from DAMs. And if that's not enough, I've made sure to cover each and every single benefit you can think of.
Why do you need digital asset management?
Because DAM software isn't designed for everyone to use, let's first take a look at which roles and/or types of businesses stand to gain the most from leveraging a DAM system.

Who stands to benefit the most from DAM?
If you have an inkling that you could be getting much more out of your assets if only you could get them better organized seamlessly into your workflow, then you just might need DAM.
Regardless of whether you're a startup, a medium-sized enterprise, or a major international brand, effective DAM can consolidate all your digital assets into a single place, resulting in maximum efficiency for asset use.
There are several other roles that might benefit from DAM use, such as your legal or accounting teams, or freelancers you've hired who need access to very specific assets, so let's now move onto the benefits.
Benefits of DAM
The main benefit of DAM is optimal organization—and this is the central promise of every DAM platform. This means that a solid DAM software can empower literally anyone to understand the assets at a glance and get started.
So the question becomes: "How does each DAM deliver these services?" Let's take a closer look at some of the features and benefits of DAMs.
---
Granular access: At the very least, a solid DAM software empowers you to enable different levels of access to your clients and partners, so that they can access only the specific files and folders intended.
Multiple themes: Not only does a good DAM software let you customize your branding and apply it to the DAM user interface, it should even enable you to set individual themes to specific folders, which is a mindblowing benefit that, for example, an agency owner might love to provide for his or her clients in order to wow them.
And if that's not granular enough, at the file and folder levels, certain DAM platforms even let you set your own custom thumbnails, so that you can recognize your most critical assets quickly.
Keywords/Tags: If you can't utilize your assets efficiently (e.g., if searching for them is half the task), then a DAM software can save you lots of time. You can organize visually, or even set filters and advanced custom search functions to make sure you find exactly what you need in the fastest time possible.
Taking this one step further, some DAMs have trademarked algorithms that can save you even more time with auto tagging. In essence, with a single click, you should be able to have the algorithm auto-suggest metatags.
Easy and Quick Searchability: A robust DAM system already comes with powerful search features, but advanced filter options take it many steps further. By tagging individual assets with specific key terms, you can build a consistent DAM framework, one which will enhance your search functionality considerably over time.
A related feature is labels, which you can add to specific files and folders to facilitate indexing, to indicate a stage or state of the asset (e.g., if the usage license is to expire within a specified timeframe), or anything of the sort, with the ultimate purpose of optimizing your workflow.
Pages. What if you could create custom pages using a built-in WYSIWYG editor (the native editor Wordpress users use for their sites), and you could have these pages appear in the main navigation?
Every business is different, and customizing and facilitating navigation for your own users will provide them the best experience possible, whether it's to boost team morale or to wow clients.
Security. If your work involves handling brand assets for clients, security can be a major determinant in choosing your business over your competitors. And nothing gives peace of mind better than servers that are under surveillance 24 hours a day. But it's not only hackers that should raise concerns.
Files do get corrupted. Servers crash and fail. Assets get lost all the time due to mismanagement. With a SAAS DAM platform, this is much less likely to occur because your files live on a cloud. (Ever hear of Netflix losing a movie?)
Effective brand management and consistency. This one is essential for major businesses and agencies that represent their clients' brands. Using the wrong logo version for a client's brand can lead to pretty serious consequences. Thus, a great DAM service can facilitate interdepartmental cooperation, helping team members break out of their departmental silos.
An intuitive user interface. A simplified navigation system is essential if you work with an overabundance of assets that are constantly changing hands rapidly. This is especially true if your team works remotely across different countries, and with timezone issues as well as language barriers.
Effective content usage. Ever mess around with so many versions that you accidentally published the wrong one? How about recreating content that already exists, or assigning assets to the wrong project?
A good DAM platform can prevent all of these problems, and more. Moreover, it can let you repurpose assets with ease for different marketing channels, in various languages, and to serve a wide gamut of requirements. Overall, great DAM can ensure that you actually use most (if not all) of the content your team has produced, letting none of it go to waste.
Analytics. Keep abreast of how all your assets are performing across the board, where they're currently being used, and by whom. In other words, a great DAM solution facilitates the collation, management, and interpretation of data from multiple sources, providing valuable insights into how to maximize the use of your digital assets in accordance with your business goals.
Downloads: A solid DAM software provides considerable flexibility when it comes to downloading your brand assets. You can download in the original format or in a lower resolution, if required.
Not only that, the preview function can save considerable time and resources, ensuring that you're downloading the right file, and quickly. And if anyone needs a specific format urgently, they can go in and quickly modify the asset into the desired format for download.
---
To wit, a solid DAM software enables you to store, organize, find, retrieve, and share digital content quickly and efficiently. The system should be intuitive and easy to use for your whole team, minimizing downtimes and ensuring a smoother and more gratifying experience for everyone involved.
What is the best digital asset management software?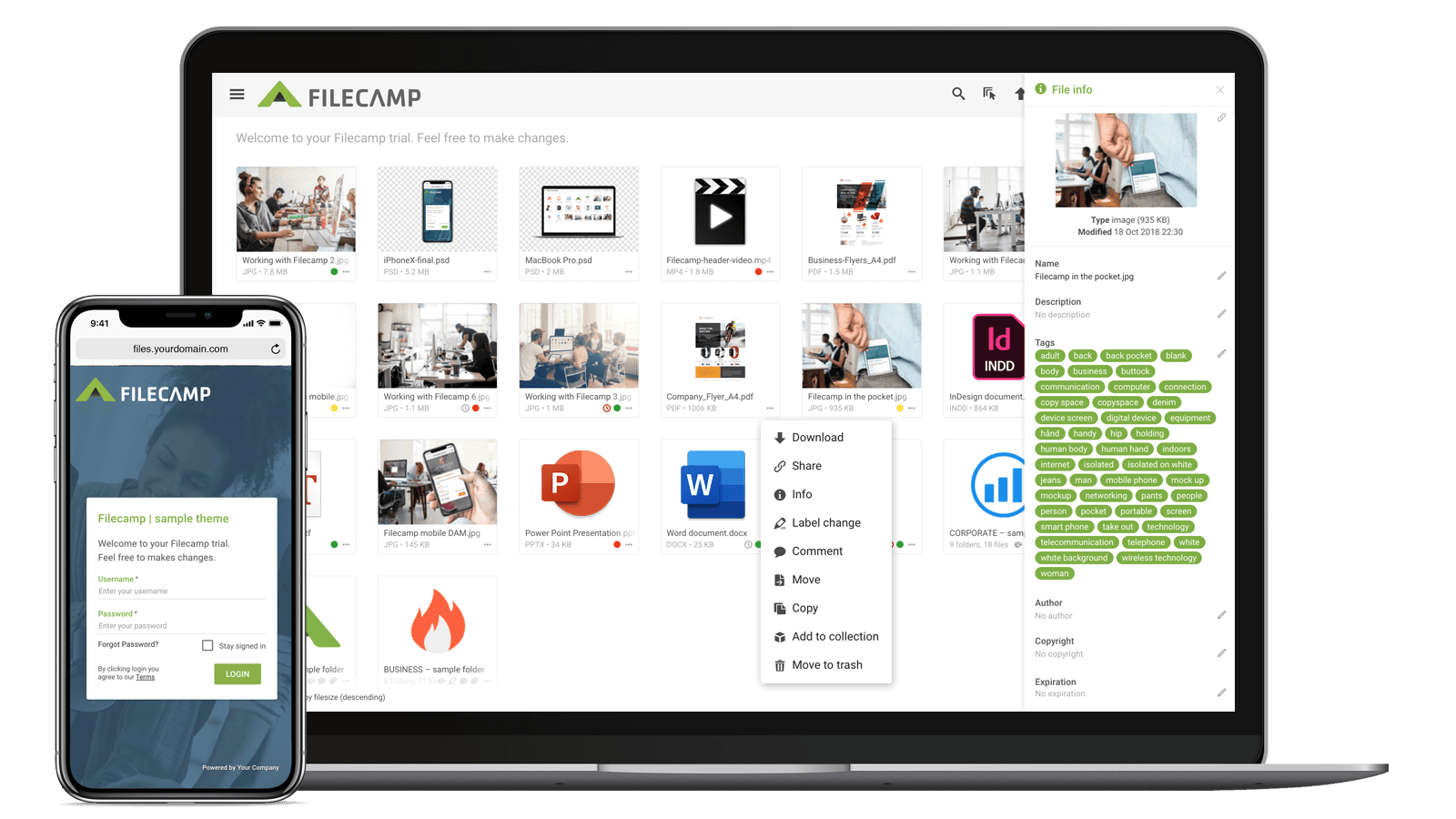 I'd love to tell you that we're a bit biased here, and just recommend Filecamp — but I won't. That's because there is no single best DAM software. Choosing a DAM service depends on your individual business goals, and where you're at with your business.
But if you're working with a remote team, one that's involved with pulling multiple different types of assets together on a daily basis, then DAM is definitely something you should be looking into.
It's important to consider additional factors like, "How will this integrate with the processes we already have in place?" and "Which teams will use it, and to what end?"
So, in this case, it helps to look at it from a goal standpoint.
And if you do your research, you'll find that there are tons of DAM service providers. But here's why you should give Filecamp a try:
We provide a 1-month free trial for anyone wanting to take it for a spin. (No credit card required.)
When we founded Filecamp, we approached its design with the aim of addressing all the pain points experienced by major brands and small businesses alike. (Read all about our complete features here.)
We boast one of the most comprehensive and most accessible DAM knowledge bases online, and we like to think our approach to customer support gives us an edge.
Our monthly plans start at $29, quite possibly one of the industry's lowest. (You can read more about our pricing here.)
Ready to get started?
---
Your files are only assets if you can efficiently use them. Filecamp is a professional and affordable cloud based digital asset management system, built to make it easier for companies to store, find, and share their digital assets.
Start my free trial
No credit card required!