Because all artwork needs to be Reviewed, Commented, Proofed and Approved.
---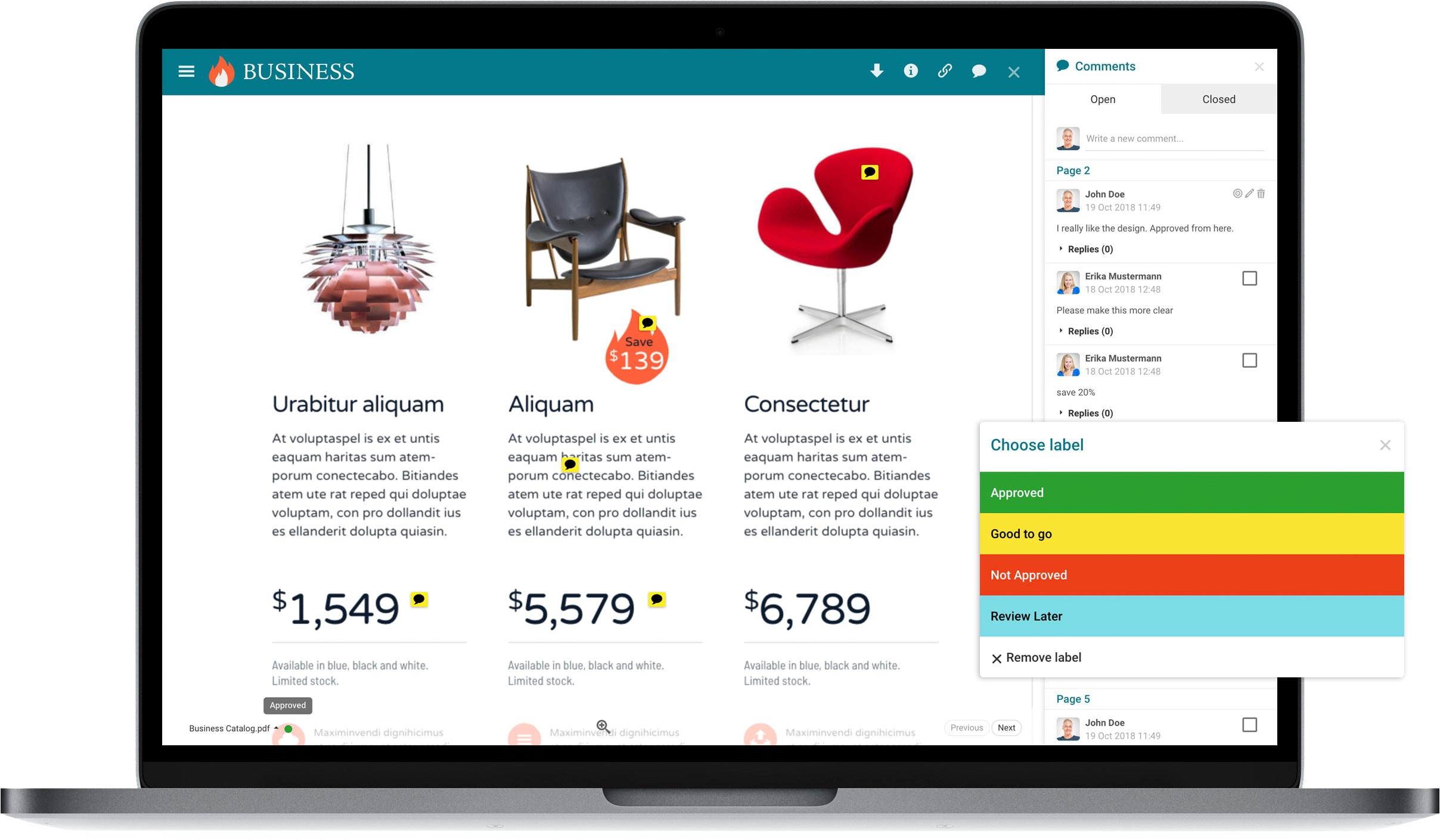 Artwork Approval system
Filecamp is an Artwork Approval system that helps you exchange feedback on creative content. Clients, new users or non-technical users can get up-to-speed immediately with our intuitive commenting and markup tools.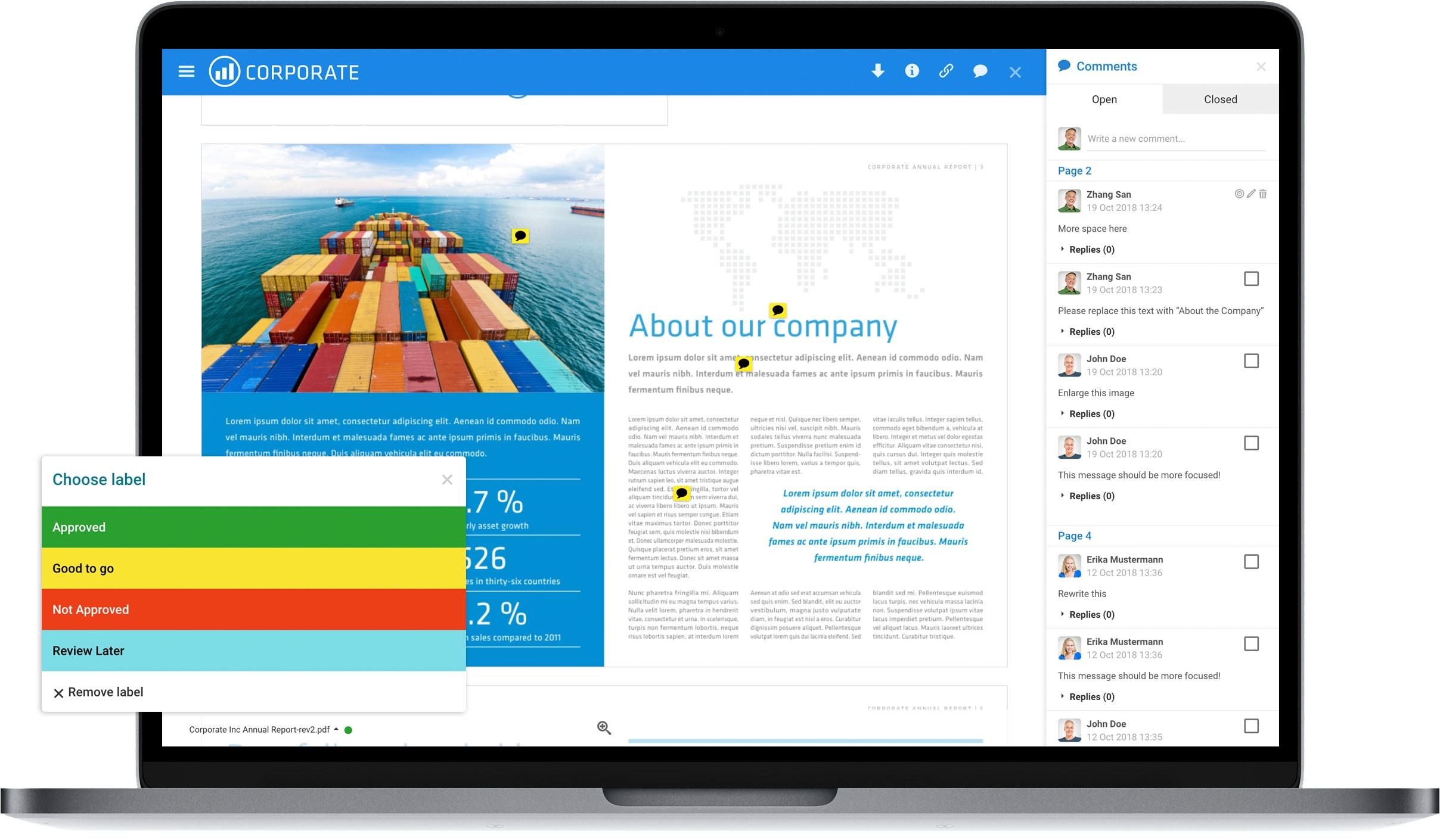 Secure Third Party Approvals
Invite external partners to approve content through a secure email link. They are directed to a secure page displaying the approval content. External stakeholders can review comment or mark up files online, just like internal stakeholders.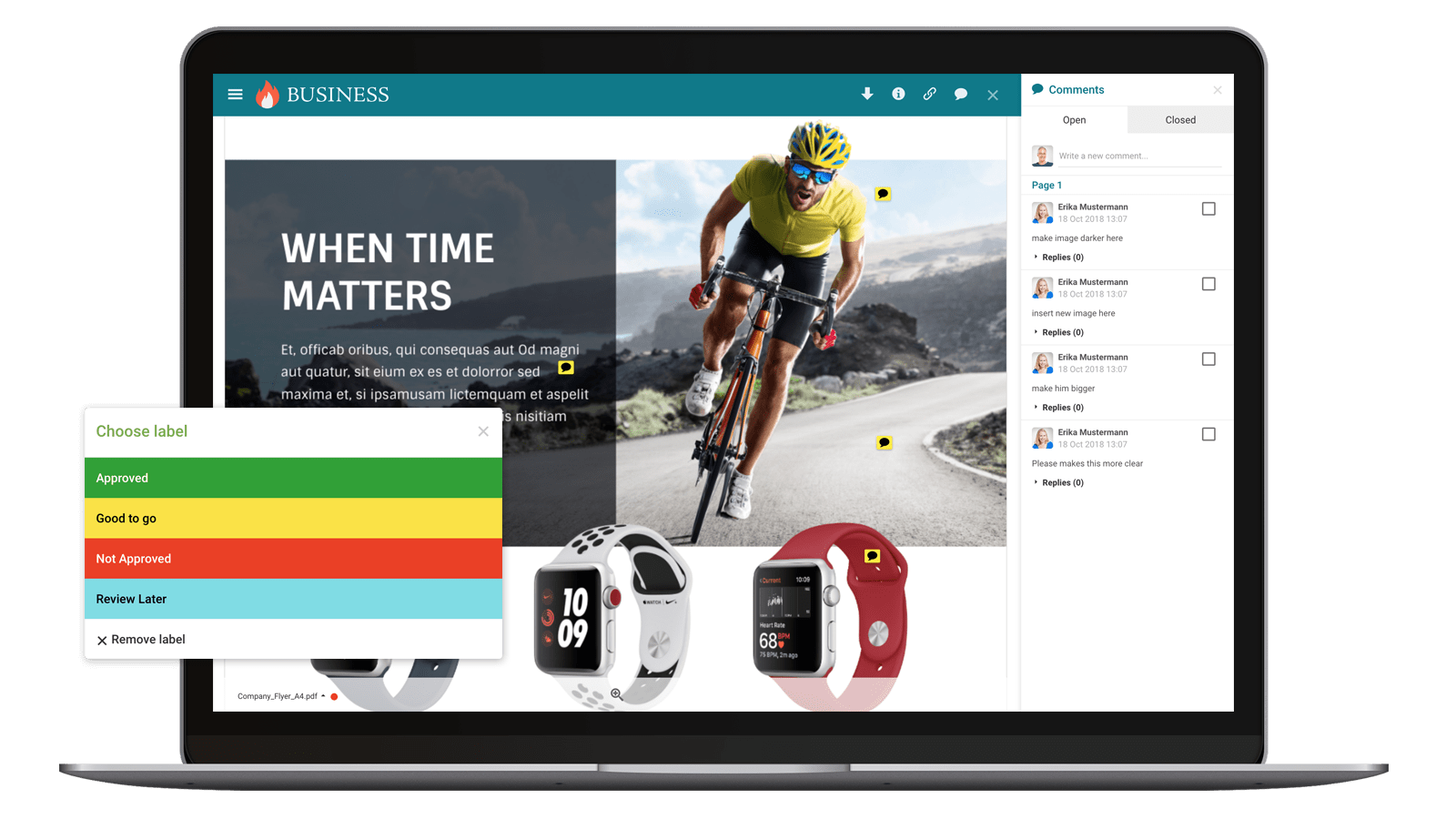 Collaborative Review
Filecamp enables online proofing, simplifies workflow and speeds up delivery of marketing projects for brands and agencies in over 60 countries.
Use Filecamp to review, comment and approve all popular artwork file types, including multipage PDF files, and PSD, JPG, TIFF image files.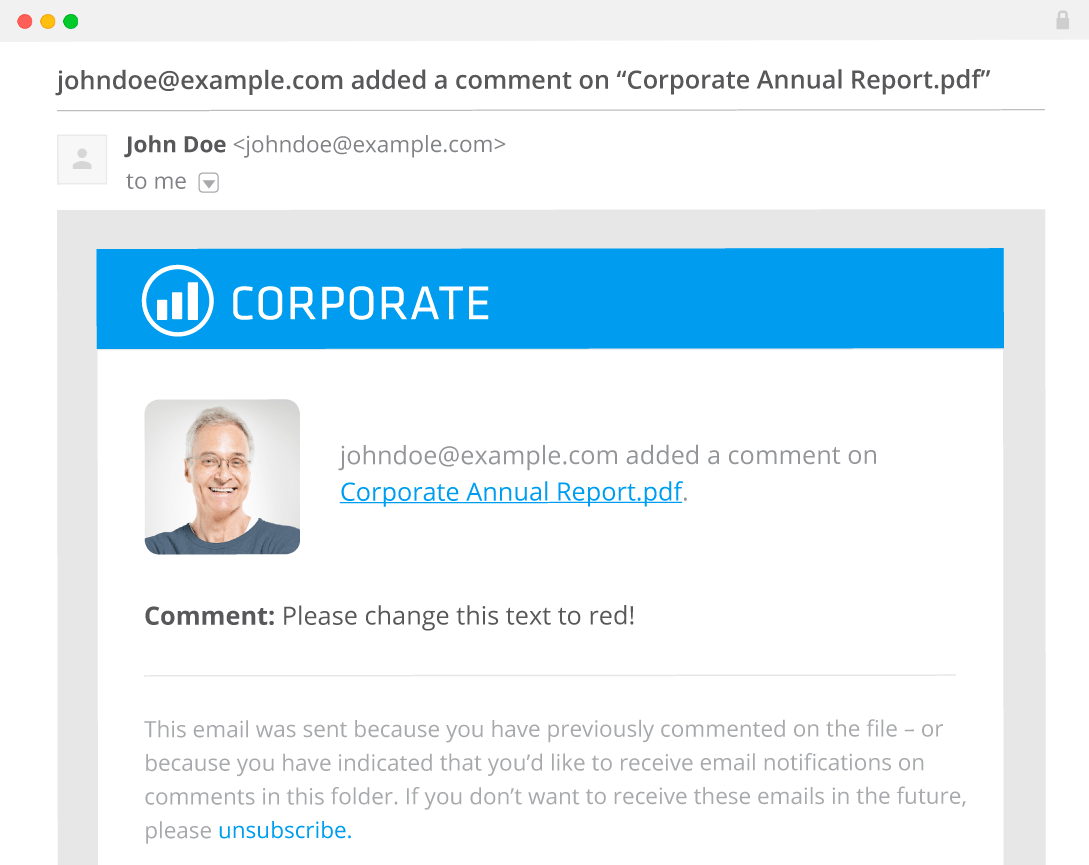 Keep everyone on the same page and up to date with notifications
Updates to your files can be delivered via actionable email messages so that everybody are informed when a comment is added or when a file changes label from e.g "Not Approved" to "Approved".
Each user can change their notification settings at any time, and changes are applied immediately.
Artwork Approval Features
---

Easy to adopt
Filecamp uses file and folder structures and familiar drag-and-drop functions. Commenting is as easy as leaving a note, and you can approve designs with the click of a mouse. Now everyone can collaborate online!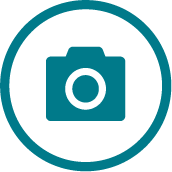 Client approvals
Filecamp online proofing and approval makes it easy for clients and other third parties to review and approve projects. After you upload a design, you can easily email a link for approval with a click of a button, right from your Filecamp.

Easy distribution
Share and collaborate with clients and partners with the simple click of a mouse. You can use your Filecamp as a online proofing system as well as for everyday file sharing tasks.

Online collaboration
With every comment available, creative projects can move quickly from start to finish without stepping backwards. When everyone's voice is heard, you can be sure everyone is happy with the final design. Best of all, there's no software to install for you, your clients, or your team.

Version control
When you upload a new version of a file, old versions are archived so you can easily access them later. There are sometimes when you need to check an earlier revision to be sure you've covered all your bases. Filecamp makes it easy to toggle between different versions.

Custom Branding
Put a professional face on your Artwork Approval system with Filecamp's custom branding features. Use your company logo and colors, plus a custom URL to make a seamless transition between your company and your approval system.

Supports many file types
Filecamp supports a wide range of files for reviewing, commenting, proofing and approval. Whether it's a high resolution Photoshop file, or a .pdf uploaded for a quick review, Filecamp gives you the flexibility to collaborate the way you want.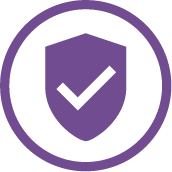 Safe and secure
Built on rock solid HTTPS technology, Filecamp is secure storage for your digital assets. With easy permissions, you can grant access to only the files and folders each person needs.

Save time, increase productivity
Filecamp has a simple and beautiful interface. If you enjoy reading thick manuals, this probably isn't for you. Jokes aside, Filecamp saves you time and money when your staff doesn't need any training to get started.
Manage your Artwork Approval process in 5 easy steps:
---
What is Artwork Approval?
An Online artwork proofing, feedback, review and approval tool is a web-based Collaborative software that helps studios with internal and client communication. Users are allowed to upload files to a central repository where other users are allowed to mark up, annotate, add comments and/or approve them.
Get accurate feedback on work-in-progress design pieces.
Saves time for the studio and their clients
Prevents interpretation mistakes.
Allows studios to have all the information that was sent/received in a central place.
Enables a person in a different place and/or timezone to give/receive feedback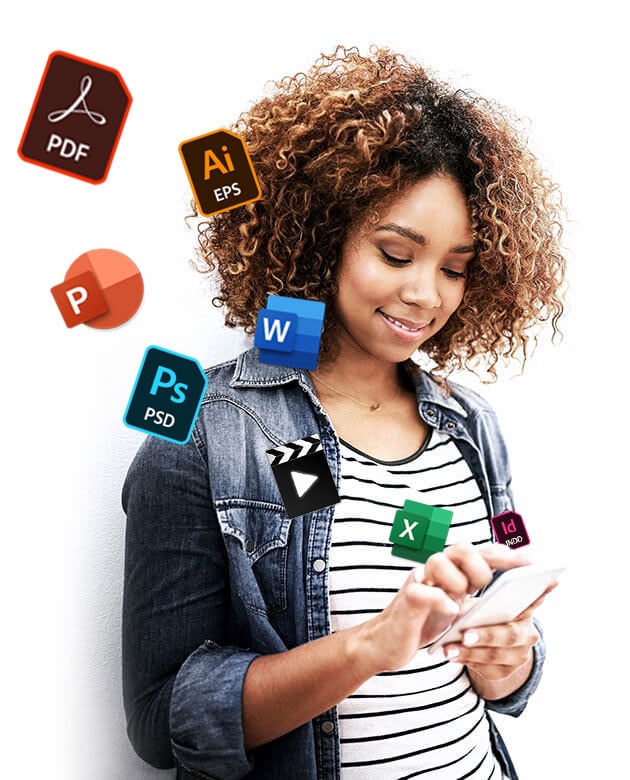 File collaboration, solved.
These days, everyone is drowning in email, especially creative businesses and their clients who are reviewing and commenting on designs via email. Beyond the sheer volume of messages back and forth, email is a twisting thread and there is always the risk of reviewing the wrong version of a file.
With Filecamp's Online Proofing & Approval tools, creative businesses and their clients can forget about emails and phone calls to handle reviews, comments, and approvals. All notes and revisions are stored right with the project, right on your Filecamp. You can provide access to the files for review on your Filecamp to anyone who is involved in the project.
No software to install or download, for you or your clients ... you just need a browser and access to the internet.

COMMENT
With Filecamp you can easily add comments to your files. You can even place markers to point out exactly where you want your changes made.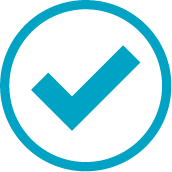 APPROVE
Review, markup and approve your files with labels that makes sense for you and your workflow. Everyone involved in the project will know exactly which proofs are approved and which needs a little extra work.

INVITE
Send review invitations to get things started. Anyone with an email address can be included in a review workflow, even if you haven't added them as users on your Filecamp.

SAVE TIME
Files can be reviewed, commented and approved anytime, anywhere on PCs, Macs, smart phones or tablets. It is the ideal solution for busy, high-performance marketing teams working in multiple locations.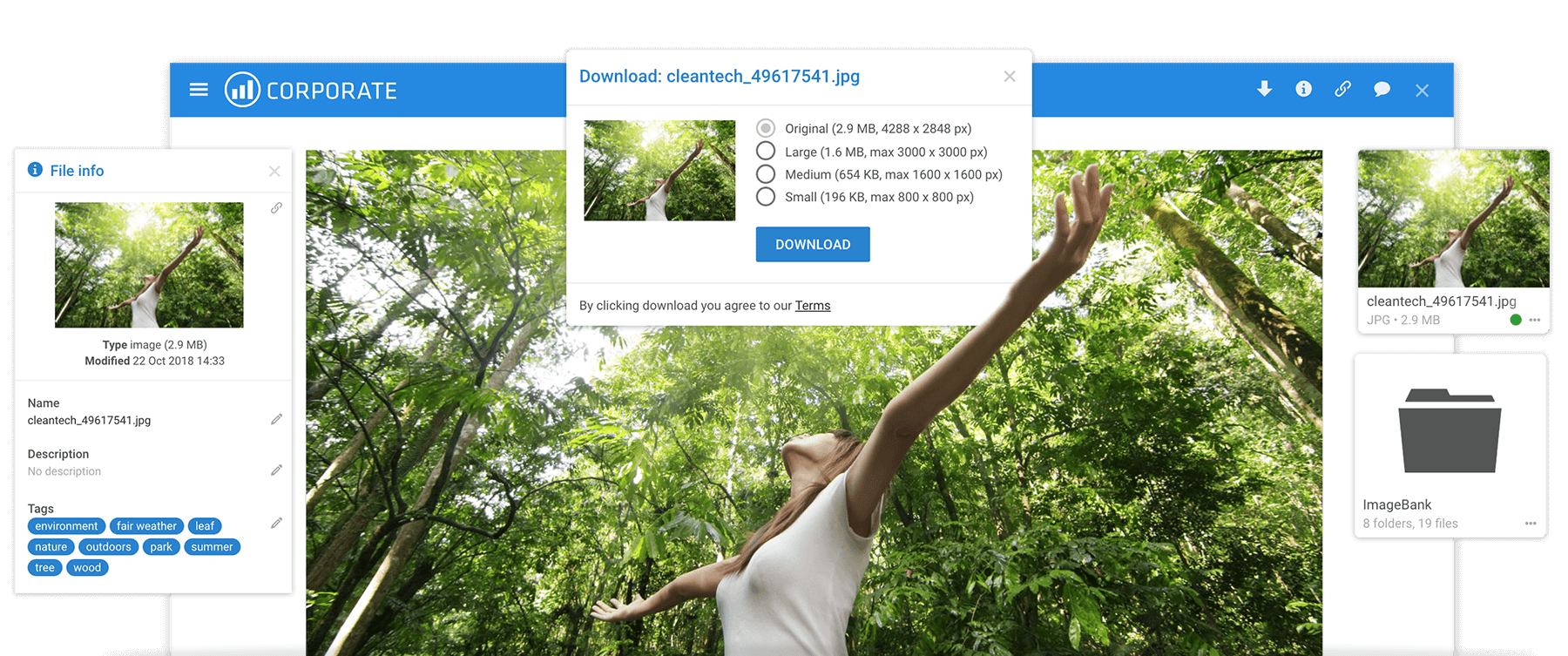 + get your own Digital Asset Management system!
When choosing Filecamp as your online artwork approval platform, you will automatically get a full-blown Digital Asset Management platform thrown into the deal. Digital Asset Management (DAM) systems are designed to enable you to store digital assets and assign metadata to your library of images, videos, presentations, logos, design files, documents and other brand assets for better searchability.
Try Filecamp's artwork approval tools for free. No obligations.
Start my free trial
No credit card required!