Searching for a Google Drive Alternative?
Try Filecamp – the affordable Google Drive alternative that comes with unlimited users in all plans.
---
---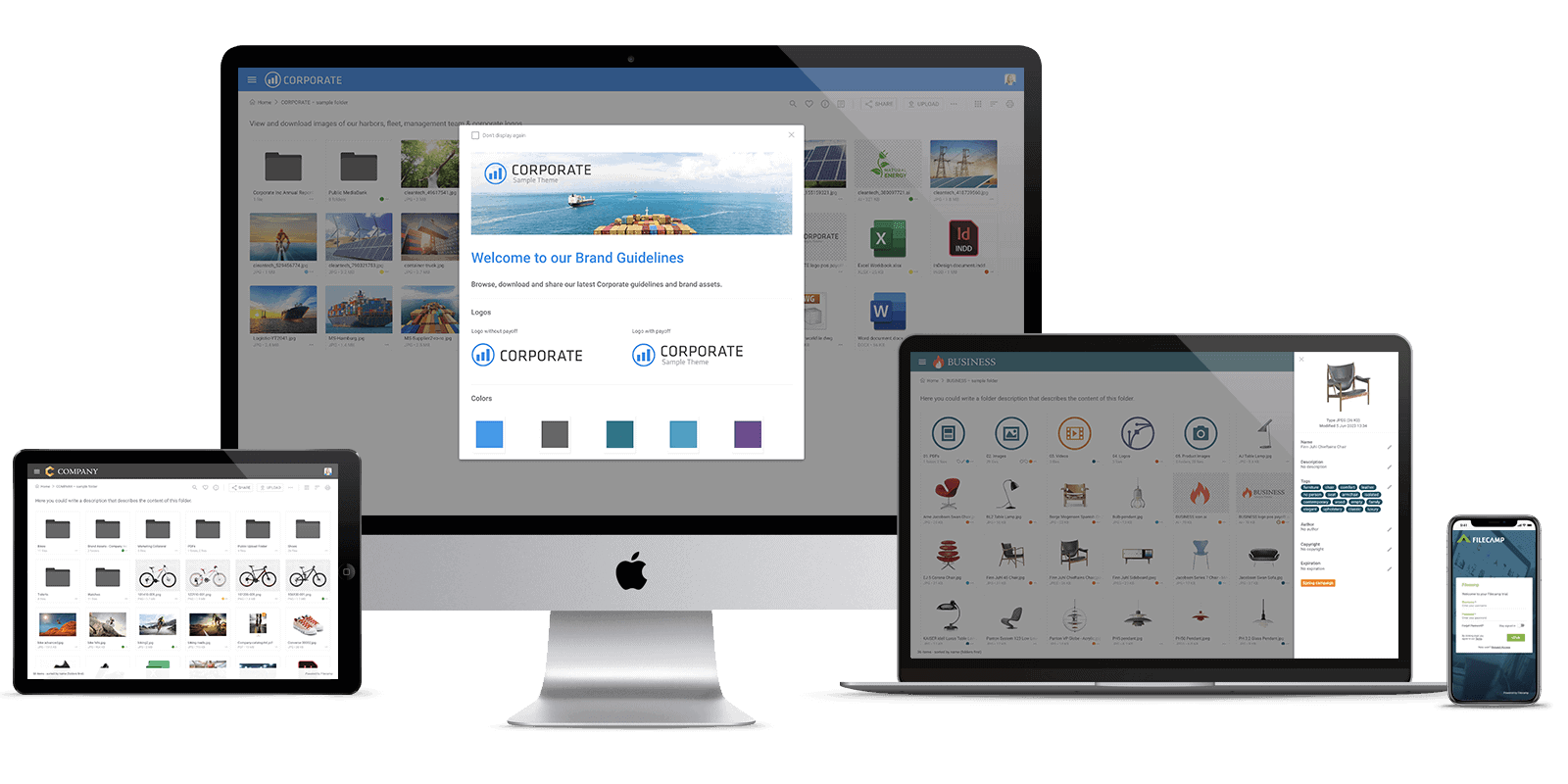 Why our customers prefer
Filecamp vs Google Drive.
Filecamp is a robust Digital Asset Management system designed for companies big and small. Unlike Google Drive, Filecamp offers granular control, white labeling, and powerful options for organizing files.
Transparent pricing
Don't worry about hidden fees. With Filecamp, pricing is 100% transparent.
Easy to use and intuitive
Get to work on your projects right away. Filecamp offers Digital Asset Management right out-of-the-box.
Self-service & no hassle
Why pay before you play? Filecamp offers free trials during which you can upload files and start inviting users. And we don't do the annoying, incessant sales calls.
Unlimited users
Unlike Google Drive, Filecamp offers unlimited users with every plan — so grow your team and customer base without having to worry about increasing costs.
Custom branding
Show your professional best and brand the Filecamp system to reflect your company's look and feel - all without the cost of creating your own DAM.
First-class & personal support
Support requests are rare but we take each one seriously. Got a problem? Let us solve it for you. Don't waste hours digging through community forums, hoping someone can help.
Why Filecamp Tops Google Drive
Filecamp is more affordable for most teams and companies, and we offer a lot of features. Why pay more for less? With Filecamp, you can enjoy world-class DAM without breaking the bank.
Search for file names/tags/keywords
Custom terms & conditions
Mobile ready/responsive UI
Own secure URL (e.g. files.yourcompany.com)
Take Filecamp for a test drive
Try Filecamp – the Google Drive alternative that comes with unique custom branding options and unlimited users in every plan.
---
Start my free trial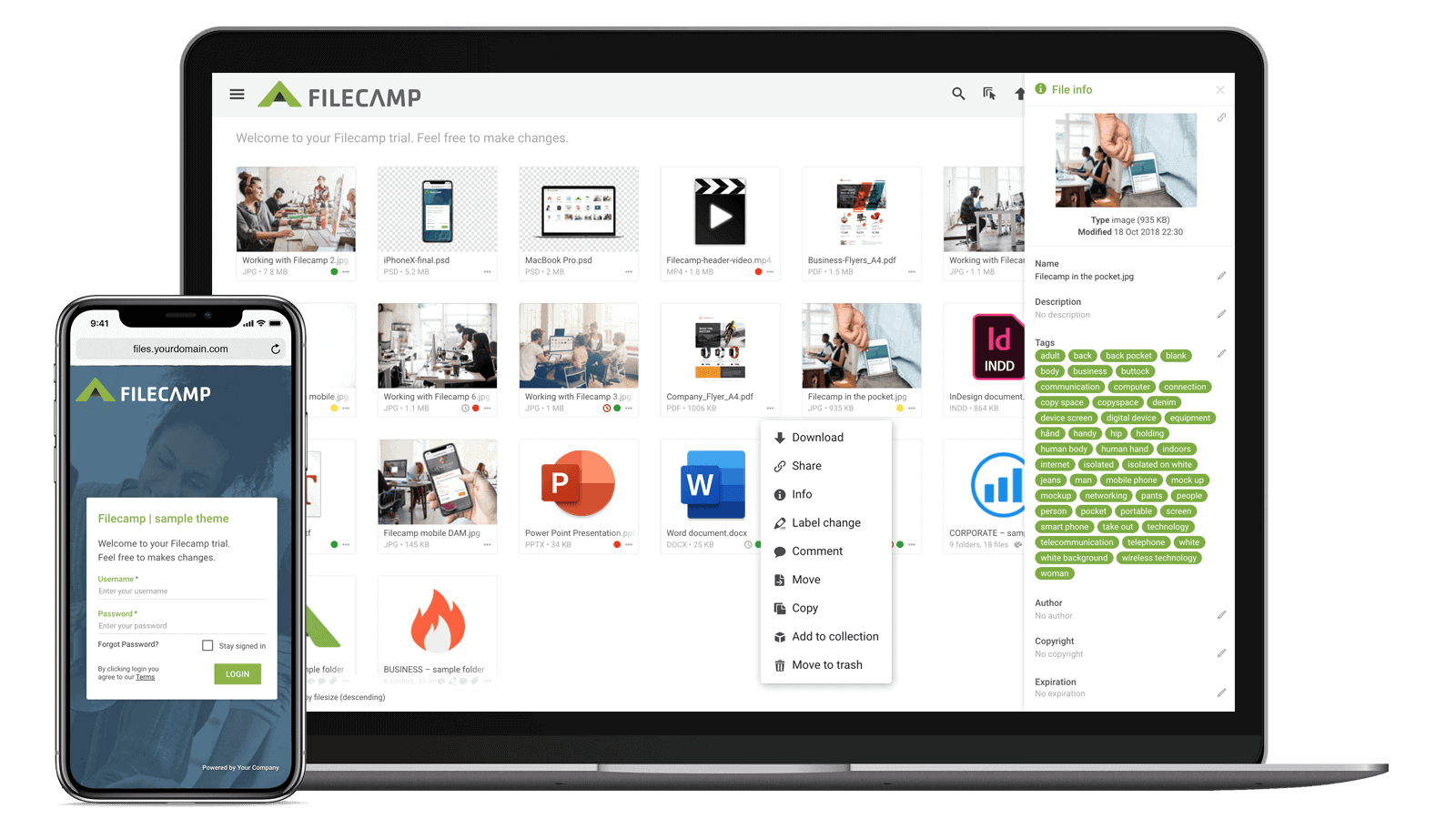 The right Google Drive alternative

Digital Asset Management on your terms
Google Drive is a great file sharing program for individuals. But many professionals and companies need a more flexible, robust solution – like Filecamp. Here are some features that set Filecamp apart.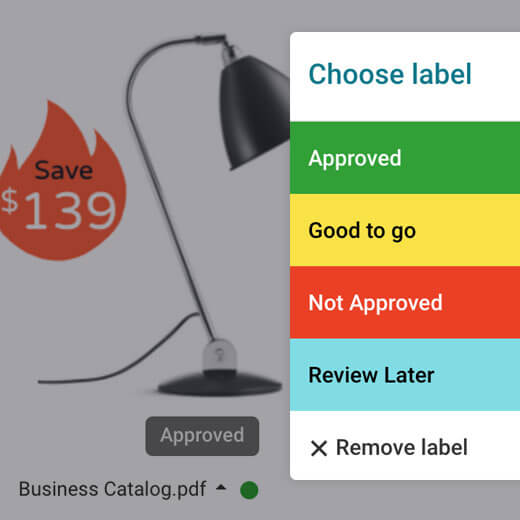 Monitor progress
Use custom labels to note which files or projects are complete, which are being revised, or whatever else that works for your workflow.
Learn more.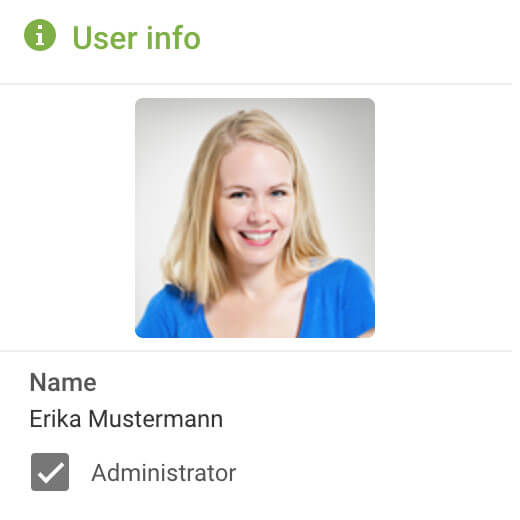 Your brand first
If you opt for our Pro plan, you can white label our DAM. Don't advertise Google's goods, show off your own!
Learn more.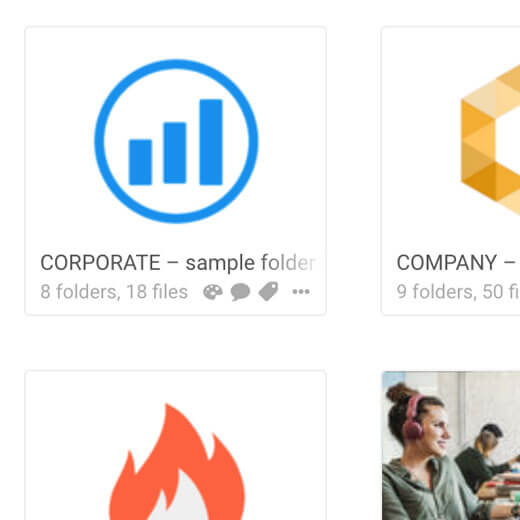 Custom thumbnails
We worked hard to give Filecamp a slick and user friendly interface, but it might be useful for you to add visual cues for your files and folders.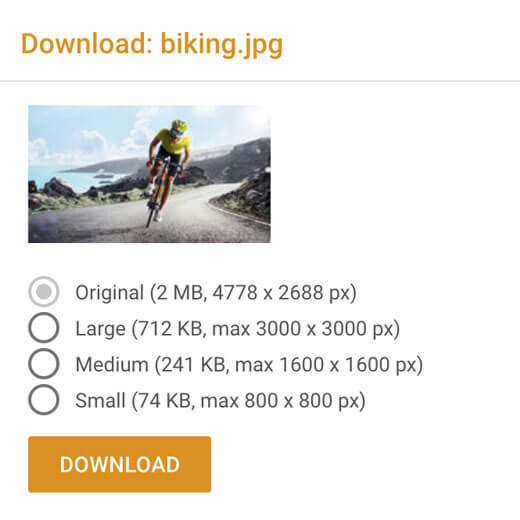 Downloads
Filecamp provides a lot of flexibility when downloading. You can download in the original format, or download in a lower resolution on the fly.

The Filecamp Difference
Our Digital Asset Management system makes organizing, storing, and collaborating easy. And with unlimited users, Filecamp is ready to grow with your company and ambitions.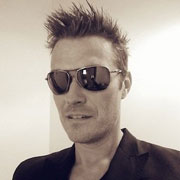 "Filecamp fit the bill perfectly."
We were looking for a file sharing platform which gives us the possibility to create personalized portals for our customers, Filecamp fitted the bill perfectly, we received a positive feedback from our customers on there personalized portal were they can download and upload common files. Filecamp is also easy to use.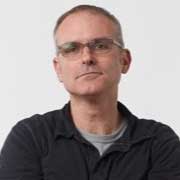 "...without the hefty price tag of current systems available."
Filecamp is a fantastic DAM solution for small business clients that need digital asset management without the hefty price tag of current systems available.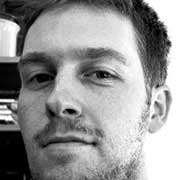 "It provides flexibility, functionality and all the tools we need..."
FileCamp has become an invaluable resource for all of our staff and clients. It provides flexibility, functionality and all the tools we need to store, share and work with our business files and imagery.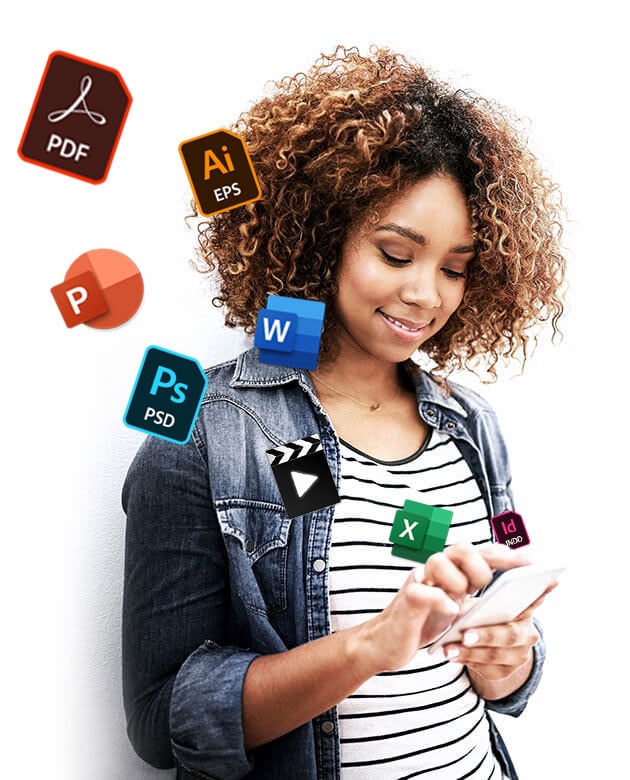 Filecamp:
Digital Asset Management made easy
Filecamp is a cloud-based DAM solution that helps companies organize and share their digital media files, including images, videos, and documents.
No matter which plan you chose, enjoy unlimited users, each with their own set of user and folder permissions.
Unique custom branding options will ensure that your file sharing system matches your brand.
There's a reason that more than 1000 brands from + 60 countries trust Filecamp with their file sharing needs. We make digital asset management easy and affordable.
Start my free trial!
---
More than 1,500 teams use Filecamp
Filecamp vs. Google Drive – pricing
Here's a comparison of Google Drive vs. Filecamp using both of our mid-level plans. Each includes basic digital asset management features, but Filecamp comes with unlimited users in all plans.
---
Filecamp vs. Drive:
Which user interface do you prefer?
Everyone has an opinion about user interfaces, it is not an exact science and there is no right and wrong. Some prefer a Tesla and others prefer a Volkswagen. The two screenshots can give you a quick overview of the differences between Filecamp and Google Drive.
---
Notice: Filecamp's user interface can be fully customised to reflect your company logo and colors.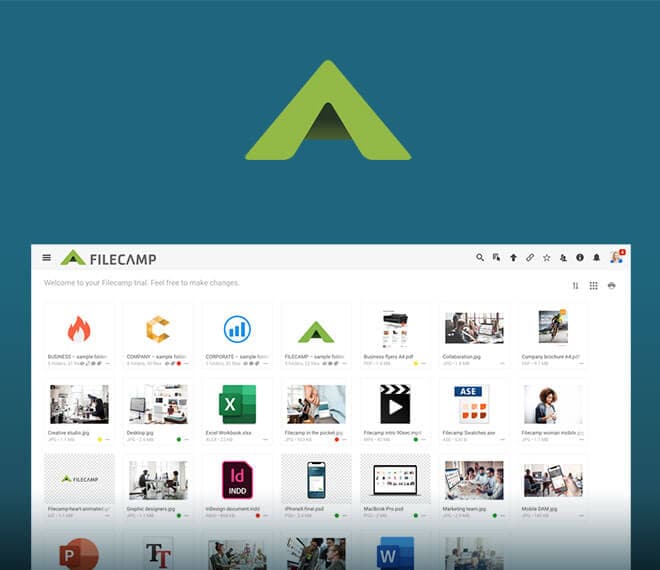 Filecamp's user interface
Perhaps we are biased but we think this looks more slick and user friendly.
---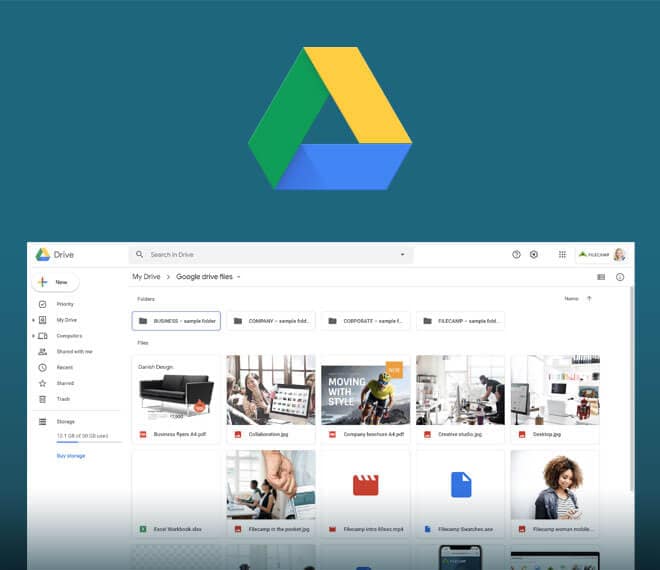 Drive's user interface
We think this looks a bit more complicated and cumbersome. But maybe it's just us ...
---
See how so many companies are saving time and resources by organizing their media using Filecamp.
Start my free trial
No credit card required!