10 "Dropbox for Business" Alternatives for Creative Businesses
In this post, we'll investigate how "Dropbox for Business" compares with 9 popular alternatives for Creative Businesses.
"Dropbox for Business" is a popular file sharing service for business, with a growing number of alternatives. We have seen many articles comparing "Dropbox for Business" to its competitors for general business use cases. But few have considered how "Dropbox for Business" and its competitors address creative businesses, which have a unique set of requirements – rich media, very large files, the need to comment and collaborate on versions of creative materials, custom branding, and more.
---
That's exactly what we set out to do in this post – investigate how "Dropbox for Business" and 9 popular alternatives including Box.Net, Soonr, Egnyte and Hightail, serve the needs of businesses who generate creative materials. These might include photos, images used in websites or mobile apps, videos, sound clips, print/online advertisements, and brand assets.

Which of these file sharing solutions provide not just shared folders but also public download and upload links, important for collaboration with freelancers? Which of them allow you to comment on files to do "online proofing" of creatives? What options are available for custom branding – for example, if you're an agency, can you show the logo of your client on their shared folder? And many more.
---
The Round Up: "Dropbox for Business" Alternatives for Creative Businesses
Click any of the features in the table to read more about it below.
File Sharing Features for Creative Businesses
We investigated each of the "Dropbox for Business" alternatives above to see how they measure up for the features we believe are the most important for creative businesses – based on our experience with clients like the Wall Street Journal, Lego, Unilever (a marketing department managing creatives for thousands of products) and HBO.
---
Users and Online Storage
Creative businesses need a lot of flexibility in the number of users vs. storage space they consume. Some have a large number of users accessing a small number of files – for example, a few brand assets which are circulated across a huge organization. Conversely, a boutique graphic design agency may have only a handful of users, working on a huge image library of 500GB or more.
Many file sharing services lock users into a plan that defines both users and storage. When a vendor offers an unlimited amount of either users or storage space, this provides flexibility and prevents customers from over-paying for users or storage they don't need.
While "Dropbox for Business" offers other advanced features, it does not provide this type of flexibility for users or online storage – the only three vendors in our roundup that provide unlimited users or storage are Box.Net, HighTail and Filecamp. Filecamp, by contrast, is the only vendor that provides unlimited users in all plans. So customers pay according to the storage space they consume – a company needing many users but relatively small storage will save with Filecamp.
In this scenario of low storage / high users, Filecamp is by far the most cost effective – for example, with 20GB and 100 users, the other providers will charge between $790 and $2000 per month, while Filecamp charges only $61.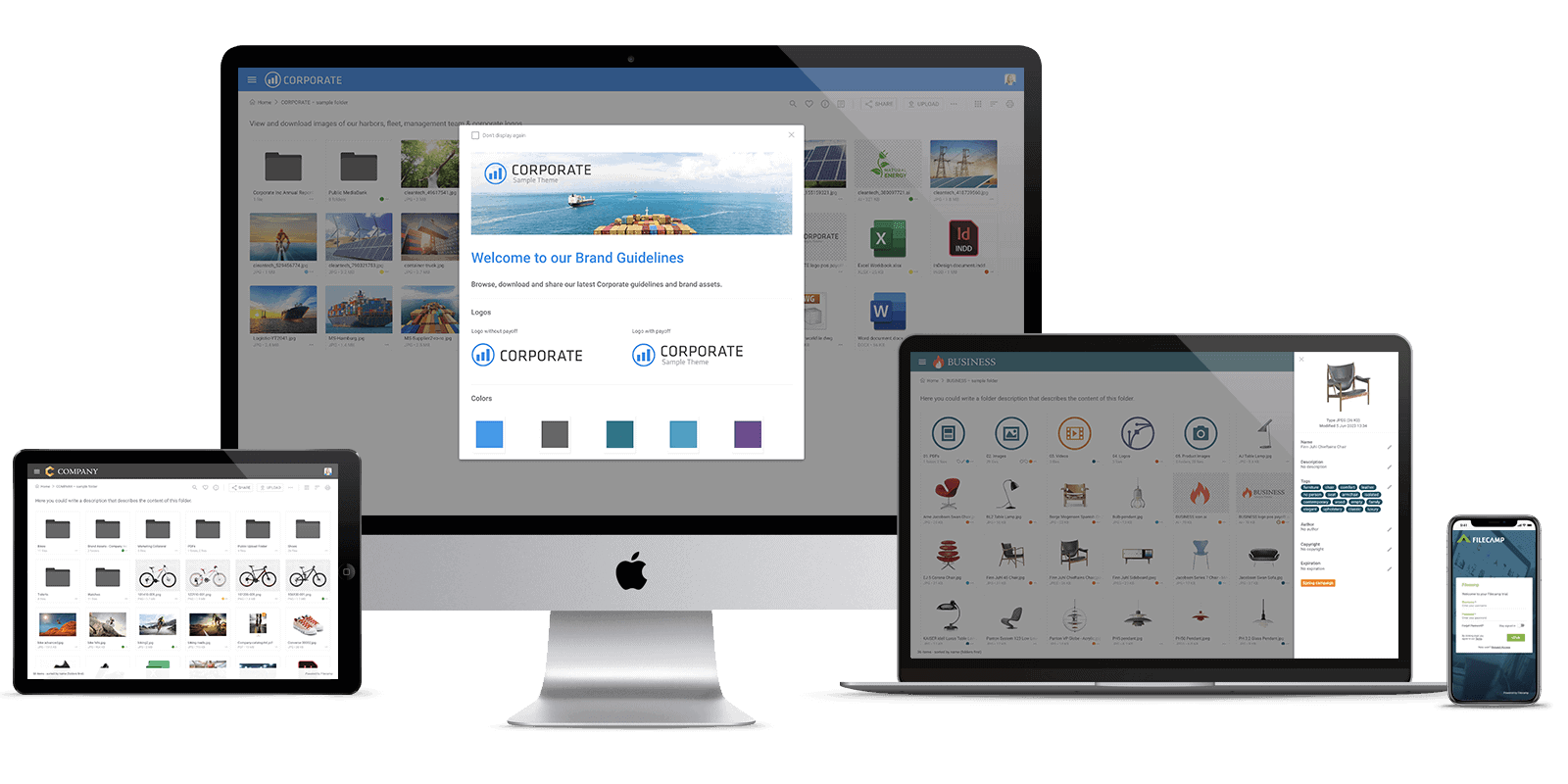 ---
Custom Branding
By customizing your file sharing to show your company's brand and colors, you allow users to experience the file sharing platform as your own business solution, without calling attention to the third party provider involved (e.g. Box.Net). All the vendors in our roundup provide custom branding, except for Dropbox, Sugarsync and Copy.
Filecamp goes one step further by offering custom branding of individual folders, offered on all plans. The feature provides companies with multiple clients (or organizations with multiple brands) personalized account interfaces and login for each client or brand, represented by a separate folder. For example, an advertising agency can offer each of its clients a folder branded with their own logo.
Also, to our knowledge Filecamp is the only provider that enables customizing the URL and login screen of the file sharing system, so it is accessed on a subdomain under your main website, e.g. "files.yourdomain.com", and shows your branding when users log in. This allows you to present the platform as your own technology which you make available to your customers – and even charge for it.
---
Lightboxes / Collections
Another useful feature for creative businesses is to be able to tag images across folders, and create custom galleries known as "lightboxes" or "collections". This is very useful for managing and browsing large archives of images, videos or other visual rich media.
---
Search in Filenames
Most file sharing services, "Dropbox for Business" included, enable searching for files using words that appear in their filenames. Filecamp and Sugarsync also allow searching by filenames, however these services and Dropbox do not enable full text search in documents. Box.Net, Egnyte, Sharefile and Huddle offer more advanced search options such as full text search and filtering of the search. For example, Box allows search by file owner, size, date and file type. However, for creative businesses even these advanced features are limited, because a large portion of their files are not text based. If you're managing thousands of PNGs, Adobe InDesign files, or non-vector-based PDFs, full text search will not work and the only way to search these files will be through their filenames.
Of the other services we surveyed, Copy and Hightail appear not to have a search function at all.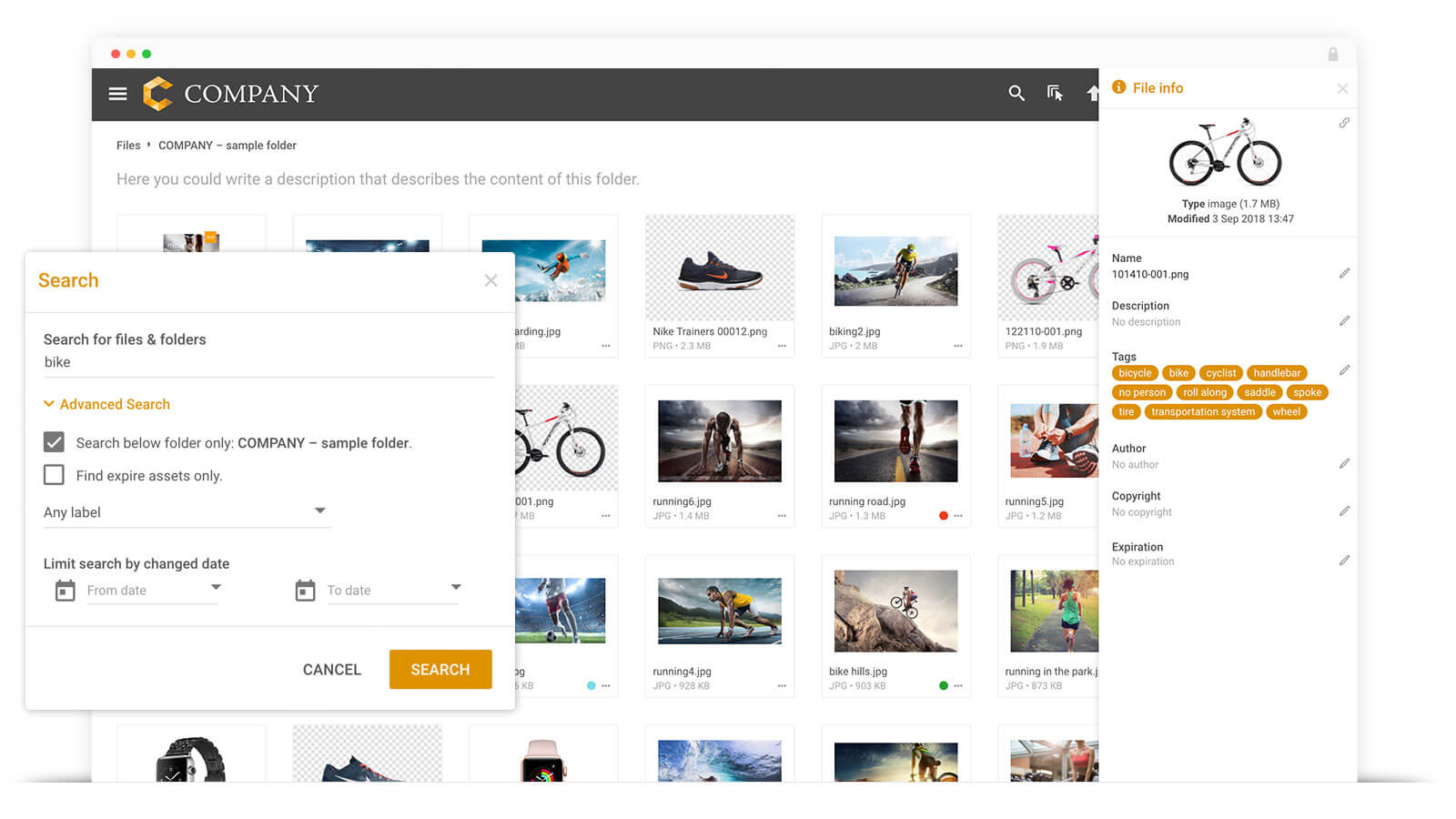 ---
Search in Tags and File Metadata
Many creative businesses maintain a large database of graphic files, videos and other rich media that is not text-based. The natural way to search these is via their filenames, which most file sharing services support. But a more powerful feature is to enable users to apply tags to media files (such as a PNG or WMV file), and then search via those tags. This enables users to organize rich media files across folders by tagging them with visual attributes that appear in the file, categories, projects, or other information.
Of all the services we surveyed, only Filecamp and Egnyte enable tagging files and searching by tags. Dropbox for Business, while it has certain advanced search features (mentioned above), does not currently support tags.
Filecamp goes one step further by supporting pre-existing meta data in the files you upload. Filecamp supports the Adobe XMP standard, so any meta data you apply to files in Adobe Bridge or Adobe Lightroom, will be correctly imported into Filecamp, and fully searchable.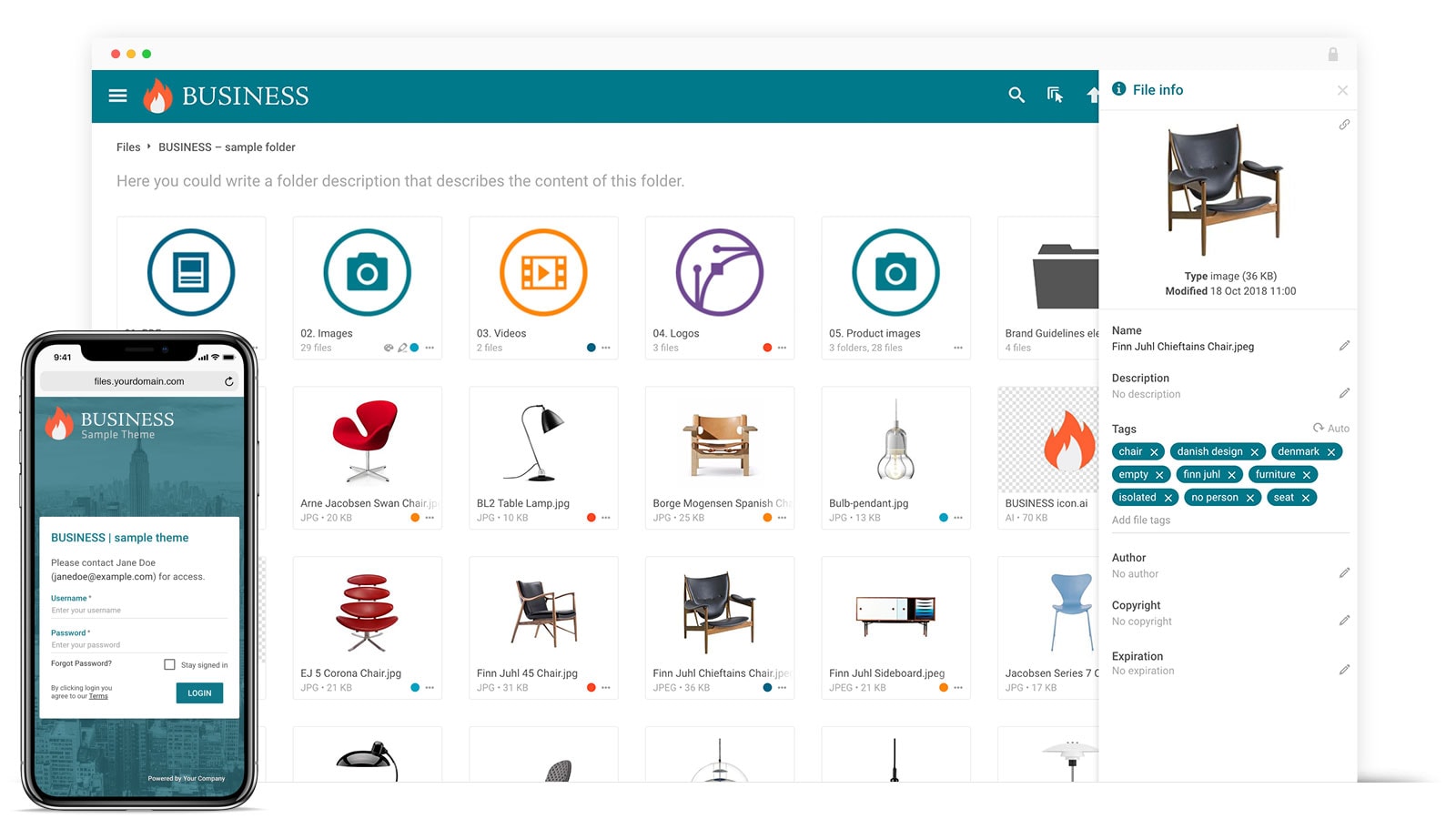 Example of image tagging in Filecamp.
---
White Label
To take custom branding a step further, users can opt-in to white label their platform, showing only their branding with no mention of the file sharing provider, e.g. Dropbox or Box.Net. For creative businesses like advertising agencies or graphic designers, white labeling can create the impression that the business is providing an asset management technology to its clients, alongside its creative services. In some cases this can even create revenue – the business can charge for an 'asset management service' they provide on top of their basic services.
The "Dropbox for Business" alternatives we surveyed, including "Dropbox for Business" itself, do not provide a white label option. The one exception is Filecamp, which does offer white label functionality. Filecamp allows users, at no additional cost, to remove the Filecamp brand completely and make the file sharing platform appear to be completely their open. This enables creative businesses to frame the entire third party file sharing solution under their company brand.
---
Public Download Links
A standard feature across "Dropbox for Business" and all alternative file sharing solutions, is the ability to send "public links". These are links to files or folders you have uploaded to the file sharing system, which you can send to those external to your company (who do not have a user account with the file sharing service). When clicking the link, these external parties can access or download the file via the file sharing service. This is an easy alternative to distributing large files, or numerous files, by email.
Additional to the standard feature of public download links, "Dropbox for Business" offers the special option of password protection and expiration for public links (the feature is currently in Early Access). ShareFile also offers an additional option of limiting the number of times users can download a file. Filecamp enables users to download a folder as a ZIP file.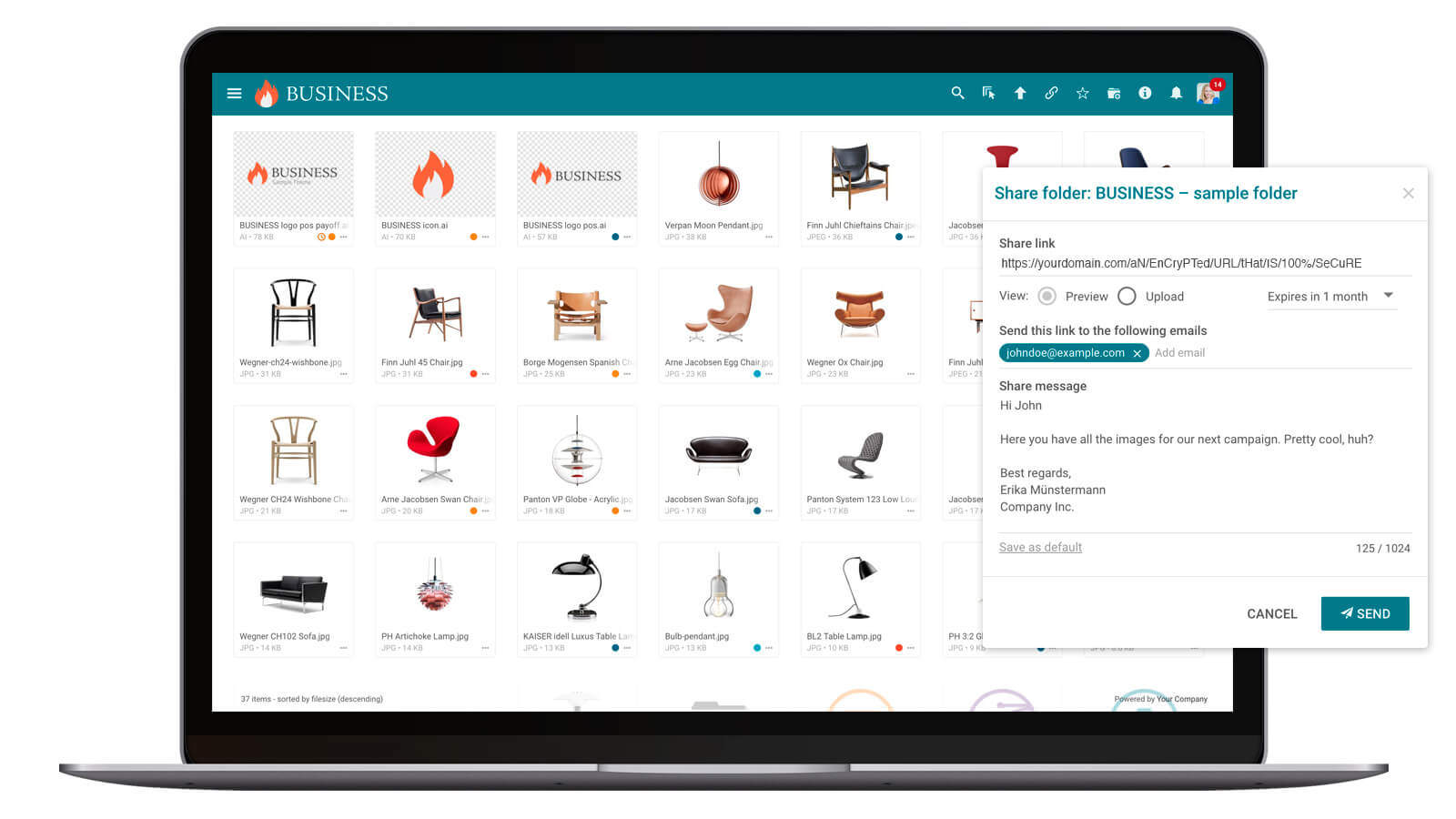 ---
Public Upload Links
In creative businesses, a common requirement is to receive large files from external collaborators, such as freelancers or partners. This is a bit more tricky than sending large files via public links – most file sharing systems will need you to provide a username and password to the external party, and require that they sign in before uploading the file. This is sometimes impractical, or you may not have enough user accounts for all your external collaborators.
A more convenient option is a "public upload link" – this is a link you can provide to just about anyone, which they can click on and then upload, via a web interface, files or folders to your file sharing system. "Dropbox for Business" itself does not support public upload links; Filecamp and Hightail are the only two "Dropbox for Business" alternatives that offer this option.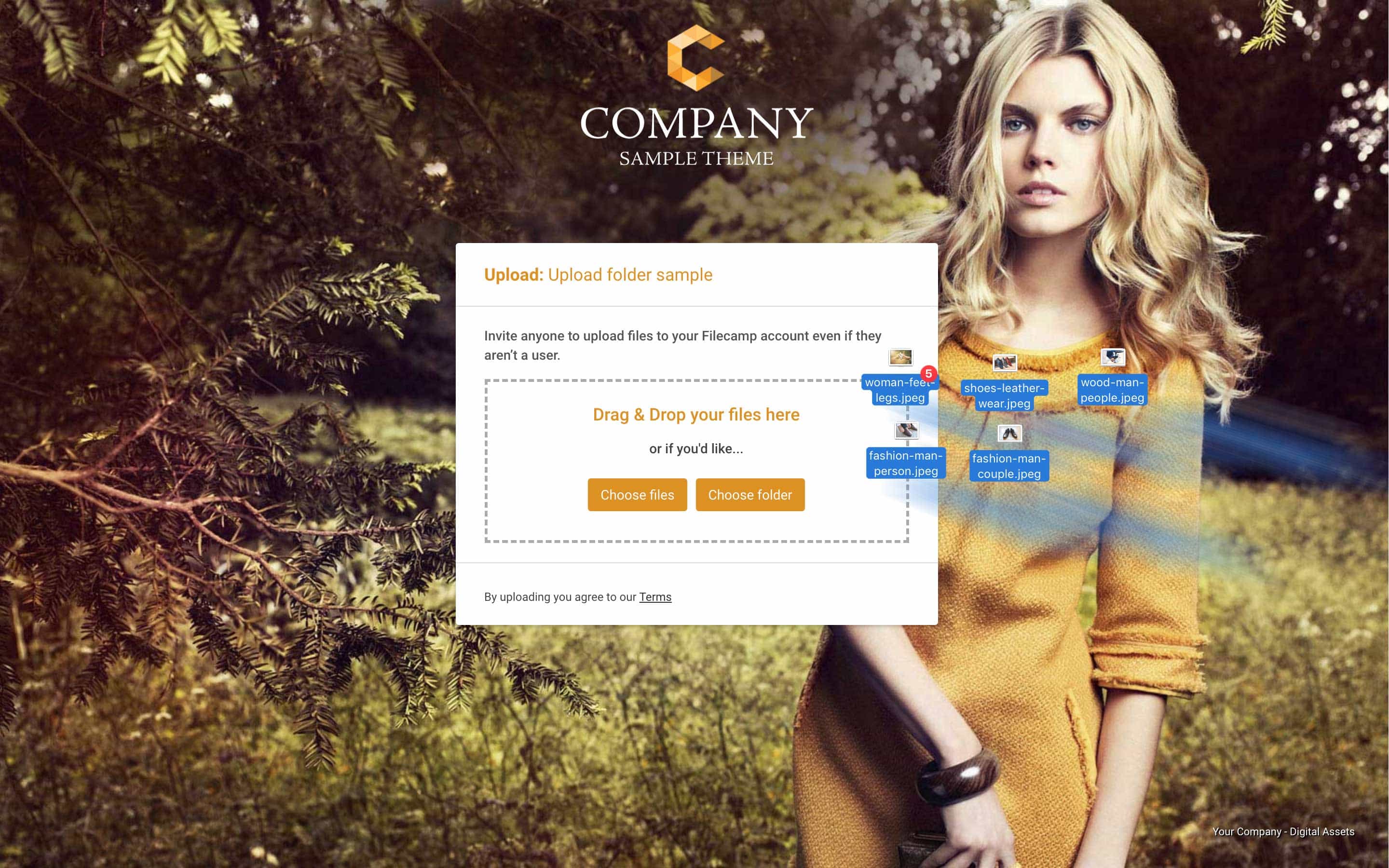 ---
Auto-Conversion and Resizing of Downloads
Another feature, unique to only two "Dropbox for Business" alternatives, is advanced download of images while modifying them to multiple sizes, formats and resolutions. Soonr enables converting files on download between most popular image and graphic design formats. Filecamp has an advanced download feature which allows high resolution vector files, such as Adobe Illustrator, EPS and PSD, to be downloaded as high or low resolution JPG/PNG image (the original file remains unchanged). This is very useful for users who are not graphic designers, and cannot view the original vector file format, to quickly view and comment on an image, and saves graphic designers the need to repeatedly create "snapshots" of their work for review. Filecamp also enables downloading graphic files resized, or with a transparent background automatically applied. These options can save a lot of time and manual work in the production of creative materials.
Filecamp's advanced download screen.
---
Preview of Vector File Formats
In a creative business, a major use of file sharing systems is to share large vector files created by graphic designers, in formats like Adobe Indesign, PSD, EPS, etc. Very often these files need to be shared with non-graphic-designers to enable review and proofing of the creative work. Some file sharing services provide the convenient option of previewing these heavy files directly in their user interface, without having to download the file and view it in a local application (which some users may not have).
Dropbox for Business enables preview of vector file formats like AI, PSD and TIFF. Filecamp, Soonr, Huddle, ShareFile, and Egnyte also provide previews for similar formats. All other "Dropbox for Business" alternatives do not enable vector format previews.
Summary
---
Dropbox for Business" offers important benefits to creative businesses. It provides advanced search by filename, allows non-registered users to access content via public download links, and offers preview options for vector formats like AI or PSD. However, "Dropbox for Business" does not offer unlimited users or online storage, custom branding, commenting and proofing on files, lightboxes, tagging or search by tags, public upload URLs, or auto conversion of downloads. So while it is possible to use "Dropbox for Business" for creative business use cases, it is lacking some features for convenient day-to-day work with rich media across multiple collaborators. Also, the "Dropbox for Business" advanced search options are limited – it enables search by filename, but does not offer a full text search or filtering of the search by different criteria. Of the other "Dropbox for Business" alternatives surveyed, a few shine in the options they provide for creative businesses. Hightail provides unlimited storage and also, like Dropbox for Business, offers a convenient way to receive files from external collaborators, via public upload links. Also similar to Dropbox for Business, Soonr, Huddle and Egnyte provide direct previews of vector files like AI or PSD used by graphic designers. Soonr and Huddle also provide commenting/proofing functionality for managing a review and approval cycle of creative materials. Egnyte enables tagging rich media and searching it by tags, and also provides more advanced custom branding with personalized domain. By contrast, Filecamp is a file sharing solution built especially for creative businesses. While each of the "Dropbox for Business" alternatives offers useful features for creative businesses, we provide the full set – lightboxes / collections, powerful commenting and proofing options, tagging and search in tags, public upload links, auto conversion and resizing of downloads, and preview of vector file formats. On the custom branding size, we offer the most extensive branding options of all the "Dropbox for Business" alternatives, with custom branding of individual folders, a personalized domain and a white label option. Lastly, Filecamp is the only file sharing service in this roundup which provides unlimited users. In many use cases, this will make our service extremely cost effective. We invite you to start a free trial of Filecamp and see for yourself how useful we can be for businesses who thrive on creativity.
DISCLAIMER: We are Filecamp, ourselves a "Dropbox for Business" alternative. Our product is used by creative businesses like newspapers, advertising agencies, graphic designers and retail marketing departments, who have special use cases like Marketing Asset Management, image libraries, brand portals and more. We tried to make the comparison above as useful and even-handed as possible – but while focusing on the features that are important for these types of organizations – which naturally are our strong spots. For a more generic comparison of "Dropbox for Business" and other solutions, for general business use cases, see
ZDNet's
excellent article, which provides a review of eight business-class alternatives to Dropbox, and Christopher Breen's article on
MacWorld
exploring a few Dropbox alternatives, with an emphasis on the business perspective and useful insights in the comments from file sharing users.
Try Filecamp for free. All features included. No obligations.
Start my free trial
No credit card required!