Box.com Alternatives for Creative Businesses
Box.com is a well-known file sharing platform for businesses and there are a number of similar alternatives. Many articles on general business use cases of file sharing have been written that compare Box.com and its similar alternatives.
---
Few of the articles that look at file sharing platforms for business discuss how Box.com and its competitors serve the unique needs of creative firms and design agencies. Creative businesses have different requirements from most businesses – they handle rich media, often working on large files, with the need to comment and collaborate on revisions, must handle brand assets with particular care, and more.
In this article we're going to look at Box.com and its competitors to see how they serve the needs of creative businesses and whether they can truly meet those needs.
We're reviewing Box.com and 9 popular alternatives including Dropbox, Soonr, Egnyte and Hightail. We'll see whether these platforms can provide the tools creative businesses need when it comes to sharing and collaborating on files. serve the needs of businesses who generate creative materials.
From print to online, creative businesses have a lot of files to keep track of, and often they are collaborating with other agencies on a project. At any given time they might need to organize videos, images for print campaigns, website banners, and ux frameworks for mobile apps. When it's time to work on a project for a well-know brand, creative agencies have an additional task of managing those brand assets, whether working in-house or on behalf of the brand.
Let's take a look at these file sharing platforms for business and ask a few questions: Which of these platforms extends sharing to public download and upload links – an important feature for collaboration? Which platforms provide the ability to collaborate and comment on projects with online 'proofing' and review? Can you custom brand these platforms – for example, if you run an agency, can you use white label features to show the logo of your client on their shared folder? And many more. Let's take a look!
---
---
The Round Up: Box.com Alternatives for Creative Businesses
Click any of the features in the table to read more about it below.
What Creative Businesses Need in File Sharing
We looked at the Box.com competitors through the eyes of a creative business – based on our experience with well-known brands and design agencies. From large to small creative businesses, and in-house agencies, let's see what these platforms have to offer.
---
Access and Storage
The needs of creative firms and agencies vary when it comes to the number of people accessing files and the amount of storage space they need. This can have surprising results. For instance, a large well-known brand such as Unilever may have an in-house design agency that distributes only a small number of files, but to hundreds or thousands of people. On the other side of things, a small independent agency could have only a few designers using the platform, but they are sharing hundreds of gigabytes of files.
When platforms for file sharing put limits on the number of users and the amount of storage, this puts a limit on how flexible they can be to meet the needs of their business. Unlimited storage platforms give creative firms and agencies the ability to adapt and meet the changing needs of their business and their clients, whether in-house or working on behalf of a brand.
Box.com, HighTail and Filecamp are the only three file sharing platforms that provide an unlimited plan that allows creative businesses to adapt to changing needs. Box.com and HighTail provide unlimited storage with some limits on the number of users. Box.com limits you to 5 users and HighTail limits you to 2 users. Creative businesses who don't need more users can save with these plans, however, when more users are needed, the plans needed to be upgraded.
Of these three, Filecamp is the only file sharing platform that provides for an unlimited number of users in all plans. Creative businesses can stay flexible and only pay for the storage they need. For large enterprises, especially well-known brands such as Levi's, they can save by only paying for storage and not paying for access by user.
Filecamp comes out on top as far as pricing for creative businesses with low storage but a high number of users. For instance, with 100 people using 20 gigabytes, most file sharing platforms will charge between $790 and $2000 per month, while Filecamp charges only $61.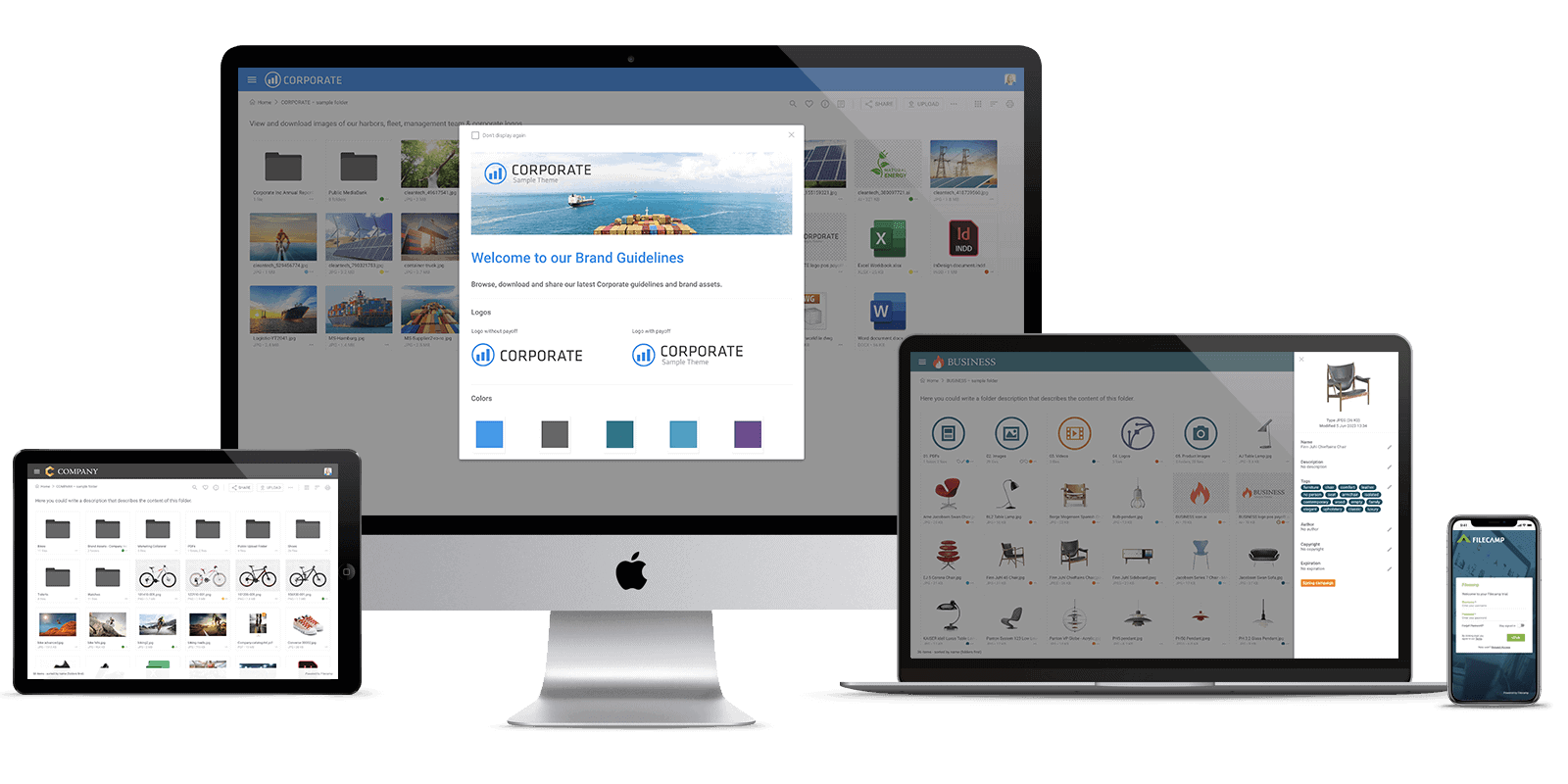 ---
Custom Branding
Having the ability to add a custom look and feel to your user's experience of the file sharing platform is something that creative businesses and all businesses can benefit from. Adding your own brand and colors shows the files sharing platform as part of your business offering without confusing your user with the branding of the third party vendor. All the file sharing platforms in our roundup allow for a custom look and feel with white label re-branding, except for Dropbox, Sugarsync and Copy.
Filecamp offers white label features and takes them up another level by adding custom look and feel at the folder level — on all plans. Having white label features for folders allows creative businesses with multiple clients, or larger businesses with multiple brands, to add a custom look and feel to the account interfaces and login for each client or brand, represented by a separate folder. One simple example of how this can be useful: a design firm can give each of its clients a custom look and feel to their experience, including the client's brand logo. This really helps distinguish an agency as a cut above the rest, and for in-house firms, it makes it easier to juggle multiple brands and projects.
From our survey, we also found that Filecamp is the only platform that allows you to use custom login URL for the file sharing platform. This way you and your clients can access it via a subdomain under your main website, for example "files.mydomain.com". When users visit this URL, they'll see your brand and logo when the login. It's a total custom feel that truly allows you to offer Filecamp as an integral part of the solution you provide to your clients – and you can even bill your clients for it as part of your service if you'd like.
---
Custom Galleries and Lightboxes
Looking at features that are particularly handy for creative businesses, the ability to tag images in different folders to create collections that can be displayed as custom galleries or lightboxes is also very useful. When a creative business or in-house agency has a large archive of images, videos or other rich media, creating custom galleries can be helpful to keep track of everything and present different media that are part of the same project together in one elegant display.
In our survey of Box.com competitors, we were surprised to find that Filecamp was the only platform with this custom gallery or lightbox feature. When it comes to the needs of creative businesses, the Filecamp platform was designed to provide the additional features to make creative businesses shine. The ability to easily tag media and create collections for custom galleries and display them in a lightbox or email the collection for review is also useful for all businesses. When a product distributor wants to let all their vendors know about a new product, they can create custom galleries featuring videos and images of the product for review.
We should note that it's possible to tag images with Egnyte but the platform doesn't offer a way to automatically display the images as collections in a custom gallery or lightbox.
This is an example of a lightbox created using marketing images.
---
Search in Filenames
Most file sharing services enable searching for files using words that appear in their filenames. Box.com has additional search options such as full text search in documents, and filtering the search by file owner, size, date and file type. However, for creative businesses even these advanced features are limited, because a large portion of their files are not text based. If you're managing thousands of PNGs, Adobe InDesign files, or non-vector-based PDFs, full text search will not work and the only way to search these files will be through their filenames.
Of the other services we surveyed, Egnyte, Sharefile and Huddle are comparable to Box with filename and full text search. Dropbox, Filecamp and Sugarsync allow searching by filenames but not full text search. Copy and Hightail appear not to have a search function at all.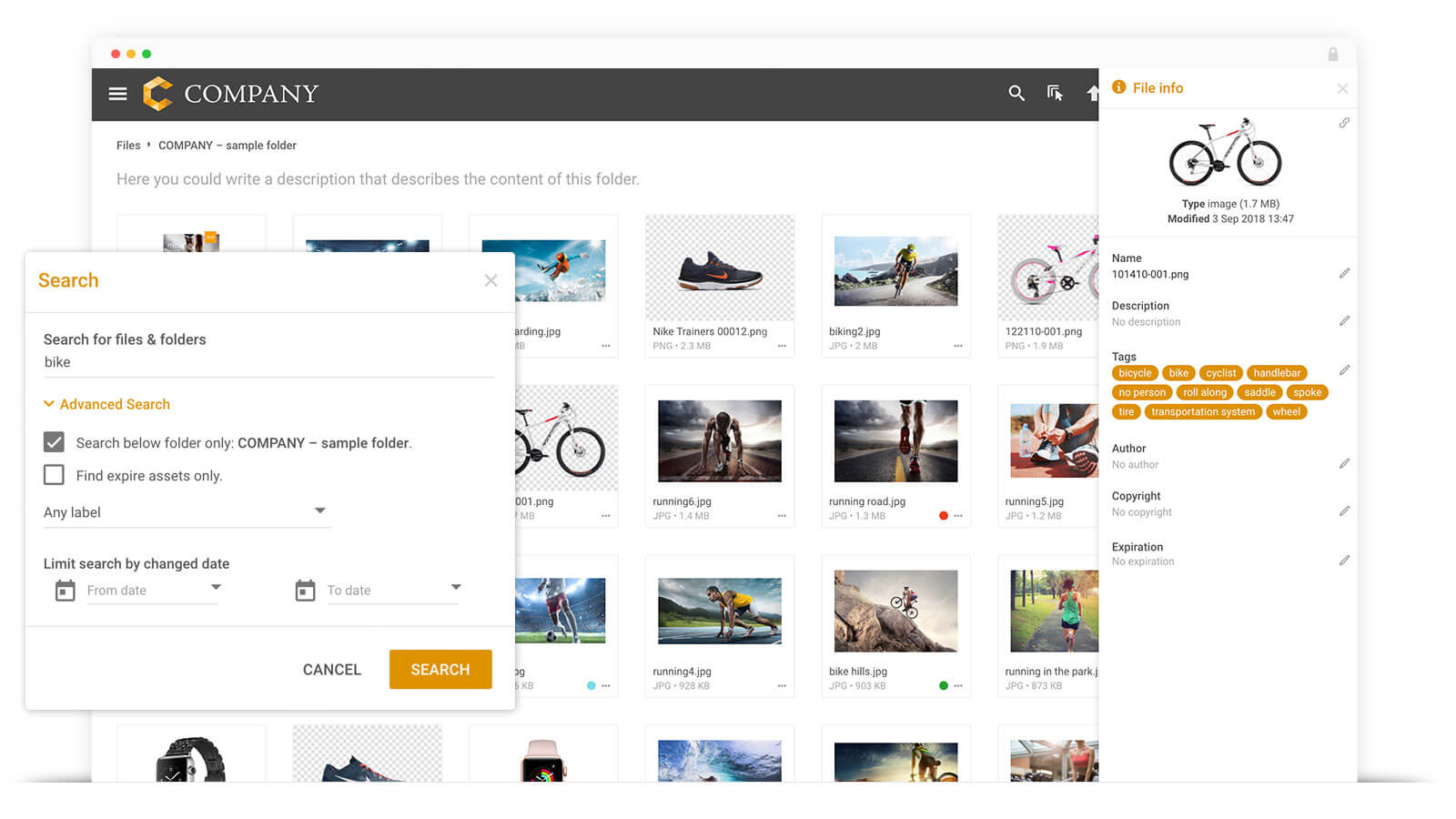 ---
Search Metadata in Tags and Files
Managing metadata is something that creative businesses do on a regular basis when they are handling a large number of files. Graphics, videos, and other media files don't support text-based searching. Typically the way to find one of these files is to search on the filename. However, this can lead to some very long and difficult to parse filenames. By using the metadata, creative businesses and other businesses who handle media files often are able to organize their files by additional keywords and tags.
By having this feature built-in to a file sharing platform, it makes it easier to manage these files online. Tagging media files across a number of folders allows businesses who handle these files to organize them by additional information such as project, director, category, location, model, and more.
We were surprised again to find in our survey that of the Box.com competitors, only Egnyte and Filecamp offer this ability to tag and search files by the metadata. Perhaps more surprising is that Box.com, which has a few advanced functions for search, does not offer this ability to tag metadata in this way.
What about businesses that are already using metadata tags to organize their files? Filecamp offers the ability to readAdobe XMP, so any metadata tags or keywords you use in Adobe Bridge or Adobe Lightroom, will be imported into Filecamp, and you can continue to search for files by your existing tags while adding new tags and new files.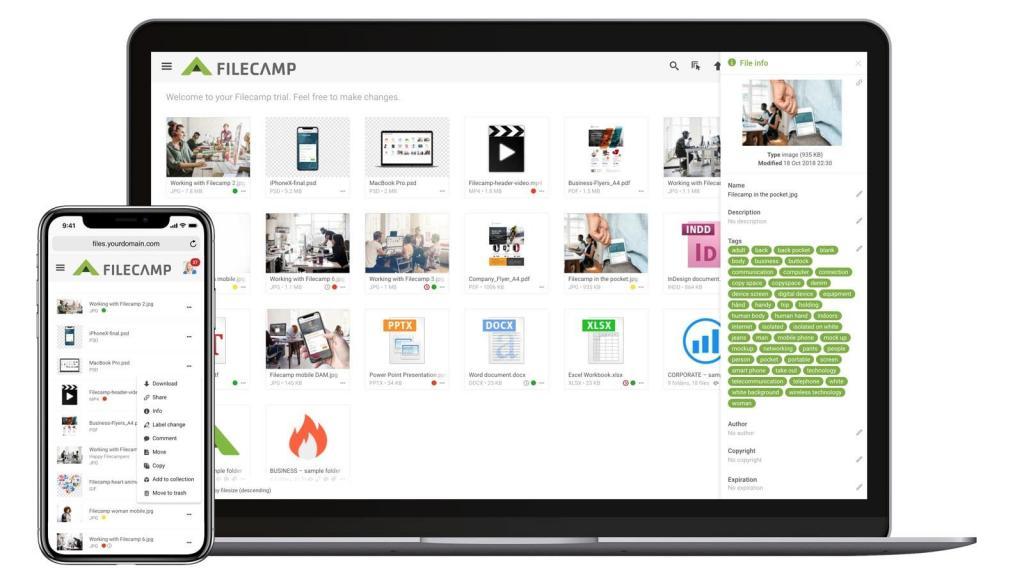 Here is an example of using tags on images in Filecamp.
---
White Label
When it comes to custom branding, white label features are the ultimate in customization features for creative businesses and other businesses using secure file sharing platforms. White label features work by taking custom branding a step further, businesses using the platform can choose to show only their branding with no mention of the file sharing provider, e.g. Dropbox or Box.com.
For design agencies and creative firms, white label features allow these businesses to provide digital asset management in a brand portal for their clients as an additional service that compliments their creative services. Design agencies can earn extra revenue by charging for the service as a separate digital asset management part of their service offering.
Looking at Box.com and similar file sharing platforms, we find they do not provide a white label option. Even Box.com itself does not have such a feature. Filecamp is the only platform to offer white label features. Filecamp allows people using their platform to remove the Filecamp branding completely, at no extra cost.
Filecamp gives creative businesses and other businesses the ability to present the file sharing platform as their own, with complete custom branding and removing any mention of Filecamp with the white label feature. The business is then able to present the file sharing platform as part of a uniform solution to their clients under their brand.
---
Public Download Links
One feature that is common to Box.com and similar file sharing platforms, is the ability to send "public links". These are links to files and folders that have been uploaded to the file sharing platform. The reasons they are called "public links" is because they are links that you can email or send to people outside your business who many not have login credentials for your file sharing platform.
The link makes it easy for anyone you are working with to download a file for review. That's the main selling point of these file sharing services, the ability to send large files to people via a link in email. This also eliminates the need for businesses to maintain their own servers for clients to access their files.
Depending on the service you choose, you'll get different options for these "public links". Dropbox, for instance, provides a password protection feature and expiration settings for public links, this last feature was in Early Access at the time of our survey. ShareFile gives people the ability to limit the number of times a file is downloaded. Filecamp offers a feature that lets people download an entire folder as a .ZIP file.
---
Public Upload Links
While we found public download links to be a common feature amongst all the Box.com competitors, we were surprised that only two platforms – Filecamp and Hightail – offer public upload links.
For creative businesses and other businesses working in the design process, a public download link is helpful, but a public upload link is even more helpful. Creative businesses working in the design process often need to receive files from contributors for collaboration.
Public upload links give creative businesses and other businesses working on creative projects the ability to receive files from contributors without having to setup additional user accounts. For most file sharing platforms, including Box.com, to upload files, a separate user account is needed and the number of user accounts is often limited.
Having a "public upload link" gives creative businesses and other businesses freedom in the design process. Hightail and Filecamp give creative businesses the ability to create these "public upload links" which they can send to collaborators via email just like a public download link. Then, collaborators, can simply click on the link and upload their files or folders via a web interface, from anywhere.
---
Automatic File Conversion and Resizing of Files
Many times creative businesses and other businesses in the design process are working with collaborators or reviewers who may not be able to review large graphic file formats directly. Another handy feature to have in a file sharing platform is the ability to automatically convert large graphics files, such as AI, PSD, and EPS files to formats which can be read easily read by most people, such as JPG or PNG file formats. Looking at the secure file sharing platforms, including Box.com, here's another example of a feature which is not found on most platforms. Soonr has a feature which allows people to convert files at the time of download between most image and graphic file formats. Filecamp offers an advanced download feature which converts high resolution vector files, such as AI, PSD, and EPS files to low and high resolution JPG or PNG images without changing the original file. The ability to convert images at the time of download is a handy feature for creative businesses and Filecamp also enables resizing at the time of download. A transparent background can also be applied to help save time in the production process.
The advanced download screen for Filecamp
---
Previewing Graphics Files
For creative businesses and businesses working with creative files there is often a need to share files in formats like PSD, AI, EPS etc. We've already seen how features like converting files at the time of download can make it easier for businesses to share these files with collaborators who don't normally work with graphics files.
Another feature that also helps sharing large graphics files created in programs such as Adobe Illustrator or Photoshop, is the ability to preview these files directly in the file sharing platform web interface – without having to download them at all. This is helpful because many collaborators don't have the programs to preview these large graphics files, or the time to download them and review them in another format.
Looking at the Box.com platform, we find that they have great preview features for office documents, text files, and even video and flash, but Box.com doesn't support previewing files in vector formats used in graphic design. Thankfully this is a feature that other platforms include, and Soonr, Huddle, ShareFile, Dropbox, Egnyte, and Filecamp offer the ability to preview graphics files in their original format directly in the web interface.
Summary
---
There are some great benefits that all businesses can get from Box.com, including creative businesses. You get a ton of storage, custom branding and public download links, plus some great search and preview features. However, when it comes to the needs of creative businesses, Box.com doesn't offer commenting and proofing of files, lightbox collections, tagging metadata, public upload links, or the ability to work with graphics files easily for collaborators who might not have the Adobe or other creative software to view the files. While Box.com does offer some custom branding features, it doesn't offer full white label support or custom domains. Some of the Box.com competitors in our survey do offer some great features for creative businesses. Soonr, Huddle and Egnyte allow you to preview large graphics files directly. You get unlimited storage like Box.com with Hightail and they also provide a convenient way to receive files from external collaborators via public upload links. With Egnyte you get the ability to tag media files and search for those tags, you can also get better custom branding including using a custom domain with Egnyte. When it comes to having all the features that creative businesses and businesses working with graphics files need, Filecamp is the file sharing platform that offers the best suite of features. Each of the Box.com competitors offers a piece of the pie, Filecamp provides the all the features creative businesses need, plus whipped cream on top – lightboxes and collections, online proofing and review, public upload links, the ability to tag and search files by tags, automatic conversion and resizing at download, and the ability to preview graphics files directly in the web interface. Filecamp also offers the most extensive custom branding of any platform with full white label support and the ability to brand separate folders. All of these features are available on Filecamp and with an unlimited number of users, Filecamp's model is pricing by storage. For most creative businesses that need a secure file sharing platform, this makes Filecamp more cost effective and flexible to meet their needs. You can try Filecamp yourself and setup your own custom brand portal, media library, and more. Start a free trial and see how Filecamp can help your business today!
DISCLAIMER: Our file sharing platform, Filecamp, is a Box.com competitor. Filecamp is used by creative businesses including design agencies, marketing firms, publishers, and in-house agencies. Many of our Filecampers have special use cases such as Digital Asset Management. Our file sharing platform allows these businesses to create a unique brand portal. All businesses we serve are able to take advantage of the white label features we offer. While not all the businesses we serve are creative businesses, all of our clients have find creative ways to use Filecamp to meet the needs of their business. We hope the above survey provides a balanced review of the features available to creative businesses from different platforms. Admittedly, our platform has some features which are designed specifically for creative businesses and businesses who need to securely share graphics files and working on creative projects.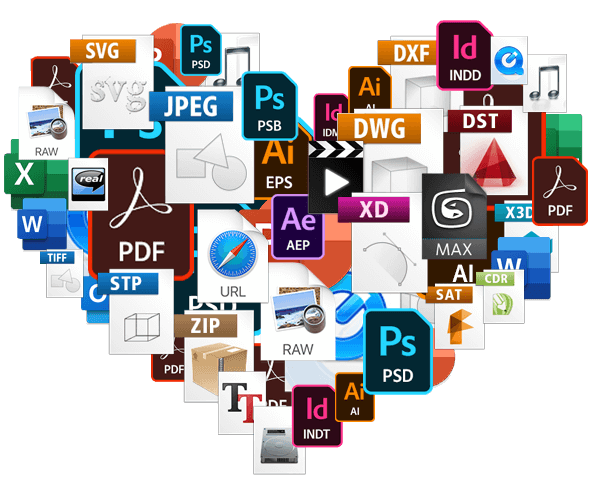 Filecamp is an online Digital Asset Management (DAM) system that allows you to easily store, organize, track and re-purpose your branded assets – such as images, videos, illustrations, brand guidelines, text documents, presentations, and more.
Try Filecamp for free. All features included. No obligations.
Start my free trial
No credit card required!