10 Brands with the Best Content Marketing Campaigns
Content marketing is no longer an option but a necessity. Right from budding startups to elite businesses, everyone is pouring in their hearts and dollars for unique brand content which would make them stand out from the crowd.
Why? Because they have a compound effect on brand amplification. Unlike traditional selling, it is so much easier to establish a space and be in the spotlight. Though the motive more or less remains the same, a perfect content marketing strategy makes the essential difference. It becomes a vital factor in deciding the final success rate.
Even though you spend a dime on regular content marketing ventures, there needs to be some effort allocation for creative marketing campaigns. What makes a campaign an integral part of most famous strategies are its increased conversion rate and high return on investment (ROI) benefits.
Here, the trick is to maintain the anticipation all year round and then give your best shot in these campaigns. It will be a rewarding experience for your loyal customers and fetch you more leads than usual. Plus, if you do exceedingly well, it will set a benchmark for your future progress.
But how do you start such a viral campaign? Let's have a quick look at the steps.
How to start a Content Marketing Campaign?
It's a big concern for every marketer to come up with an engaging campaign idea. Several questions might pop into our marketing-obsessed minds.
How to make a campaign be an absolute hit among the audience?
What kind of campaign can a brand start that hasn't been done in its marketing history ever?
Will it be a roaring success or an abject failure?
How can it be promoted?
And these are just some of the questions from an endless list. Most marketers shoot arrows in the dark, which either turn out to be a lucky hit or a regretful miss. But this approach is pretty erratic.
So here are a few steps to get started right.
Step 1: Keep a keen eye on your  target audience's preferences
It can be done through regular content marketing efforts like scheduling social media posts, vlogs, blogs, etc. Note down their behavior, how they interact with your content, and identify their pain points.
Step 2: Define the scope and size of the campaign
Define the campaign metrics based on the target audience's interest. It will be followed by setting an end goal like revenue generation, improving customer experience, getting feedback, or spreading awareness.
Step 3: Set the right key performance indicators
Setting the right parameters for tracking campaign performance on time is crucial. Based on the KPI, tweak your strategy for the campaign.  For instance, if you build and sell online courses in your business, your KPI won't be just the number of enrolled students but also that of leads generated.
Step 4: Do your keyword research
Keywords are the heart of content marketing. Zero down your keywords well in advance. Keep your hashtag marketing strategy ready beforehand.
Step 5: Start creating the cornerstone and supporting content
Spare some efforts for creating the promotional or affiliate content. Parallelly, chalking out an in-depth plan with those supporting content is necessary and highly beneficial.
Step 6: Set up ads with compelling CTA write-ups
Spend some time creating engaging ad copies. Reach out to influencers for promotion too. Looking out for early collaborators is a winning hack.
Step 7:  Analyze and improvise based on the response received
If your campaign is doing well as per your expectations, you can consider extending it further. If the situation is otherwise, reconsider the offerings of your campaign and continue with the promotional efforts. However, the campaign results will not go to waste as you will gain veritable insights from them.
Now that we are done with the steps, let's head over to some befitting examples.
---
---
10 Brands with the Best Content Marketing Campaigns
Here are the top 10 brands' best marketing campaigns for your next campaign idea. 
1. Rolex
The timeless classic, Rolex, has been around for more than a century. And what's their best-kept secret? It lies in the consistency of Rolex marketing.  
Their Instagram, Facebook, and Twitter feeds have high-quality images and sleek videos of Rolex brimming with elegance. But there is more to their content marketing strategy.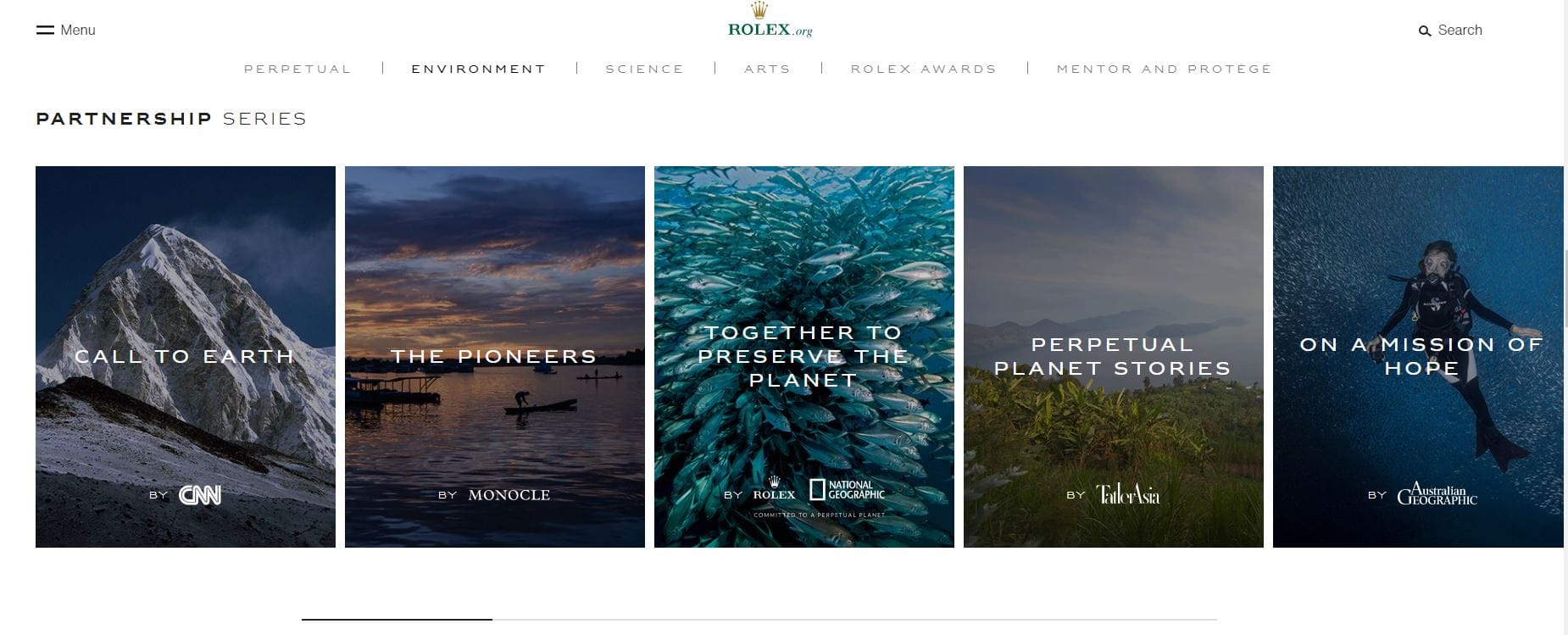 Rolex has always been a firm believer in protecting the planet. There are numerous campaigns to spread this virtue of brand. Their elite partner base includes CNN, National Geographic, Washington Post, etc. 
Rolex has been an ardent supporter of sports, arts, entertainment, and more, partnering with great personalities like Tiger Woods, Roger Federer, David Beckham, etc. The brand also has inspiring philanthropic stories and documentaries in its content marketing regime. 
Takeaway: Keep evolving with the changing times yet adhere to the branding style.
2. Spotify     
Spotify is famous for using its data mine to personalize campaigns based on demographics. They continuously track their user's behavior and present them with relatable results using an intuitive design that is simple to navigate. No wonder millions of people follow Spotify, giving their steadfast support.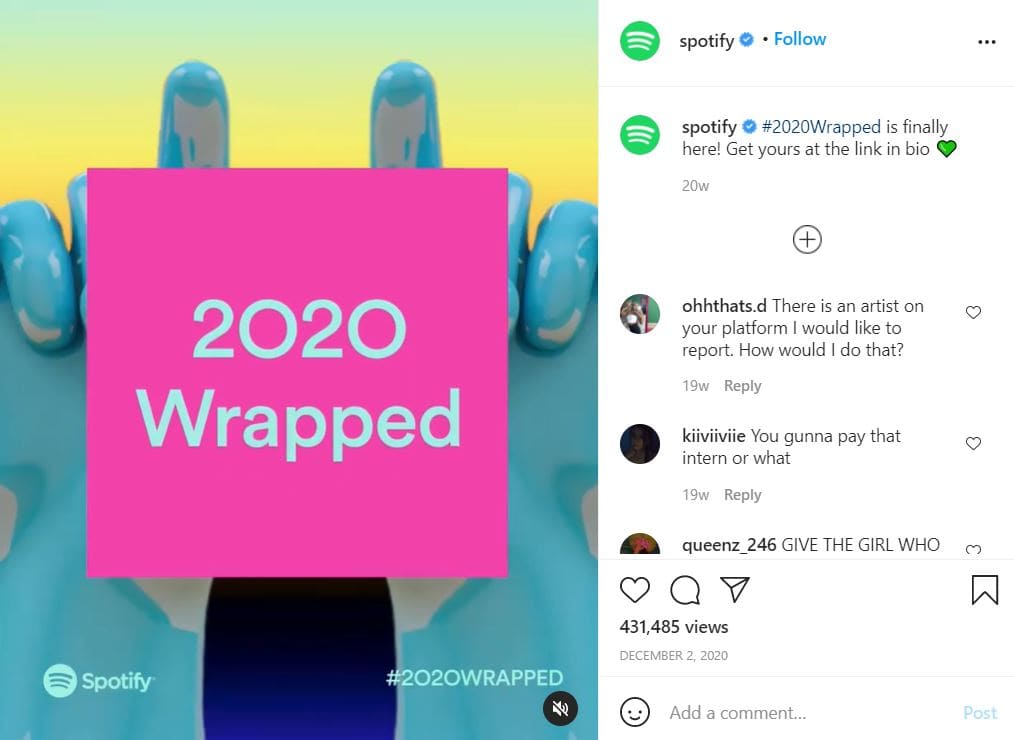 Their end-of-the-year campaign is one of their best marketing strategies to date. It is a sensational hit on social media, pushing in loads of user-generated content. 
Every user of Spotify got a personalized playlist based on their listening behavior over the past 11 months. The playlist was shareable and visually striking. Millions of Spotify followers mentioned it on different social media channels.
Benefit? They tapped into their insight and got publicity for free! 
Takeaway:
Personalization is the best of all marketing techniques. Creating an emotional connection with your audience is a must. It will get you up there amongst their favorites.
3. McDonald's
McDonald's has an indispensable online presence that drives its offline sales. They employ transparent marketing tactics for brand promotion. McDonald's ensures that they have something for every palette. They have a diversified menu even for fitness enthusiasts. 
Their content marketing campaigns revolve around the same analogy. Most of their challenges are hashtags for each of their offerings that encourage users to post pictures with the same tags. 

McDonald's launched something new in 2020- "Travis Scott Meal" at $6.  It was for the very first time that they named an entire meal to somebody. The meal sold out at several locations. 
Fun fact! The meal was so popular that, as per CNBC reports, the nation suffered a shortage of ingredients.
Takeaway:
Partner with influencers to boost the campaign virality.
4. Chipotle
Chipotle is one of those few brands that employ dynamic strategies for content marketing. It is willing to experiment with almost everything. Be it TikTok or even bitcoins, Chipotle comes forward to try it all out.
Since GenZ occupies a great deal of the audience graph, Chipotle dived right into the mediums that fascinate this demographic the most. And as a result, it became a pioneer in mobile marketing too.
Its loyalty programs and rewards are so efficient that Chipotle doubled its user base in a year.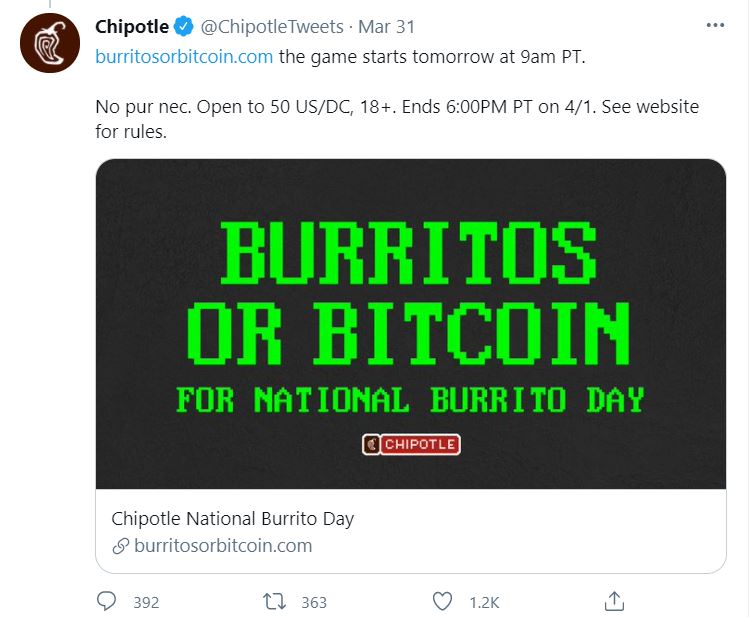 On the eve of National Burrito Day, Chipotle announced on its social media handles that it would give away free burritos and bitcoins worth $100,000 each. It partnered with Stefan Thomas, CEO of Coil, famous for forgetting his digital wallet's password, having bitcoin worth millions of dollars.
The contest was pretty simple. Every Chipotle customer gets 10 tries to guess the 6-digit code. The person winning this would get free burritos or $25000 in bitcoins. Once the contest ends, 10,000 fans would get one free burrito, and 50 fans would get bitcoins worth $500, while the top 3 fans would be eligible for $25000 in bitcoins.
Now that's called remarkable marketing!
Takeaway:
Join hands with the latest buzz for promising results of campaigns.
5. IKEA 
IKEA is famous for its innovation and is by far the best in the furniture niche. Their problem-solving approach is evident in their offerings. Their DIY partnerships with Youtube creators are a source of inspiration. 
They additionally stress affordability and durability while also giving customers a purpose to revisit IKEA for inspiration. How does the marketing strategy make sure of it? Along with Guerilla marketing tactics, their content marketing is very well planned.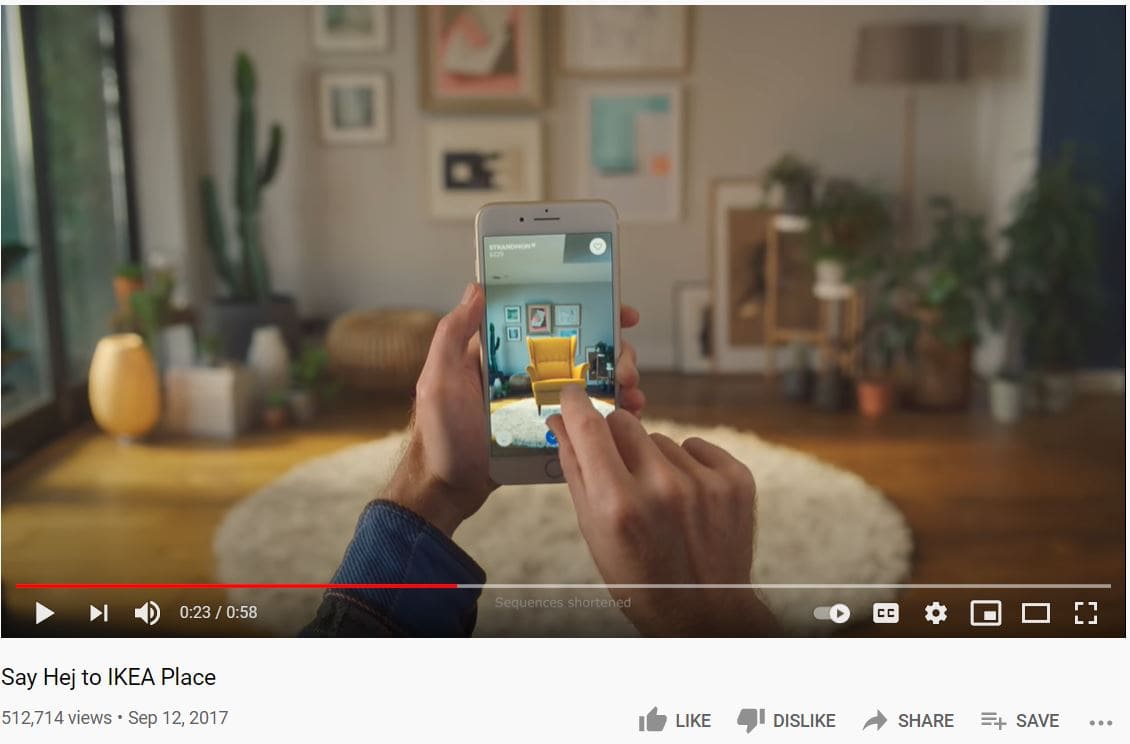 They embraced an Augmented Reality approach to create experiences. By launching the IKEA Place app, you can check if your favorite IKEA purchase will match the vibe of your living room or not! Additionally, their social media handles have tons of tips, how-tos, assembly instructions, and a lot more.  
Takeaway:
Your content marketing strategy should be about experiences rather than products. 
6. GoPro
GoPro has become an instant favorite of every vlogger. They leverage their community for branding purposes. Posting adventurous and beautiful videos shot by GoPro users has a dual benefit. 
The brand has a surplus of content that speaks of its high-quality service without spending a dime on production. It also aids in word of mouth. Hence their content marketing is less of creation and more of curation. 

They regularly host competitions to engage their customers and inspire more user-generated content. Participation is easy, and the reward is fantastic.
Takeaway:
Make your followers a part of your campaign. 
7. Oreo
Everybody loves Oreo, and that's evident by their millions of followers. Their content marketing strategy comprises the best combination of humor and fun. It is first to jump on to the trends, be it vault or monolith. But there is another specialty apart from being humorously prompt. And that's inclusiveness.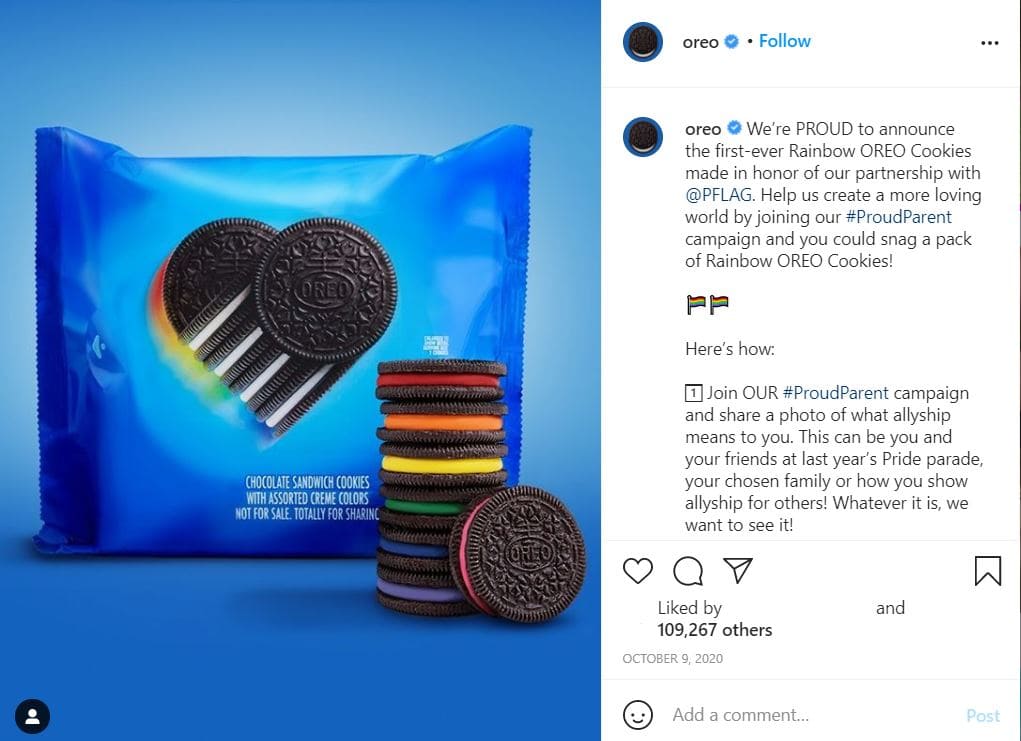 Oreo joined the Proud Parent campaign to encourage LGBTQ parenting with PFlag. The users can share relevant pictures and tag Oreo. It also announced 10,000 rewards. The campaign was promoted with a short movie that resonated with thousands. 
Takeaway:
Keep your campaign authentic and more relatable. 
8. Lego
We have all played with those familiar building blocks in our childhood. These colorful construction blocks are a part of every kid's childhood to build anything, from simple houses to spaceships and monsters. 
But the way lego has built an entire universe from its content marketing is something seriously remarkable and no short of a spectacle.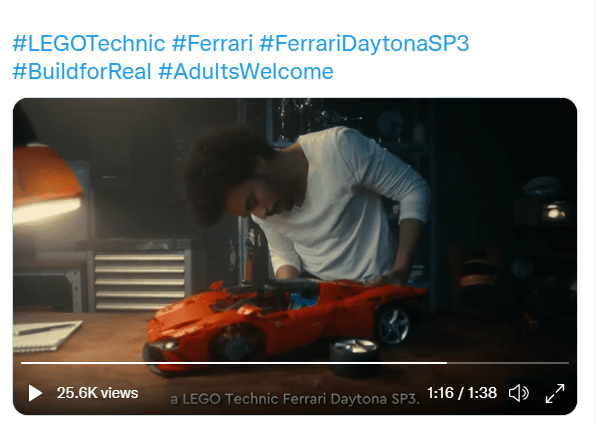 As any wise brand would, they have diversified their content as well as products to cater to a larger scope of audience. They have a huge variety of models you can build, which are not particularly for kids but also can be the pride and joy of dedicated adult fans out there. They have recently launched a Lego Ferrari model for their adult audience. 
They have also leveraged the familiarity of popular movies and characters to create plots and storylines around them but with their own twist. They have such an enviable collection of Lego movies which are ridiculously entertaining and can give Marvel a run for their money. 
Other than movies, they have dipped their toes into every other type of content under the blue sky to make their brand even more versatile and entertaining. 
Takeaway:
Go as in-depth with your stories and characters as possible to create authentic content.
9. Redbull
What is it which keeps the marketing mill of a brand grinding on full power if they have merely one product to promote and sell? That's a question we should ask Redbull because it seems to be doing very well indeed. 
The secret lies in playing it smart. Contrary to its famous slogan, Redbull doesn't actually sprout wings on your back. They vehemently set out to show the world what their offering wings actually meant to their audience.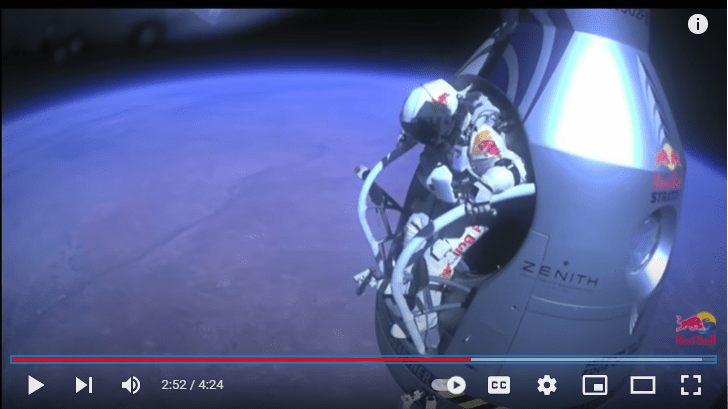 They took up promoting and supporting adventure sports which diversified their branding from being just an energy drink. In 2012, Redbull sponsored an event named Stratos. It involved Felix Baumgartner, an Austrian skydiver jumping off from a height of approximately 39 km and freefalling to earth. 
The jump was a resounding success in more than one way. The event cost Redbull $30 million, but the campaign boosted their sales by a whopping $500 million, along with breaking a number of Guinness book of world records. The brand has since then sponsored many more extreme events such as these. 
Redbull's Youtube channel has 10.5 million subscribers and 5755 videos mostly related to such adventure sports. Needless to say, the brand expertly resonates with its target audience, i.e., the adrenaline junkies, the go-getters. 
Takeaway:
Branding need not strictly be limited by the product.
10. Dove
Dove can be counted as one of the global brands which have grown exponentially since its inception. On paper, it's a beauty and hygiene brand, but it has created an exceptional image in the minds of its customers, which is an undeniable fact.
From the very beginning, Dove has kept a comparative approach in its advertising which enticed people to switch from their respective products to Dove. However, in the last few years,  their running theme of brand communication has focused on meatier issues regarding women and their perception of beauty. 
Their efforts have built an impression for Dove, which evokes the sentiment of skincare rather than a superficial glow and fairness. People think "care" rather than "vanity" when they think of Dove. 
Their social media and advertising content are in perfect harmony with their promotion of authentic and inclusive beauty standards. Their strategy to bring in relatable personalities to convey the message they want to is an excellent tact to make it all way more believable.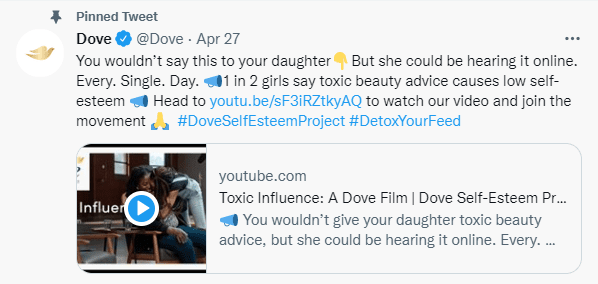 In their latest ongoing campaign on social media, they detoxed feeds. They brought in a couple of mother-daughter pairs from a video ad where they were shown the kind of toxic beauty concepts which these young girls are exposed to through their own social media feed. 
This sort of content is insightful as well as educational. And as a brand, Dove always goes this route of creating awareness of normalizing every type of beauty. 
Takeaway:
Grasping onto a social message can be a powerful branding tool.
Conclusion
It's getting increasingly difficult for marketers these days to create an everlasting impression. The flood of content from different sources has made the attention span of the audience very short. You can still make the cut if you stay proactive. Study your audience, identify the pain points, and provide them with solutions. 
Another prime challenge that has creative minds spinning is just what kinds of themes to chase for an effective image building. Nowadays, people are exposed to high-quality content through social media and other networks. This might be from commercial sources or user-generated content itself. 
Hence brands have to up their games because only product-centric promotions are just not enough anymore. People have to think 360 degrees. 
To do this, engage with them to know them better—leverage social media tools to monitor the effectiveness of your fellow marketers' strategies and draw some inspiration to devise your own. So don't wait anymore and get ready for your next campaign.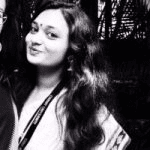 Sweta Panigrahi is a Senior Content Writer at
SocialPilot
. Her strongest pursuit is to capture social media happenings in her well-researched blogs. From codes to meme posts, her search history is a confounding mess. When not typing out blogs, you can find her in a sunny corner scribbling poems.
Published June 1, 2022