When is Filecamp right for your business?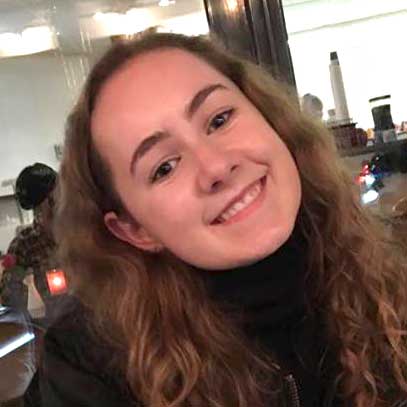 Mathilde Lindberg
Content Marketing Specialist
Published June 04, 2020
If you have a business, chances are good that you have images, logo files, documents, and other digital assets that you need to store, find and share — with staff and customers and other stakeholders.
And since you've found your way to this page, you're probably searching for some kind of central platform to handle all these different media requests. Without knowing it you might be ready for digital asset management software that can help you manage and streamline all your visual content.
---
Filecamp is designed for those with a lightweight need and a smaller budget. This means the features, functionality, and user experience is designed simply, specifically for small businesses (or marketing department in larger businesses). We understand that for many, managing digital assets needs to be a small part of someone's job – not something that requires full attention and maintenance. That's why we have built Filecamp.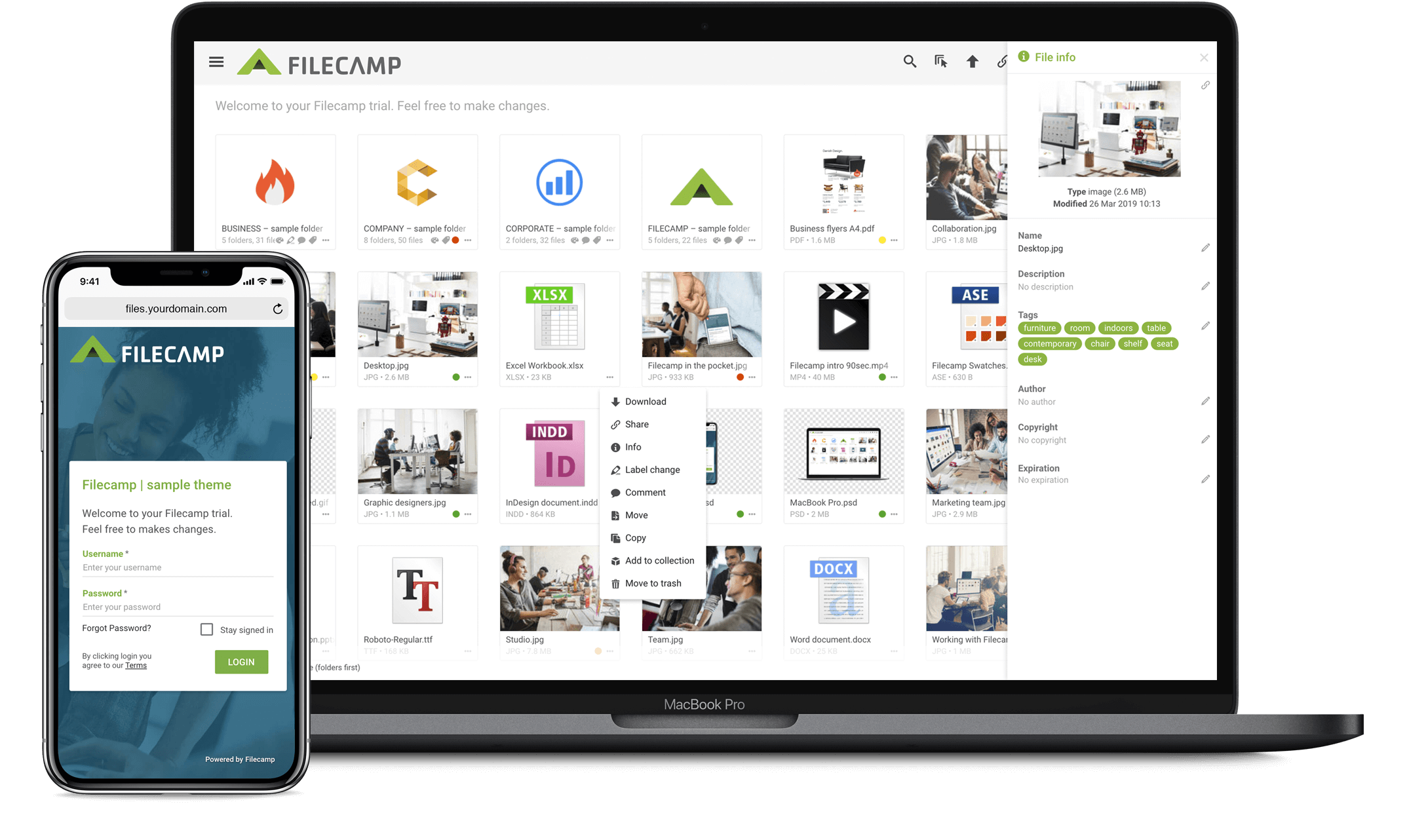 What is Filecamp?
Filecamp was launched in 2010 with the idea of filling the gap between over-complex, enterprise-level DAM solutions and personal-use products like Dropbox and WeTransfer. Since then Filecamp has grown to support more than +1000 brands worldwide. The thing is, most companies will outgrow Dropbox and similar tools at some point. And in most cases, there is no need for going all the way and invest in an enterprise-level DAM system, and not to forget; start training your employees in how to use it.
Perhaps it would be better to settle for a light-weight out-of-the-box DAM solution (like Filecamp). In Filecamp, we give you a platform for storing, finding and sharing all those digital assets. We have customers of all kinds and sizes, from global and well-known brands like Unilever, Estée Lauder and HBO down to small graphic design firms.
---
Personal-use products vs. Filecamp
Then there are many personal-use cloud-based file-sharing tools out there. These tools certainly have their uses but come up short when it comes to managing and distributing final image assets.
These tools aren't designed specifically for managing the visual content your teams are creating and using. While a great device syncing service, like e.g. Dropbox falls short is it's handling and displaying of photos. It's about as basic as it gets. A lack of customization, file conversions, and metadata prevents it from being a professional media management and file-sharing tool – especially for external and final work sharing.
But dropbox, Google drive etc. still  come in handy for sharing work-in-progress images or transferring files across devices, and we use these tools ourself here at Filecamp.
---
Enterprise-level DAM vs. Filecamp
The Filecamp DAM system is designed to help you store and organize all your digital assets such as photos, documents, logos, and videos. Once you have stored your assets in your self-made folders just the way you would like, you are ready to share them with friends, colleagues, and customers. You can in fact share with anyone, anytime.
If this sounds just like the services that the large-scale DAM systems provide, you are right! Filecamp just makes it easier, cheaper and more personal. In fact, when starting a free Filecamp trial, our designers will right away add your company logo, colors, and background image to the login page, so you can feel at home at our site from the first minute.
---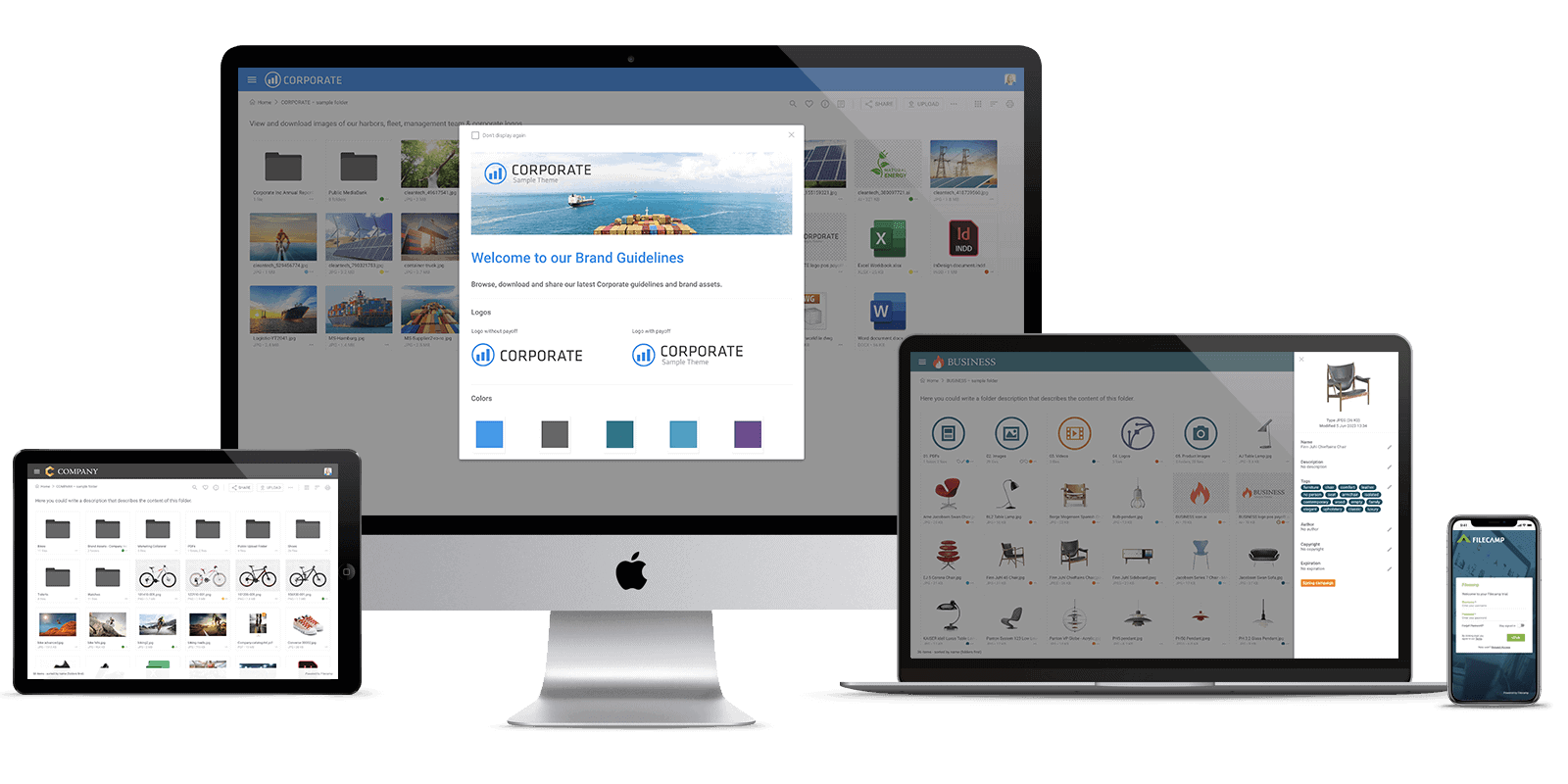 So what exactly can you do with Filecamp?
Among many, here are some of our key features:
Self-signup – Signup for the free trial, upgrade when you're ready, and change plans as needed.
Transparent pricing – all prices can be found here. No startup fees or other hidden costs.
Only the storage you need – Plans start at 20GB of storage and you can get more when you need.
Unlimited users in all plans – Create all the Administrators and users as you like.
Granular access: Your clients and partners will only have access to specific folders and files you've given them permission to.
Keywords/Tags: Tired of going through multiple folders to find exactly the photo you are looking for? Tag your photos with words, that makes it easy to find the photo you are looking for.
Pages: We have an easy-to-use WYSIWYG (What You See Is What You Get) editor built-in, so you don't need to learn HTML to build your custom pages.
Share file & folder links: By just sharing a link, you can send anything – from photos and videos to entire folders and Collections – with anyone.
Request file links: Receive files and folders of all sizes and get a message when files are uploaded.
Collections: Your users can easily enter and share their Collections with direct links without having to grant a username and password.
Auto tags: Click on your images and let Filecamp analyze it and automatically give them tags, so you can find your images more easily.
Labels: Rate your files by giving them labels. Create your own labels that make sense to you and your company.
White Label: The Pro plan offers you a full white label experience, where your brand will be the only brand represented on the page.
Custom thumbnails: We have provided Filecamp with a simple and user-friendly interface, but feel free to give your files and folders their own visual cues.
Low-res downloads: For us, flexibility is a keyword. You can download in the original format, but also in a lower resolution while on the fly.
In Filecamp, we put a lot of effort into making features that suit your needs and gives you and your company the feeling of having full control and determination of our system. So read more and check out our several other features
here
and see if it suits your company.
---
DAM, DAM lite, image management, image library, media bank. Whatever you'd like to
call it
, Filecamp is here for those with lightweight digital asset management needs. Get started today with a
30-day free trial
and check it out for yourself.
---