10 Restaurant Digital Marketing Strategies to Grow Your Brand in 2022
In this golden age of digital media, good marketing strategies are the secret that turns a good restaurant with just a few clients into a well-known brand that people trust and will often visit for delicious food.
Would you like to make your restaurant famous, get more clients, and increase your revenue? Then you must up your restaurant marketing game! In this article, you will find the essential digital marketing strategies that you must implement to reach your full potential in 2022:
Optimize your restaurant's website
Nowadays, your restaurant's website is your business card. It is the first thing a potential client sees, and in just a few minutes of investigating, they will decide if they want to order from you.
A restaurant website must have a clean look, intuitive navigation, and relevant information to attract customers. For your restaurant marketing to work, make sure your website checks all the following boxes:
Mobile-Friendly: Most people use their phones to order, so your restaurant's website should be easily accessible from any type of device;
Up to date information: Have you recently changed your working hours? Have you added some new dishes to your menu? Make sure to update your website every time so people won't be disappointed when they can't order their favorite dish;
Pictures you can't say no to: We eat with our eyes first. Therefore, your restaurant website must be full of mouth-watering pictures. Consider hiring a professional to take the pictures so you get the best results;
SEO-compliant: one of the most important digital marketing strategies for restaurants is ensuring your website has fast loading times, contains the right keywords and has a responsive design.
---
Prioritize SEO optimization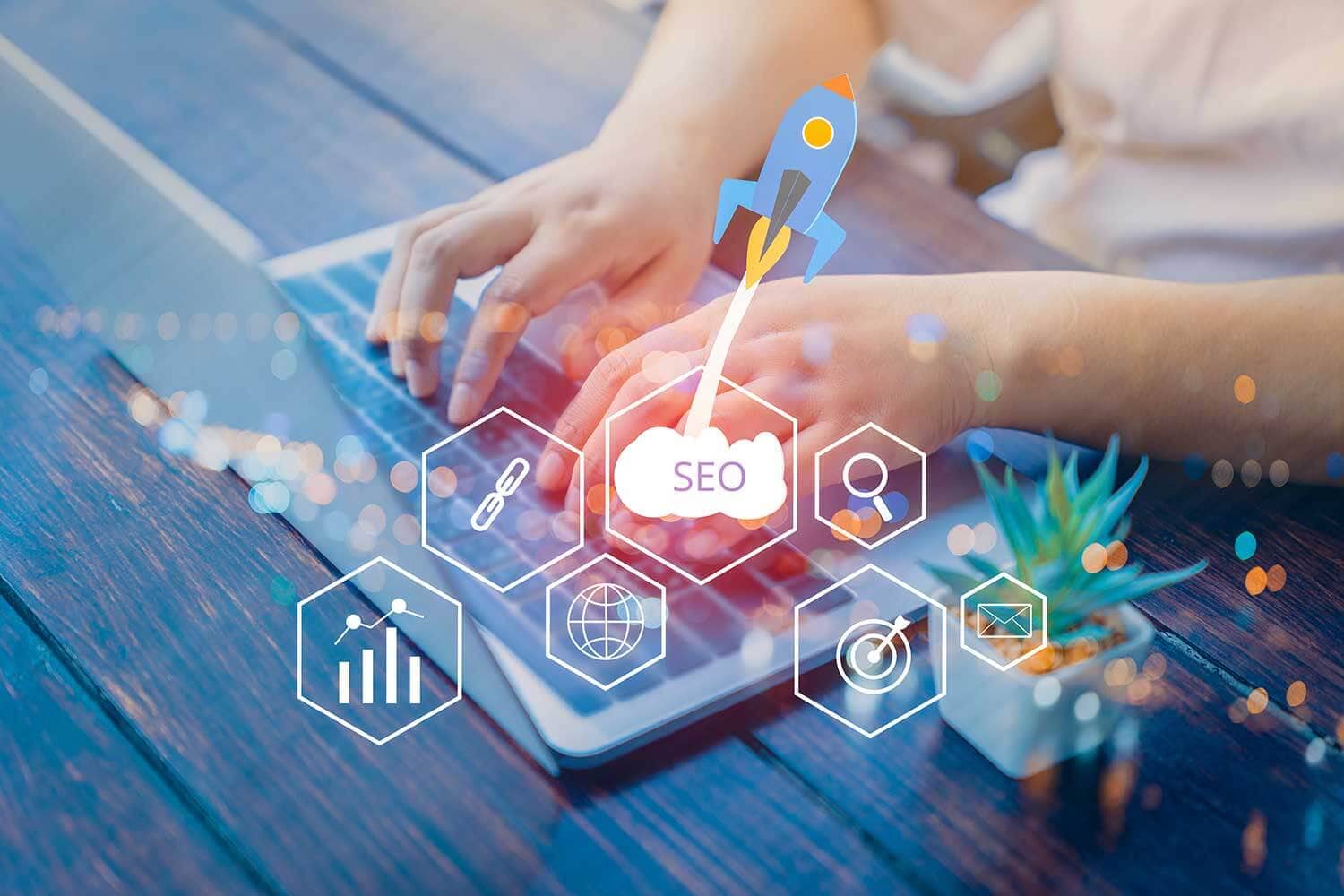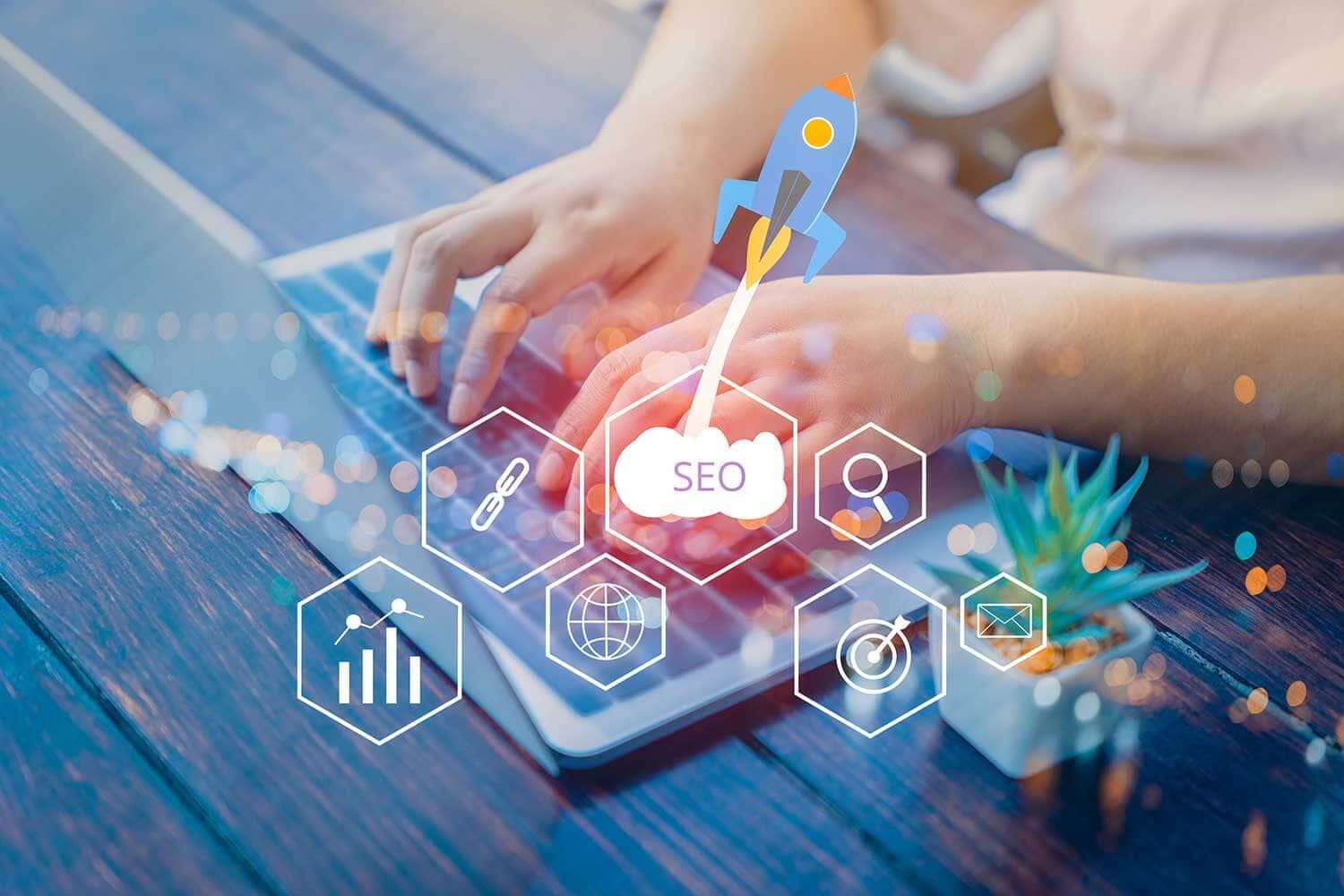 SEO optimization aims to bring your restaurant's website to the first page in search engine results. Is it easy? No. Is it worth it? Yes.
You will get more traffic, make your restaurant known, and increase conversions. Ultimately, people will choose to eat at your place over others.
You will get the best restaurant marketing results by hiring an SEO agency. However, if you are not ready for this step, here are a few things to keep in mind and implement if possible:
Make a keyword strategy: What words would people search to find your restaurant? Let's say "pizza with cheese crust" or "best pizza in X town." After identifying these possible keywords, use them as much as possible in quality and relevant content on your website;
Start doing link building: This is one of the essential digital marketing strategies for any industry. For your restaurant's website to gain authority, you need to have backlinks from high-ranking websites. You can exchange links with partners, encourage publications to review your restaurant, or barter for a link on relevant websites;
Offer the best user experience: Google considers your website's user experience when ranking it. Hence you must ensure there are no bugs, that pages load smoothly, and navigation is intuitive.
---
Don't forget about local SEO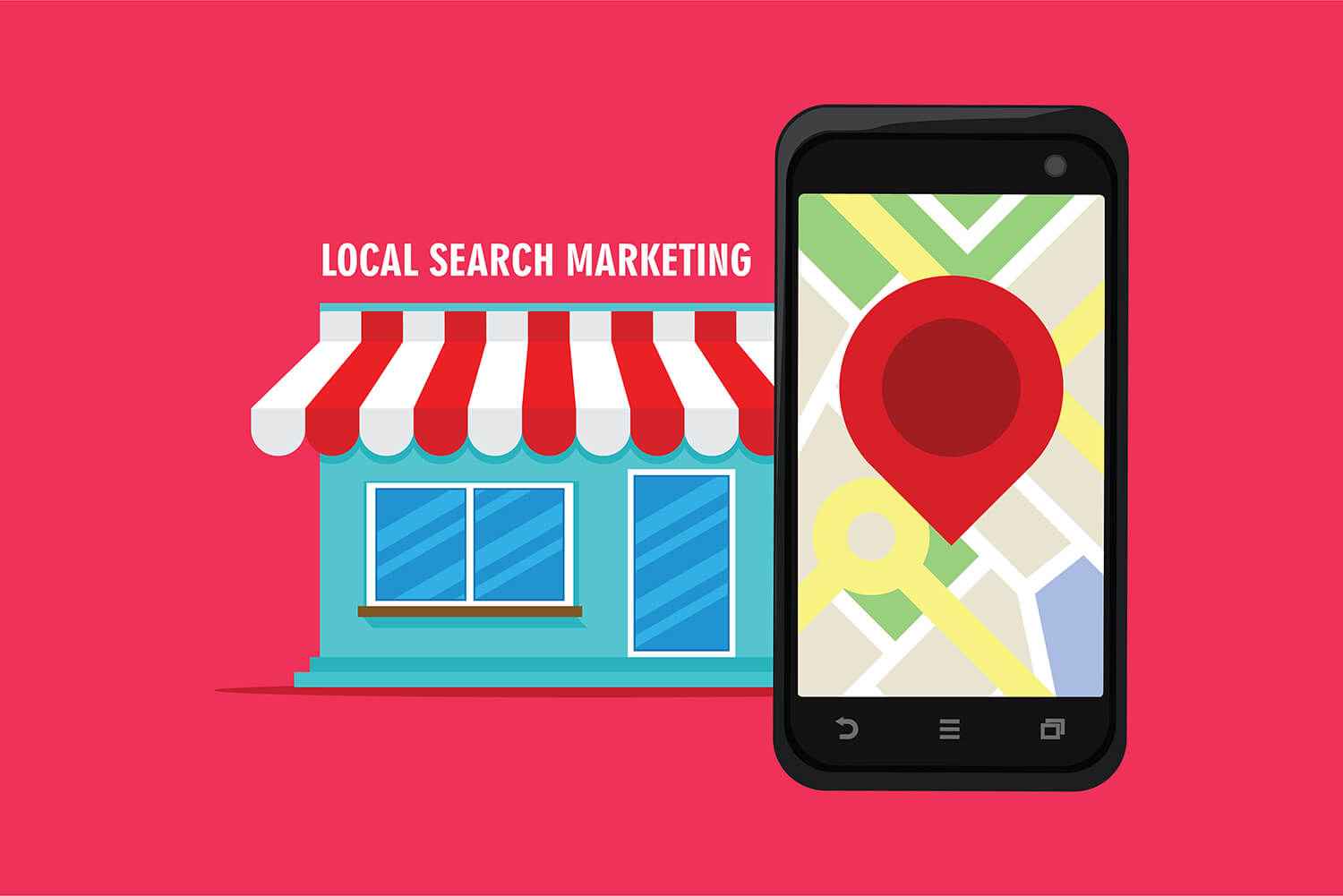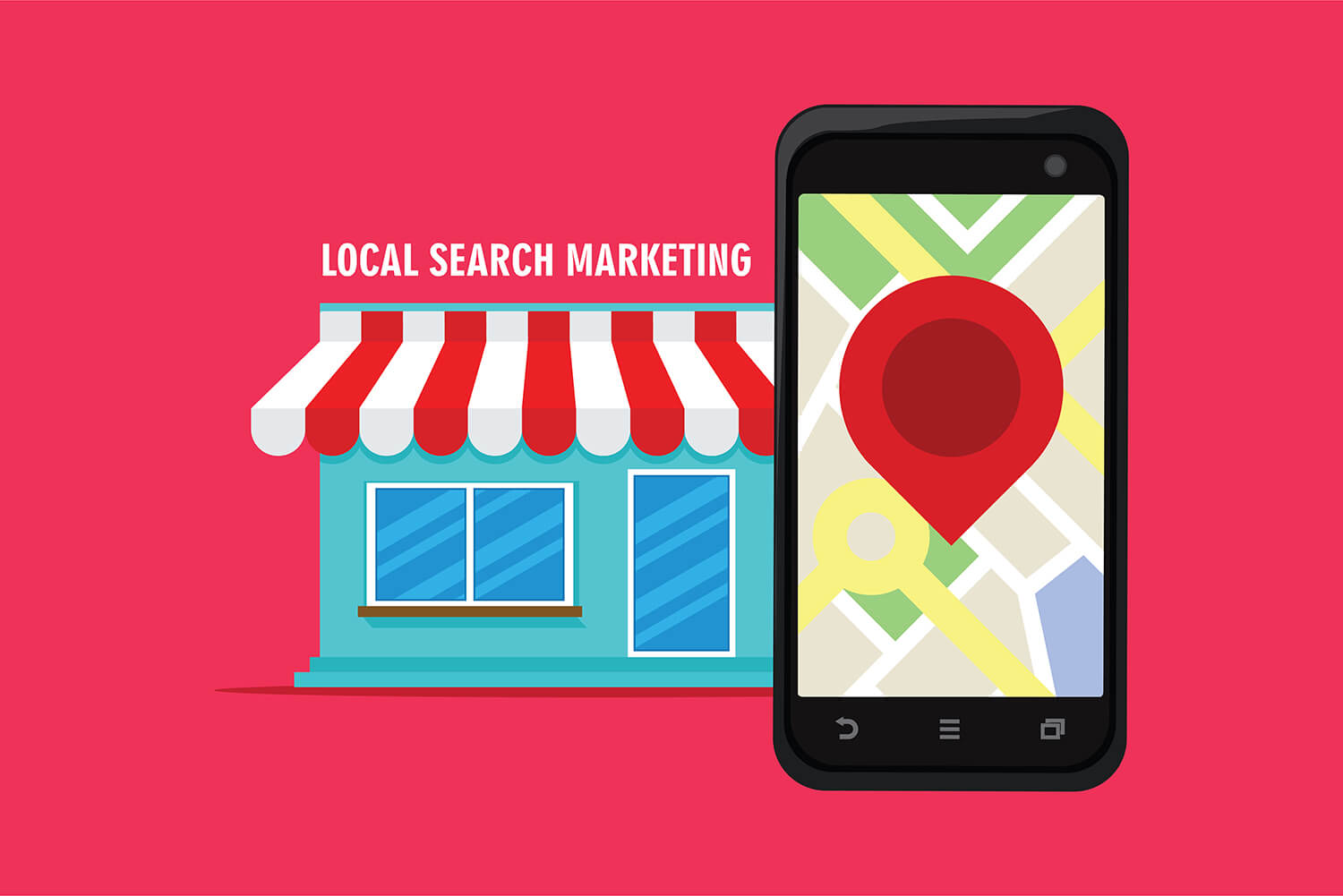 Imagine this situation: it's lunchtime at work, and you are craving Thai food. What is the first thing you do? Most likely, open Google and search for "Thai food Manhattan" so you can find the best result near you.
This is where local SEO comes into play. Do you want your restaurant to be the first one people find when they search for food locally? Here are some ideas for your restaurant marketing strategy that you must implement:
Make sure your information is listed in as many online directories as possible: Add your restaurant's name, address, working hours, website, and contact information in restaurant directories, review platforms like TripAdvisor and Yelp, on your social media and, most importantly, on Google My Business;
Optimize Google My Business: With this free tool from Google, you can make sure customers find your correct information locally on Google Maps. Pay attention to offer as much information as possible in order to build credibility (available parking, photos of the food and the restaurant, delivery, and payment options);
Encourage reviews: Managing your reviews should be at the top of the list on every restaurant's digital marketing strategy. Kindly ask clients to leave a review of your restaurant on any platform and make sure to reply to each one, even if they are not positive, so you can maintain an open channel of communication.
---
Implement an efficient online ordering system
While many of your clients enjoy the experience of eating in a restaurant, you cannot ignore the significant number of potential clients that would rather order your delicious food at home or work.
To reach as many people as possible, you will need to implement an online ordering system that is easy and intuitive to use, both for you and your clients.
A good online ordering software will allow you to add an order button to your restaurant website in just a few steps. This will help visitors navigate instantly to your food options. Consider using mouth-watering pictures and descriptions to entice everybody to order.
Incorporate the online ordering and delivery system in your restaurant marketing as a tempting selling point and promote it on all your social media. This way, people will know they can get reliable delivery directly from you.
---
Use influencer marketing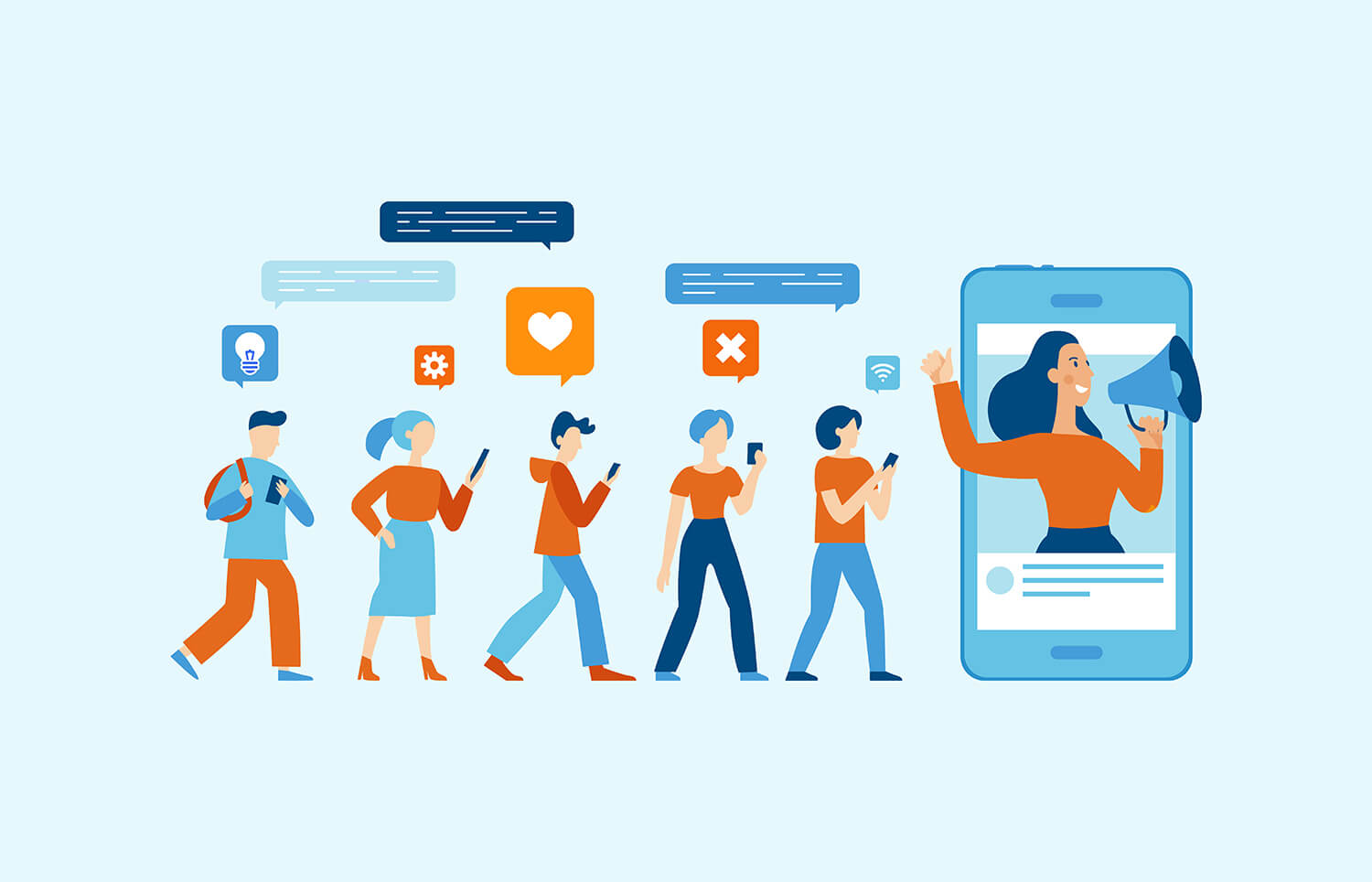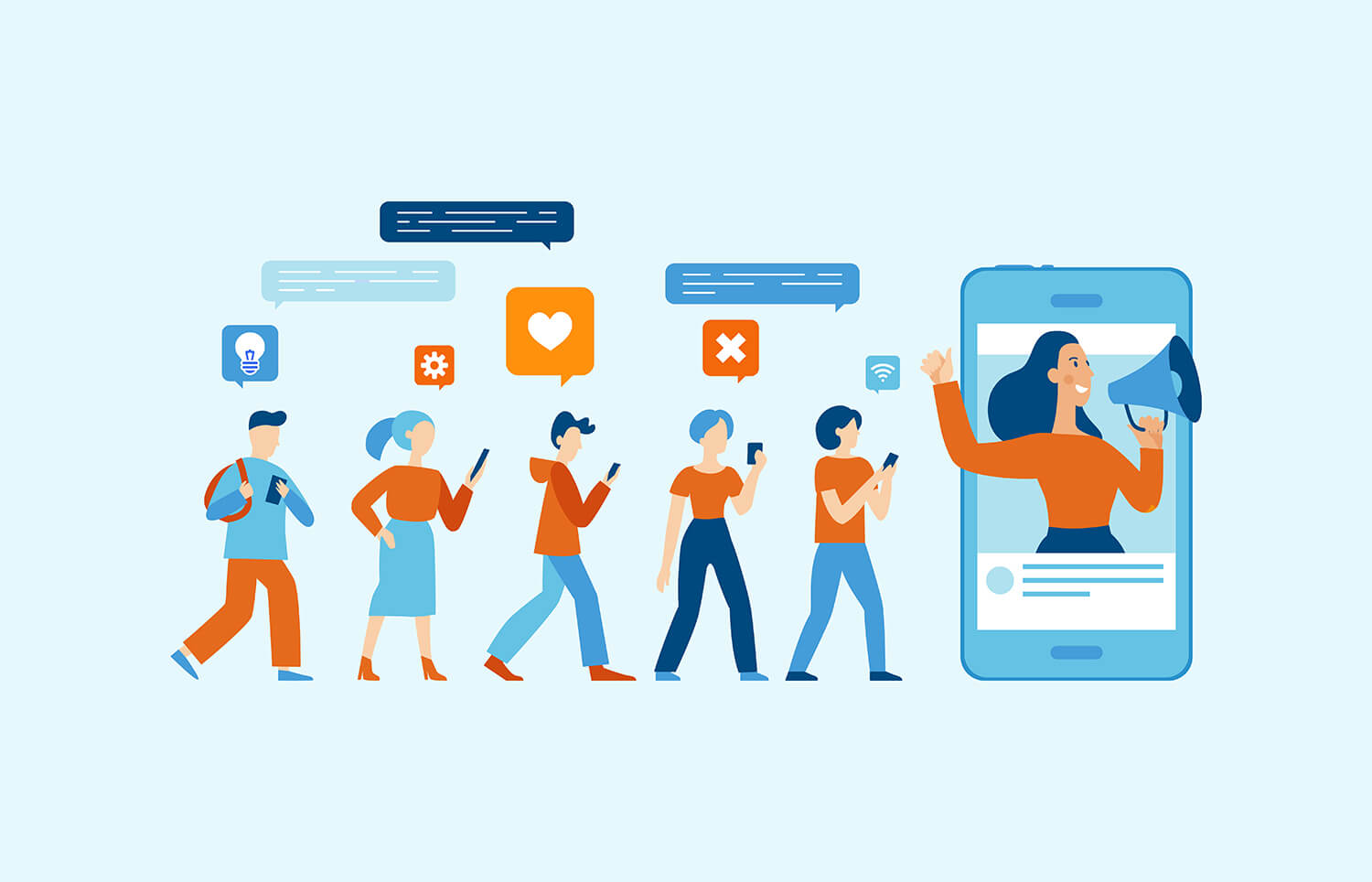 Influencer marketing is not new, but it is one of the most efficient digital marketing strategies you could use. Influencers have a big following on certain social media platforms and can advise their fans to try your restaurant.
But how do you choose the right influencer for your restaurant marketing? This is what you should consider:
Audience: make sure their audience's key demographics are a close match to your own (age, location, etc.);
Niche vs. reach: you may benefit more from a niche influencer, one that specializes in food, than from one with a bigger reach who never talks about restaurants;
Engagement rate: compare the number of followers an influencer has with the number of likes and comments they have; if people interact with them often, it's a sign their content is good, and people trust them;
Values: read their description, look through their content and check their sponsored posts to get an idea about the post that they will create for you;
The next step is to contact the influencer and offer a collaboration. This can be anything from sending them a package with your food, to inviting them to enjoy a paid meal at your restaurant or organizing an influencer event.
Be aware that the price you will have to pay depends on the influencer's notoriety.
When you collaborate with an influencer or the media in general, you will most likely have to share your media assets. An easy and efficient way to do this is by using Filecamp.
For example, noma, voted the best restaurant in 2021, has its own custom branded platform on Filecamp for sharing every asset.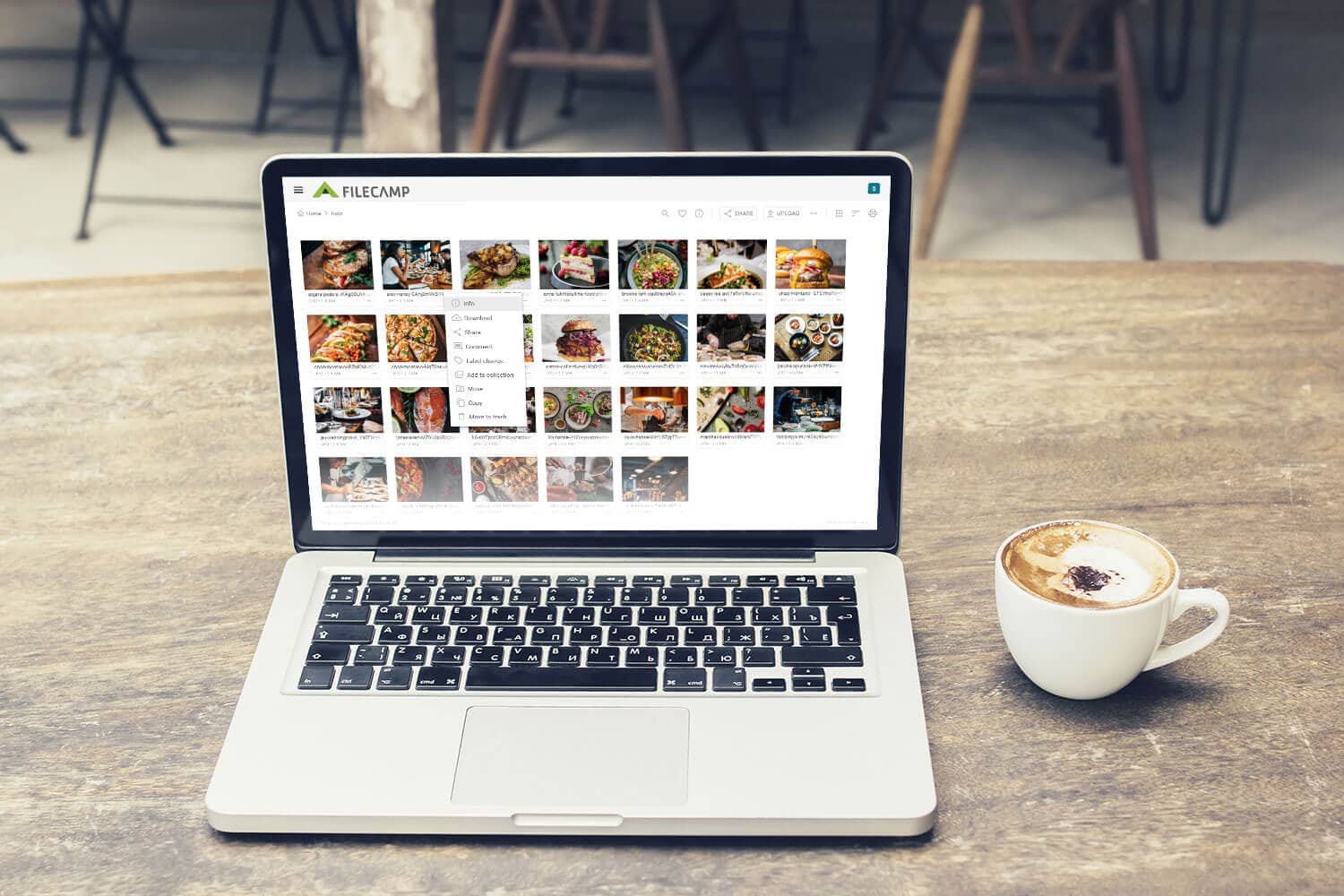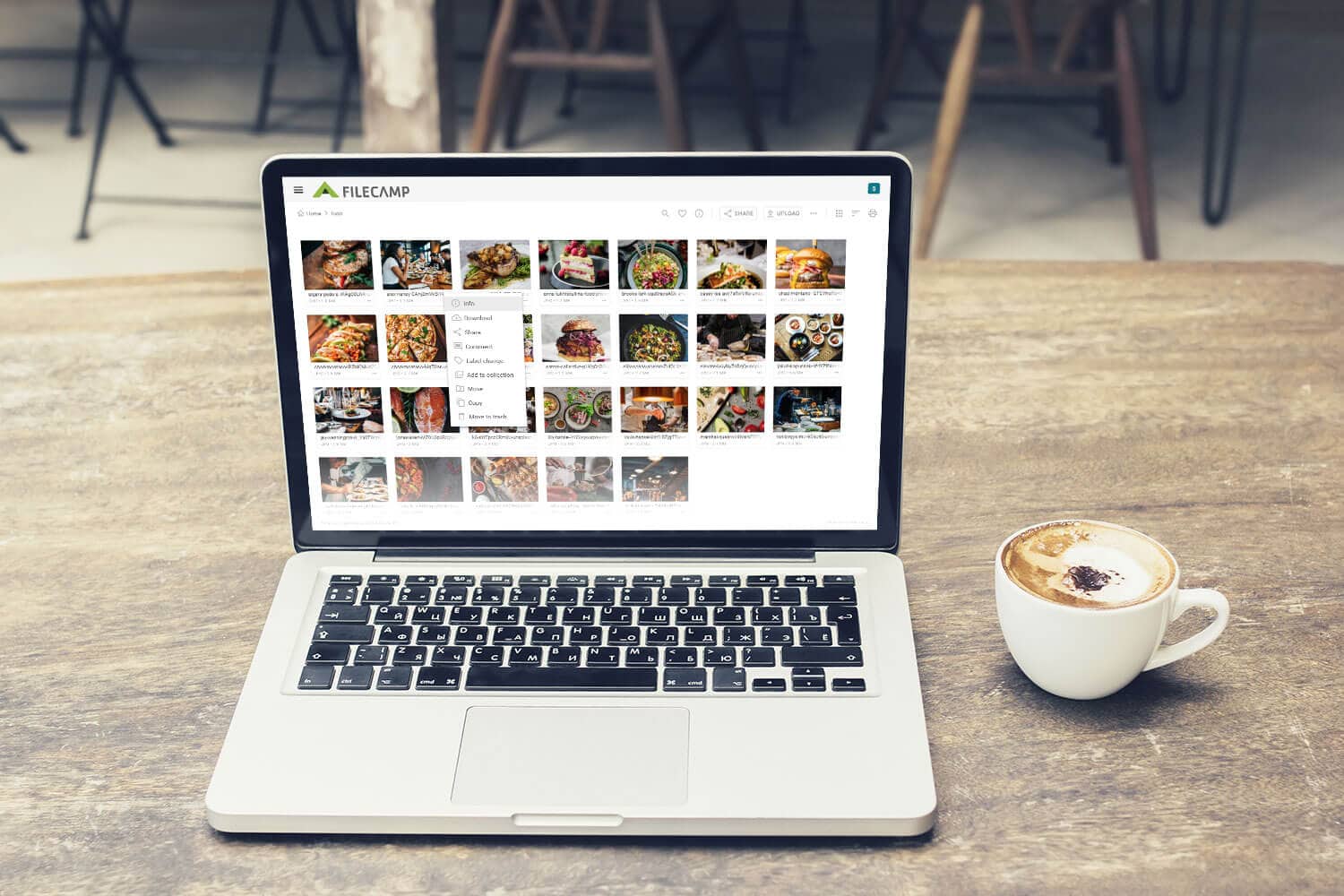 Use email marketing to build loyalty
Digital marketing strategies are useful not only for attracting new clients, but for persuading existing ones to keep coming back. Especially as a restaurant, you want loyal clients that recommend your food to more people.
To benefit from the advantages of email marketing, you must build a database of emails from people interested in receiving information about your restaurant.
Here are a few ways you can do it:
WiFi marketing: Condition WiFi login at your restaurant by email entry;
Sign-up form on your website: Add a widget in a visible place on your website that allows people to subscribe to your newsletter;
Giveaway: Organize a giveaway with an attractive prize for which people need to provide their email;
Social media: Promote the benefits clients can gain from subscribing to your newsletter.
Remember to use restaurant email marketing wisely. Set a weekly or bi-monthly newsletter (except for important events), but do not spam your clients, or you risk losing them.
Try to make the emails visually appealing with photos of food and include relevant information such as new dishes, new design, etc.
---
Build your Social Media presence
Almost everyone has a social media account, and most people spend considerable time scrolling through socializing platforms.
Being present on SM is a part of restaurant marketing that can help you attract new customers and maintain existing ones.
For the best organic results, you have to consistently produce quality content that aligns with your restaurant's values and interacts with your fans. Here are a few tips to get you started:
Create a posting calendar: Facebook, Instagram, LinkedIn, and YouTube will show your content to more people if you post often and don't have large gaps between your posts. A calendar will help you stay organized and not fall behind on accomplishing your restaurant marketing strategies;
Post quality images and videos: Consider investing in a photographer or videographer to have attractive photos that will entice people to visit your restaurant and order;
Use calls to action (CTAs) to encourage people to interact with your page: phrase your descriptions to encourage comments from your audience;
Organize competitions: Contests such as liking and sharing your story can increase social media engagement; the prize can be as small as a free side dish or as big as a meal for a group of people;
Offer incentives for positive reviews: You can offer a small discount for customers that leave a review on SM, Google, and other review platforms.
You can also explore the paid side of social media for more immediate results. With a few paid ads targeted to the right audience, you will gain visibility and new clients.
---
Create a relationship with complementary businesses
Before the internet, restaurant marketing was done on paper or through word-of-mouth. While paper is slowly being forgotten, recommendations from trustworthy sources will always be on-trend.
Get to know the businesses in your city and come up with marketing ideas that will benefit both of you. For example:
Contact hotels around you and give them a menu they can recommend to travelers (you can also offer them a discount);
Promote each other's businesses on social media so that you can gain more followers;
Offer to do guest posts on other businesses' blogs so you can gain important backlinks, essential for the SEO part of your digital marketing strategies.
---
Be active on review platforms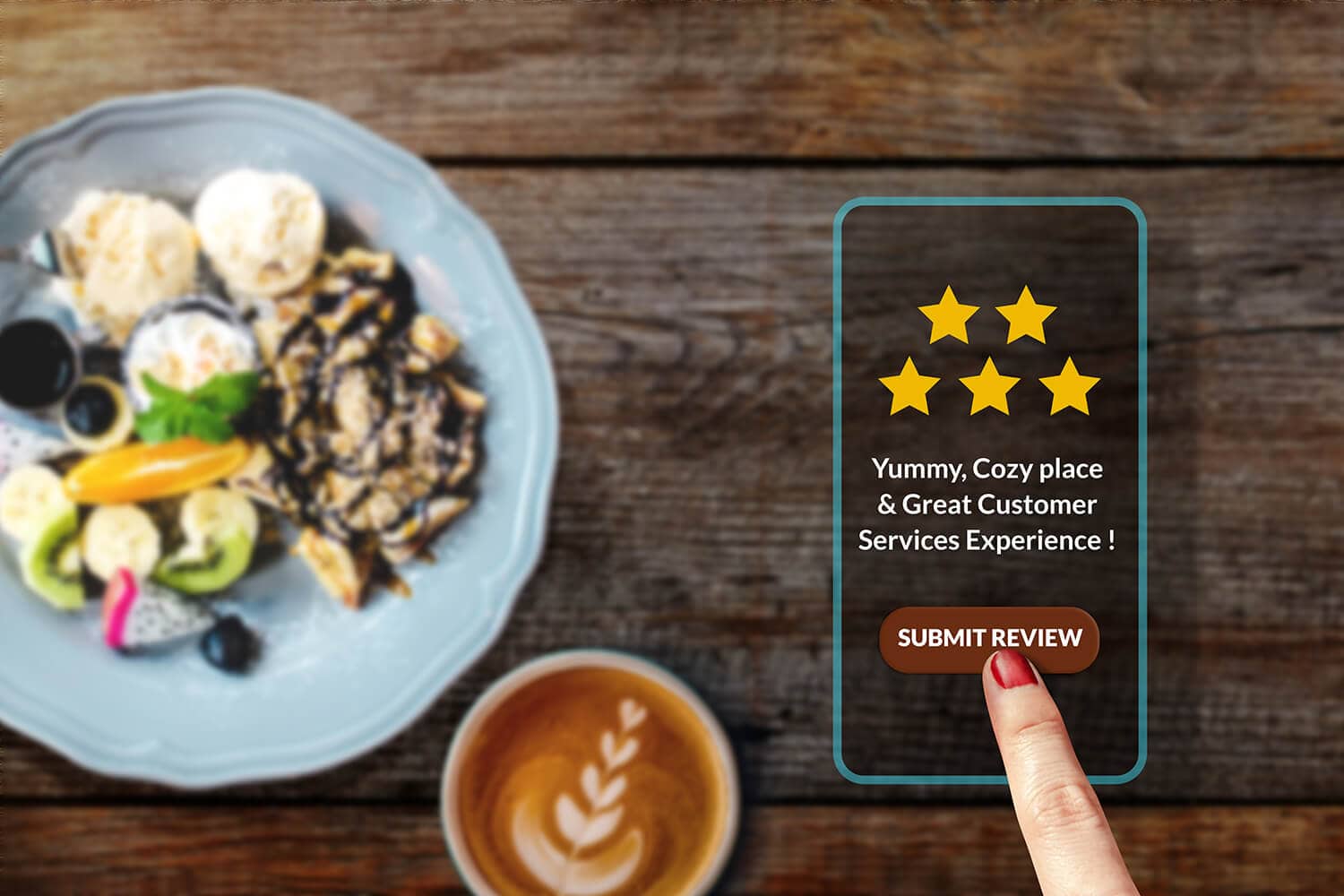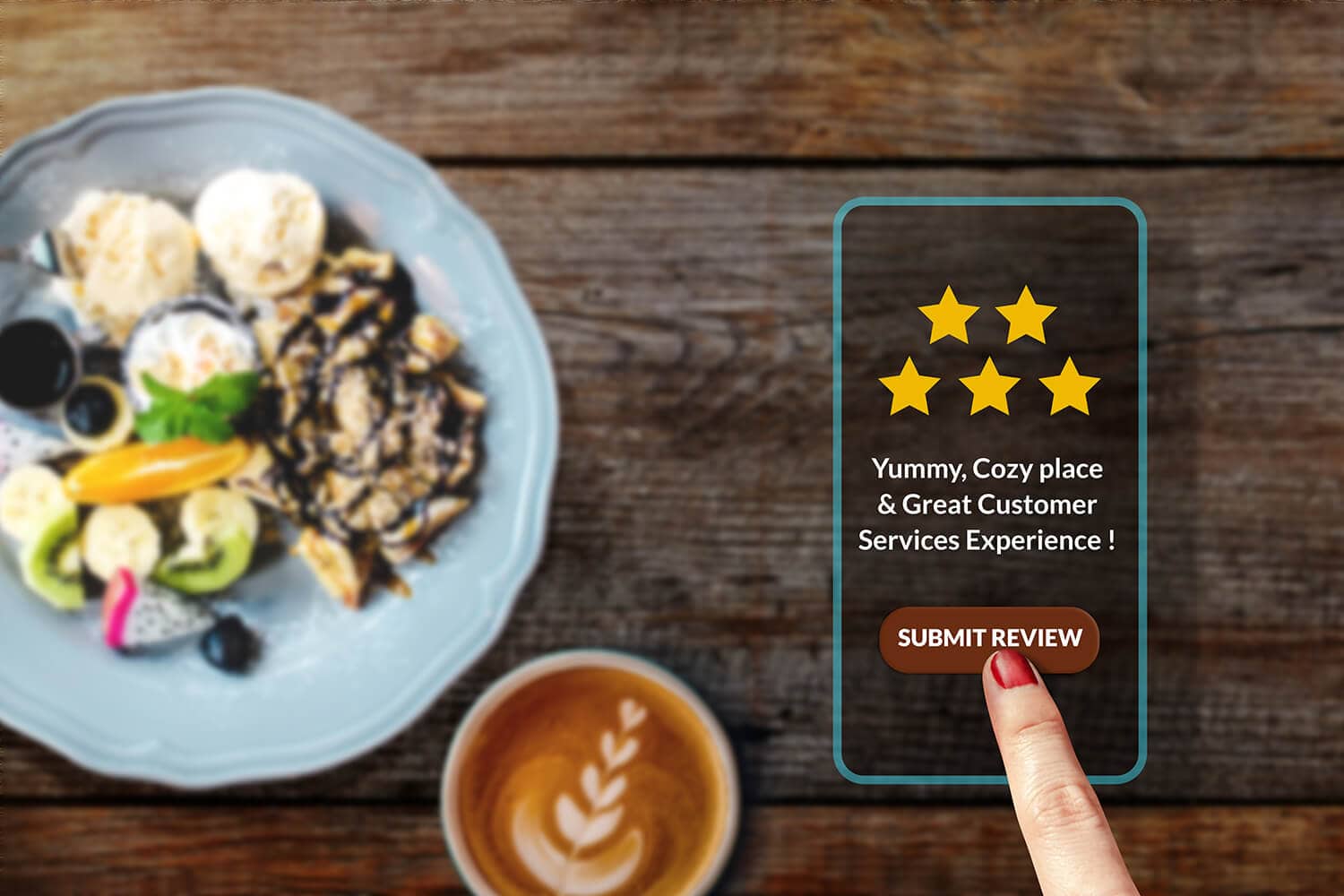 Before choosing a place to eat or order from, most people check reviews to see what other clients' experience was.
Be aware of every platform your restaurant is on where people can leave reviews so you can monitor them closely.
Not every review will be positive, but this must not discourage you. You can use negative reviews to improve your restaurant and build trust with potential customers if they see you reply to every single one.
If you reply promptly and politely, you show everyone you care about the customer and are open to change. Here is a brief guide for replying to negative reviews and comments in a way that will help your restaurant marketing:
Validate the client's experience: Customers must feel heard by the restaurant. They are more likely to reply calmly if you do not antagonize them;
Offer your excuses: Even if you have proof they are not telling the truth, apologize for what they feel like they experienced. You can also offer a discount for a future visit to change their mind;
Explain how you have solved the problem for future clients: This will make potential clients more likely to order from you if they know it was just a solitary bad experience.
---
Establish the right loyalty program for your restaurant
Using a loyalty program is one of the classic digital marketing strategies that hasn't changed much in 2022. The perfect loyalty program can help you encourage new business and even increase every order's value.
In the past, the most popular loyalty programs were point-based, often on paper. The Covid-19 pandemic changed this and moved everything online. Here are some ideas that can inspire you to build the right loyalty program for your restaurant marketing:
Free dessert on the customer's birthday;
Free delivery on certain days or for big orders;
Secret menu available only for loyalty program members;
The best seats in the restaurant that can only be reserved by members;
Free drinks/food after a certain number of online orders.
Keep in mind that the best loyalty program should be easy to understand and remember. Promote it often on your website and social media platforms and analyze the results.
Conclusion
To make your restaurant a well-known brand that attracts countless clients, you should successfully implement all the restaurant digital marketing strategies mentioned above.
Up your restaurant marketing game by starting with essential SEO optimization, especially locally, and quality website design. Get an efficient online ordering system, and don't forget to maintain an open channel of communication with your potential clients, be it on Social Media or review platforms.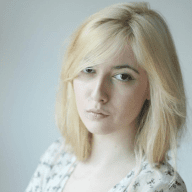 Otilia Dobos helps restaurant owners up their marketing game with well-documented, easy to understand, and SEO-optimized content on
GloriaFood
's informative blog.
Published July 14, 2022