7 Digital Marketing Tools To Increase Brand Awareness
Brand awareness refers to the degree to which a brand is recognized by its potential customers and how much they associate it with a particular product or service.
An example of a company with exceptional brand awareness is Coca-Cola.
Statistics show that 94% of people recognize Coca-Cola's logo. This is the result of an effective brand awareness campaign that helps to embed the brand into people's lives and into their purchase habits.
You too can make use of this strategy, regardless of the size of your company, to get more people to know about your brand.
Read the rest of this article to discover several digital marketing tools that you can use to effectively increase brand awareness.
Although effective on their own, you'll find that each of these tools is even more powerful when used as part of an omnichannel marketing strategy, which means you'll get even better results by using multiple tools from our list.
Let's get started.
---
1. Email Marketing and Automation Software
Email marketing is an effective and cost-efficient way to communicate with your audience. It has a high ROI and allows you to send personalized messages to your subscribers.
With the right email marketing tool, you can segment and categorize your contact list in order to promote relevant content, events, discounts, etc.
By providing the right people with the right information at the right time, you will likely increase brand awareness, boost conversions and make more sales.
This tactic will work particularly well if you include lots of high-quality, share-worthy information in your emails.
Best of all, email allows you to track your results so you can make improvements to your future email marketing campaigns.
Here's an example of a brand that uses email marketing to successfully increase brand awareness.

This brand uses different elements to create an outstanding, brand-building email campaign.
These include things such as:
A great email subject line
A strategically placed logo
Well-chosen brand colors
Memorable fonts
A friendly tone of voice
An optimized email signature
These are great tips to follow when creating your own email campaigns to help build awareness for your brand.
Below are some additional best practices to write an email.
Best Practices for Using Email Marketing to Build Your Brand
Don't purchase your list. It's better to communicate with subscribers who are genuinely interested in your brand.
Don't use "No-Reply" in the sender's address. Instead, use [first_name]@mycompany.com. This way, your emails will be a lot more likely to be opened and read.
Use no more than one or two typefaces so you don't distract readers or ruin the visual appeal of your email.
2. Social Media Marketing
These days, there is a wonderfully diverse range of social media platforms to choose from. The majority of people in the world are on social media and it's quite normal for social media users to visit their favorite platform at least once a day.
With so many people spending a lot of their time on social media, these platforms are perfect for marketers to run campaigns for building brand awareness because they're uniquely designed for creating a sense of community that you won't find on most other platforms like email or your blog.
With social media marketing, you create content with which your fans, followers, and brand ambassadors can directly interact. When they comment, you can reply and help facilitate a conversation and develop a deeper and more personalized relationship with your audience members.
You can use media monitoring tools to help you see how your brand is doing and its impact on the market.
You can automate your efforts using various social media marketing platforms.
Just keep in mind that different platforms have different content requirements that you must follow if you want to get the best from your brand awareness strategy on social media.
Before you can get started marketing a business on social media, you first need to determine which platforms your target customers are frequenting the most.
You can then start creating content that is popular in your industry and encourage readers to comment, like, share, etc. as a way to strengthen your brand visibility online.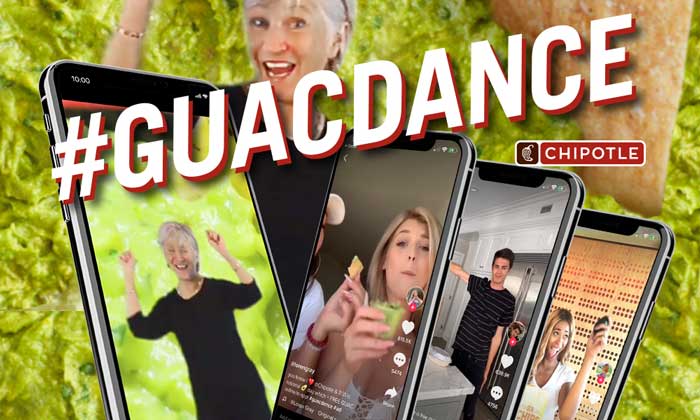 Chipotle's goal with this campaign was simple: Connect with digital-savvy, food delivery-obsessed millennials and Gen Z target audience in order to boost brand awareness, drive engagement, and generate more digital sales.
Best Practices for Using Social Media Marketing to Build Your Brand
Encourage people to share your content by providing incentives, such as discounts for sharing specific content with their networks.
Promote your brand through user-generated content videos like product reviews or testimonial videos.
Use publishing tools to schedule posts on all your social networks so you can save time and create a reliable posting schedule.
Tag others in your posts to get them talking about your business, products, and services
Engage with micro-influencers and turn them into regular ambassadors of your brand
Videos grab viewers' attention better than any content form. Use an efficient video editor to create and post video content.
Pro Tip: If you're going to use social media as a way to boost your eCommerce brand, check out these product photography ideas to boost your sales.
3. Website and Landing Page Builders
There isn't a single brand awareness campaign that is suitable for all businesses. That's because each brand has its own distinct audience that they need to reach.
Depending on how your target readers spend their time online, and their purchasing habits, you will choose specific channels for maximum returns on your investment and effort.
Having said that, the hub of all your online marketing will be your website or landing pages. This is where you'll be able to offer content that will help you attract, engage, and convert visitors into actual paying customers.
For this, you'll need a website-building tool with features for creating a professional-looking website without the need for coding knowledge or web development experience.
This way, it won't take days or weeks to create beautiful, unique websites. With the right platform, in just minutes, you'll have a fully functional, mobile responsive website that will drive a consistent flow of visitors to your products or services.
Here's an example of a brand that successfully uses website design to catch its target customer's eye and grow brand awareness.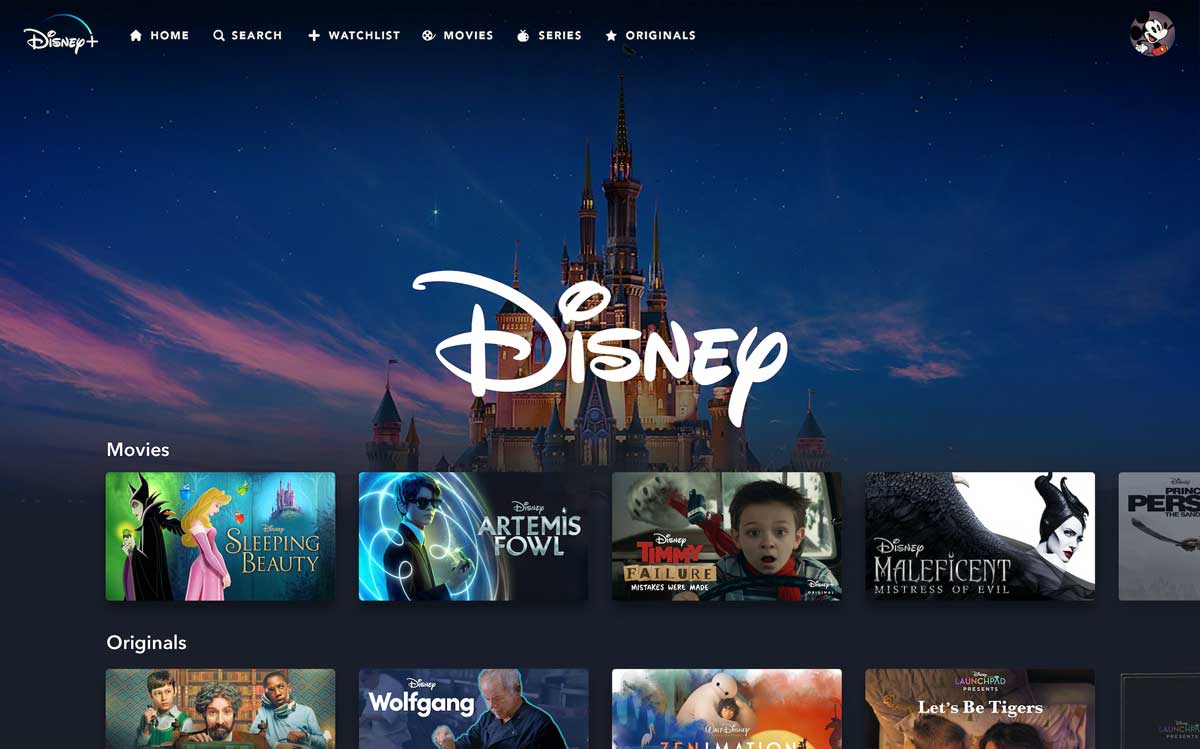 Disney focuses on using exceptional web design to capture the attention of its target customers and provide a spectacular experience for all visitors.
This is a great way to boost brand awareness while providing visitors with the information they are searching for.
Best Practices for Using Website Builders to Build Your Brand
Conduct audience research to discover the type of website layout, themes, and content they prefer.
Make sure your website design is mobile-responsive and looks good even on small devices.
Clearly communicate what your website is about and add tons of value so people don't bounce away soon after landing on your site.
Use an industry-leading website builder to make sure you have the functionality you need to create the best site possible.
4. Search Engine Optimization (SEO) Software
Search engine optimization allows you to meet prospects in the early stages as they are searching for content, products, or services that match your own.
SEO is the best way to position your brand in front of a targeted audience with buying intent. The best part about using SEO as part of your brand awareness strategy is that this marketing tactic is sustainable.
When done right, using the right SEO software, this strategy will allow you to rank for relevant key terms so you can attract qualified audiences in the long term.
However, it's important to note that, compared to other marketing methods, such as PPC or social media ads, it takes time to see real results with SEO.
Having said that, you'll find this to be a highly cost-effective solution to match your content with audience intent and raise the level of awareness of your business and product.
Here's an example of a business that uses search engine optimization software to boost brand awareness.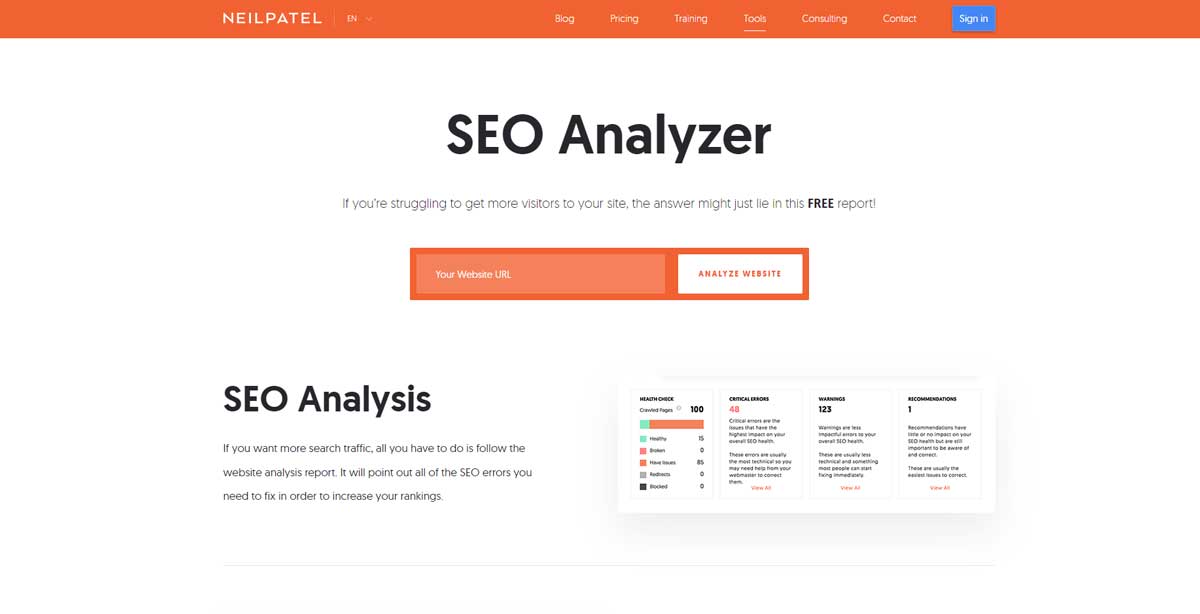 Neil Patel.com is a great example of how to use SEO to build brand awareness. The company uses different tactics to supercharge brand awareness through SEO.
These include content marketing, identifying relevant keywords, incorporating a link-building strategy, targeting a core audience, and utilizing local SEO.
Best Practices for Using SEO Software to Build Your Brand
Focus on technical SEO elements such as a carefully thought-out URL structure, site navigation structure, sitemap, and website speed optimization.
Use on-page SEO tactics, as well, such as headline hierarchy, keyword optimization, internal and external linking, title tags, alt text for images, and meta-descriptions.
Use off-page SEO tactics like guest posting, link building, and online reputation management to boost your credibility and grow brand visibility.
5. Content Marketing
Content marketing has always been and still is one of the best ways to grow brand awareness. It's an effective digital marketing tool or strategy that you can use on multiple channels, such as your website, blog, email, social media, etc.
Each piece of useful content that you create for your audience will become a valuable asset for your business which you can promote on different channels to attract, engage, and convert your target readers at every stage of your marketing or sales funnel.
With the right type of content strategy, you'll be able to boost brand awareness, grow your traffic, gain leads, and target ideal customers.
You can share all types of content that are relevant to your audience, including:
Text
Graphics
Photographs
Videos
Audios
Infographics
Illustrations
Memes
GIFs
As long as you can create helpful, interesting, or educational content for your prospects when they search for information relevant to your brand, products, or services, you'll grow awareness of your brand and likely be top of mind when they are making a purchasing decision.
A great example of a brand that uses content marketing to grow awareness is HubSpot. This company uses content to show its customers exactly what the brand represents.
They regularly publish topics that the audience is interested in and participate in the community as well as maintain engagements via email, social media, etc.
Best Practices for Using Content Marketing to Build Your Brand
Understand your audience. Do your research to learn what your audience's needs and goals are so you can create content that is relevant to them.
Create content for the different stages of the buyer's journey, specifically awareness, but also the consideration and decision-making stages.
Check out what your competition is posting so you'll know which content is doing well in your niche or industry and find any content gaps that you can fill.
6. Digital Asset Management (DAM)
A DAM is yet another digital marketing tool that can help you increase brand awareness.
These days, brand identities are more fluid than ever before. This makes it harder to ensure that your content and communication conform to your brand identity at all times.
Without brand consistency, customers will not be able to easily identify or recognize your brand. This will make it harder for them to trust you, let alone buy from you.
With most customers more likely to purchase products or services from a brand they recognize, you can see why it's important to maintain consistency in all your brand awareness and marketing efforts.
A digital asset management tool like Filecamp can help you maintain consistency in all your different types of content and across multiple content channels so you can maintain your brand identity and brand integrity.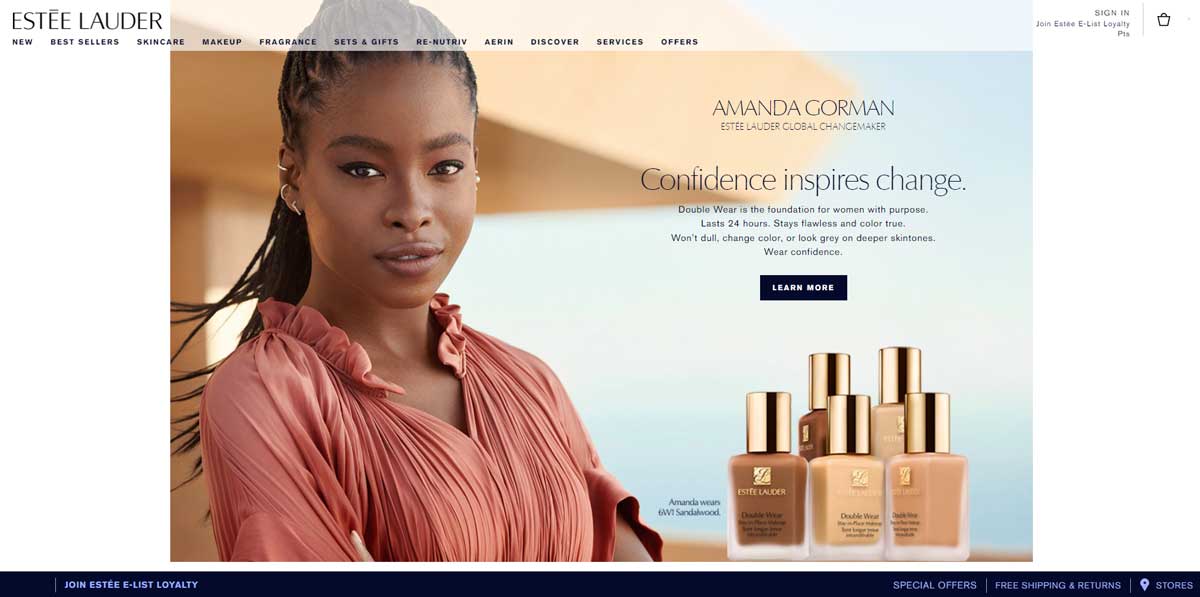 This luxury brand uses digital asset management tools from Filecamp to manage its large collection of digital assets, including photos, logos, images, and videos so they have everything in one central, easily accessible place.
How to Use Digital Asset Management to Build Your Brand
When choosing DAM software, choose one that offers you granular access so your marketing and creative teams, clients, and partners can access only the specific files and folders you allow.
Your DAM software should have robust security with 24/7 surveillance and a secure HTTPS protocol for all file transfers.
Choose a platform with an auto-tag feature that automatically analyzes and tags all your images for improved search and discovery.
7. PPC Advertising
You can use content marketing and SEO to help you grow awareness for your brand organically in the long term.
However, PPC (pay per click) is a great way to achieve instant results from your brand awareness campaign.
You can instantly place targeted ads front and center on the first page of Google so your ideal audience can find your brand at a time when they are searching for products and services that are similar to yours.
When used correctly, this can be a powerful digital marketing tool that can expose your brand to thousands of users instantly.
Your PPC campaigns might include search ads, display ads, web marketing campaigns, and so on. Each type of PPC ad format is designed to help you gain more visibility so you can boost brand recall, brand recognition, and top-of-mind awareness.
Conclusion: A Few Other Digital Marketing Tools To Consider
This article has outlined some of the best digital marketing tools you can use to increase brand awareness, as well as some examples from popular brands and best practices for using each digital marketing channel effectively.
However, there are still many other digital marketing tools you can use to grow your brand presence, increase brand awareness, and reach new audiences. For example, you may consider:
Using an online course platform to create eLearning content that can be used to generate passive income while building brand ambassadors
Start a podcast and diversify your brand presence to include complimentary audio content
Use memes on social media, on-site content including landing pages and blog articles, your email newsletters, and across your digital marketing mix to add humor to your branded content and increase interactivity and engagement across all platforms
Compliment your humorous memes with infographics to create educational content that will inform your audience about information relevant to your brand (infographics also pair well with eLearning material)
Use the tips you've learned here to craft your own brand awareness strategy so you can start attracting more targeted customers to your business.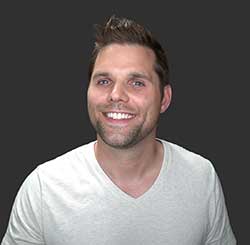 Ron Stefanski is an online business expert and owner of
OneHourProfessor.com
, which has over 100,000 monthly visitors and helps other create an grow their own online business. You can also connect with him on
YouTube
or
Linkedin
.
Published April 11, 2022