How to showcase brand personality on social media
Social media has ushered in a significant shift in marketing. More and more businesses are turning away from traditional mediums like television, newspaper, and radio and to Facebook, Twitter, and Instagram to meet their marketing goals. The shift from traditional media to social media also reprioritized marketing goals from product promotion to brand awareness.
Brand awareness is the degree to which consumers recognize a company and its products. It includes tangible elements such as name, logo, and colors and intangible elements like reputation and unique value proposition. One of the ways marketers create brand awareness is by cultivating a unique brand personality.
Brand personality is the personification of a brand. Giving human traits to your business creates an emotional connection with customers, influencing their interactions and purchasing decisions. Research by Adzooma shows that over 50% of consumers prefer brands with a strong brand personality. A good brand personality also helps you build brand equity.
To help you cash in, here are a few tips to help you showcase your brand personality on social media and create lasting connections with customers.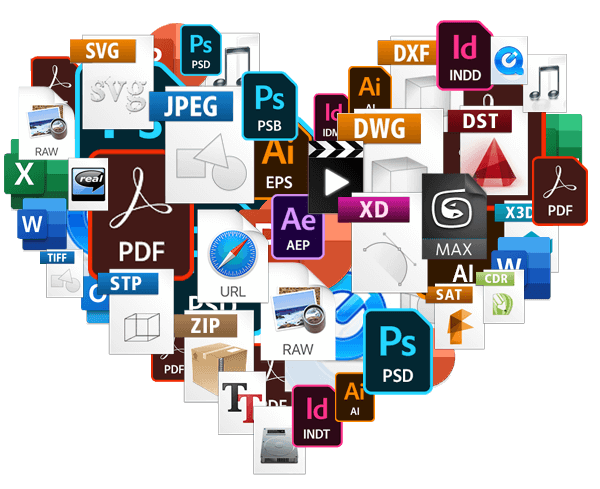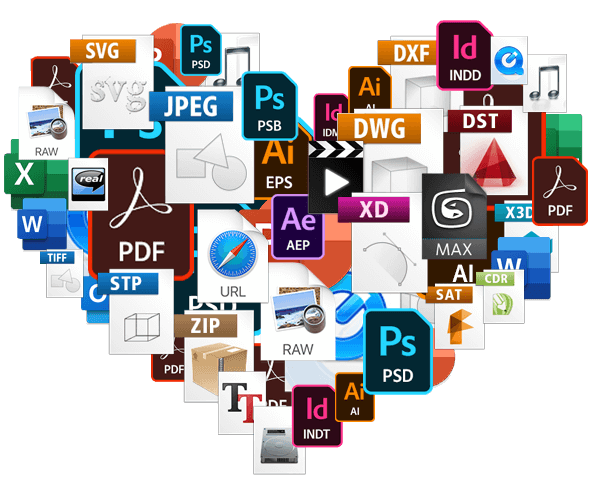 1. Define target buyer personas
Opposites do not attract. People tend to gravitate towards those who are similar to them. The same goes for customers and the brands they like. Therefore, to be successful, you must cultivate a social media brand personality similar to your potential consumers.
A target buyer persona is a fictional but data-driven characterization of your ideal customer. It helps you define your target consumer's needs, pain points, values, goals, and purchasing behaviors. Check out this example of a business-to-customer (B2C) buyer persona: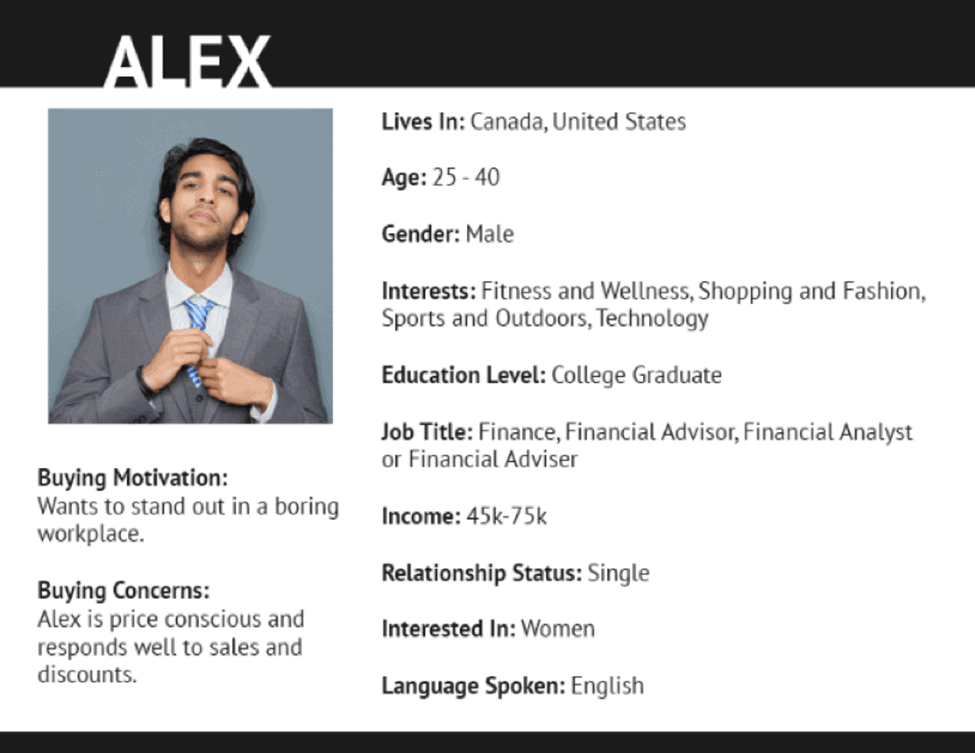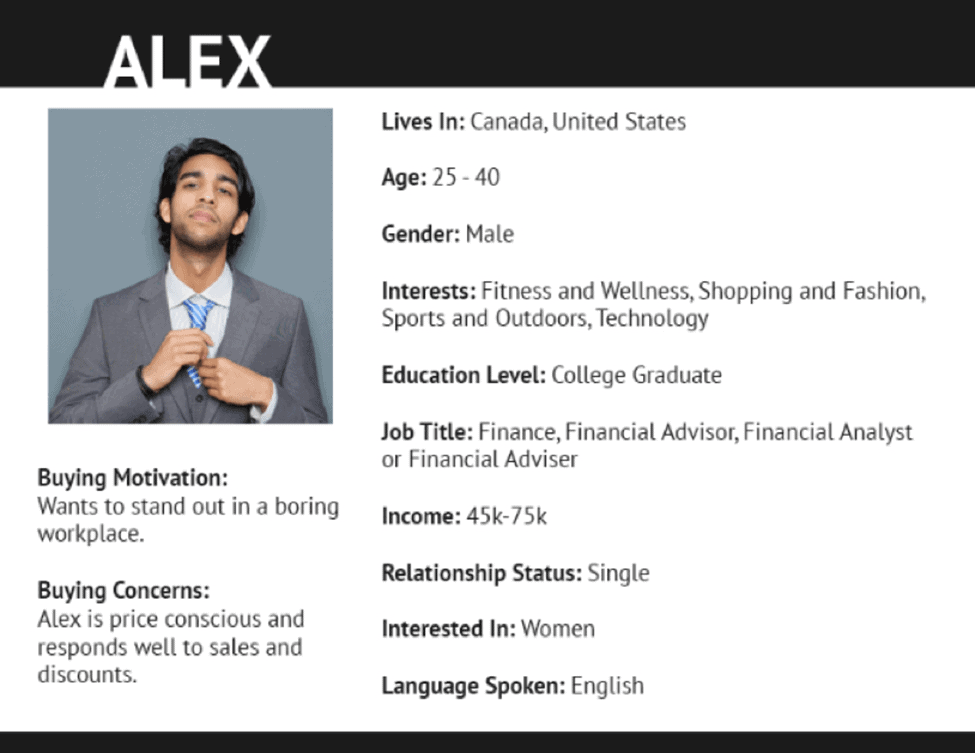 With a buyer persona, you can answer the following questions:
What type of content do you want to offer on social media?
Who are you creating content for?
What tone or language should you use?
How do you want to be portrayed?
Once you know your audience,  you can create a brand personality that resonates with them.
2. Select your preferred social media platform
Every social media platform is different. Each has its style and audience. For example, TikTok is geared toward creative expression and has a young audience (although older generations are also joining the platform, especially in the US). LinkedIn is used for professional promotion, catering to career-oriented audiences.
There are four categories of social media, depending on how they are primarily used:
Social Networking: Examples of social media networks are Facebook and LinkedIn. These social media platforms are primarily used to build social relationships based on real-life connections and interests.
Photo Sharing: Examples are Instagram and Pinterest. They are highly visual, allowing users to curate photos and short videos.
Video-Sharing: Examples are TikTok, YouTube, and Vimeo. They are primarily used to create and share video content.
Community Building: Examples are Tumblr and Reddit. They are used for long posts or blogs, encouraging in-depth discussions.
The variety of social media applications means choosing the right one can be challenging. Fortunately, determining which social media platforms to use depends on two things: where your customers are and what your social media marketing goals are.
The best social media channel is the one your target consumer uses. If most of your target market is on Instagram, that's the best channel for you. Furthermore, the best channels complement your social media strategy goals. If one of your goals is to improve the result of your SEO efforts, choose a community-building platform.
3. Write an eye-catching bio
The bio section on social media is often the first thing visitors or followers see. You have a small window of time to catch people's attention. So, you have to write a compelling bio.
People want to know what you are about – why did you start your business?  What does your company stand for? Develop connections by adding your unique selling point in your bio rather than your website or hours of operation.
The bio section is also an opportunity to showcase your brand personality. The tone of voice used in your bio shows potential followers the kind of communication to expect from you.
Take Old Spice, for example,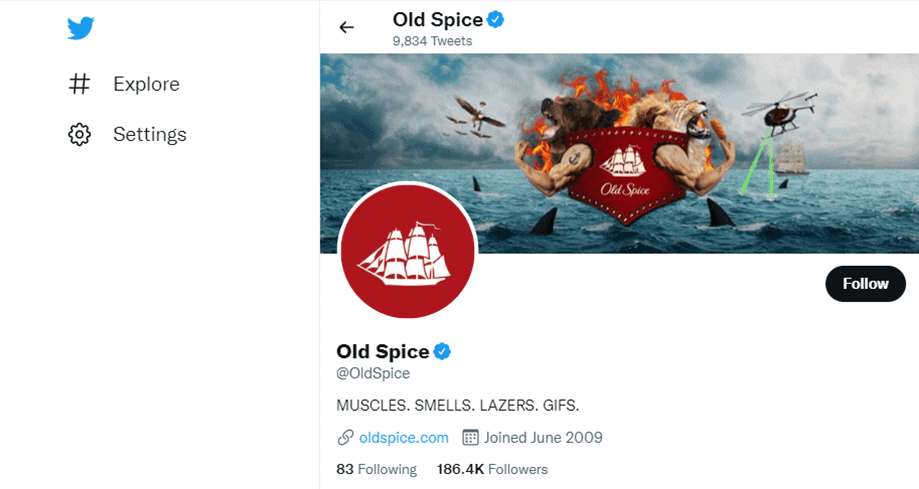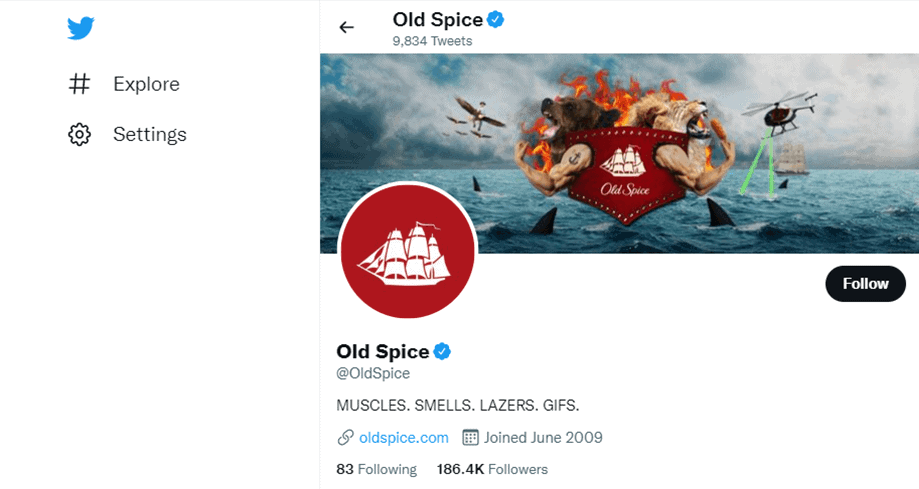 Old Spice's brand personality on social media is outlandish. Its spoofs of stereotypical manliness feature on its Twitter bio. The banner portrays ludicrous images of bears, biceps, and helicopters shooting laser beams. In other words, they love posting funny content.
The length of your bio will differ depending on the application you use. Instagram and Twitter, for example, have limited space. LinkedIn and Facebook allow you to write as much as you want. Again, each channel has its unique culture. Of course, the tone of your LinkedIn bio may vary from your Tumblr bio.
4. Follow relevant social media trends
The social media landscape is constantly changing. It's hard to know which trends to pay attention to and which ones to ignore. One thing is clear; you must keep abreast of social media trends if you don't want to be left behind.
Fortunately, there are resources to help you keep up with the latest social media trends. These include following social media hashtags on Twitter, joining social media marketing groups on LinkedIn, and subscribing to social media blogs, among others. Trends you might want to get in on include working with influencers and social commerce.
Jumping in on social media trends helps you create the type of content users want and expect. New platforms or app features present businesses with different ways to express their social media brand personality.
5. Choose the tone and language style
Now that you have defined your target audience, you have a better idea of the language and tone of voice that will resonate with them. Hopefully, your buyer persona includes insight into how users communicate with each other on social media. Mirroring their communication style creates a sense of belonging, increasing customer loyalty.
Brand tone describes the specific ways you express the voice of your brand identity. It includes the words you use and the structure of your sentences. On social media, tone of voice appears in hashtags, captions, and responses to comments.  The Nielsen Norman Group identified four dimensions along which to develop a tone of voice:
Formal versus Casual
Funny versus Serious
Respectful versus Irreverent
Enthusiastic versus matter-of-fact
If your brand personality is friendly and approachable, you might want to incorporate a casual tone in your interactions. If it is passionate, enthusiastic posts will pique interest better than posts with matter-of-fact tones.
Oreo's playful brand personality comes through in its choice of hashtags, memes and usage, and type of content. Like when they recreated the title sequence of the show Game of Thrones using cookies with the hashtag #GameofCookies.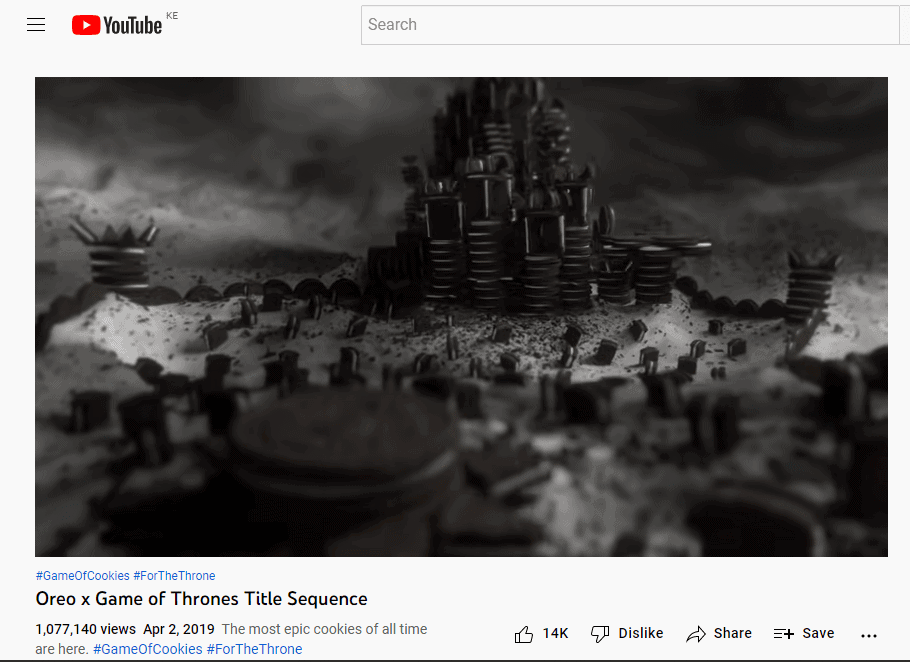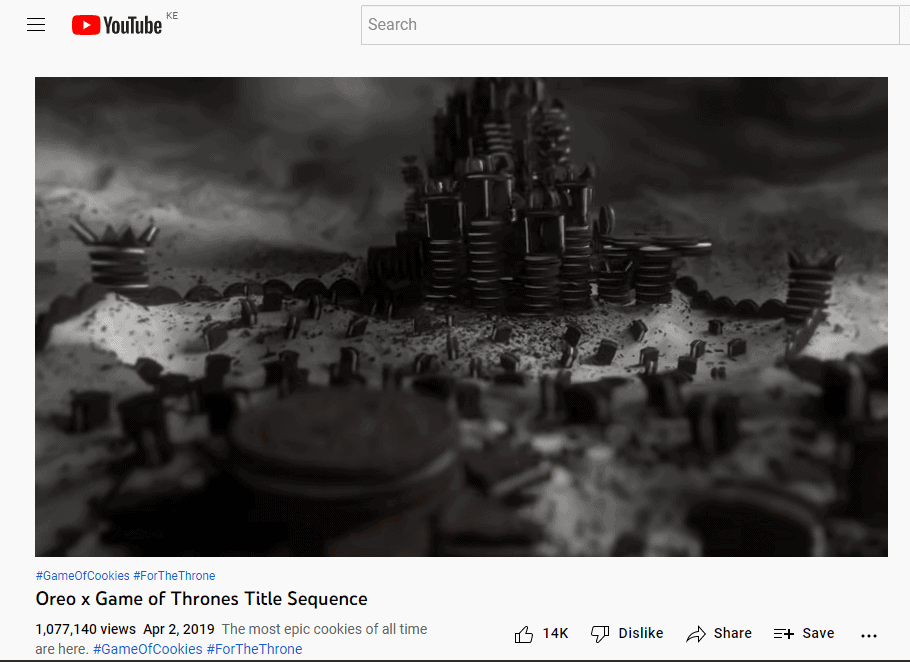 Consider investing in a digital asset management (DAM) tool like Filecamp to improve your brand personality. DAM software enables you to store, organize, and manage your brand guidelines, branded media, among others, in a central location, making it easy for your marketing teams to access them whenever they need them.
Whichever tone you decide, use a style guide to ensure consistent branding. Both the company tone and language must match your brand personality on every social media channel. If they do not, you risk coming across as inconsistent or disingenuous.
6. Prioritize brand over product
The current market is hyper-competitive. It is becoming increasingly difficult to differentiate one company's product from another's. One effective way to stand out from competitors is by focusing on your brand. The goal is to create a specific perception and emotional bond. More often than not, customers choose branded products over their generic counterparts.
Your social media content should say more about your company than its products. Therefore, generate posts around what your brand represents.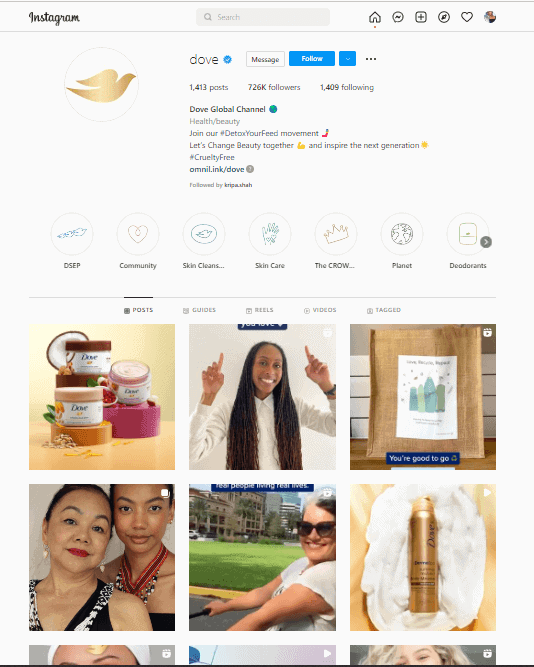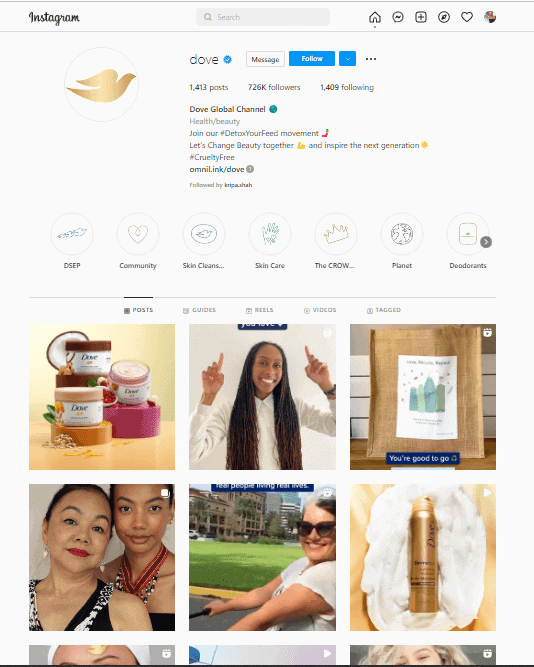 For years, Dove has created content around its brand values of inclusivity and positive body images. Rather than fill its Instagram account with advertising of its products, the personal care company makes posts around its values. Doing this strengthens its connection with customers that share the same values.
7. Engage in personalized interactions
Engaging followers on social media affects how your brand is perceived. Most consumers expect brands to interact with them in a meaningful way. Generic or scripted responses to comments won't impress anyone.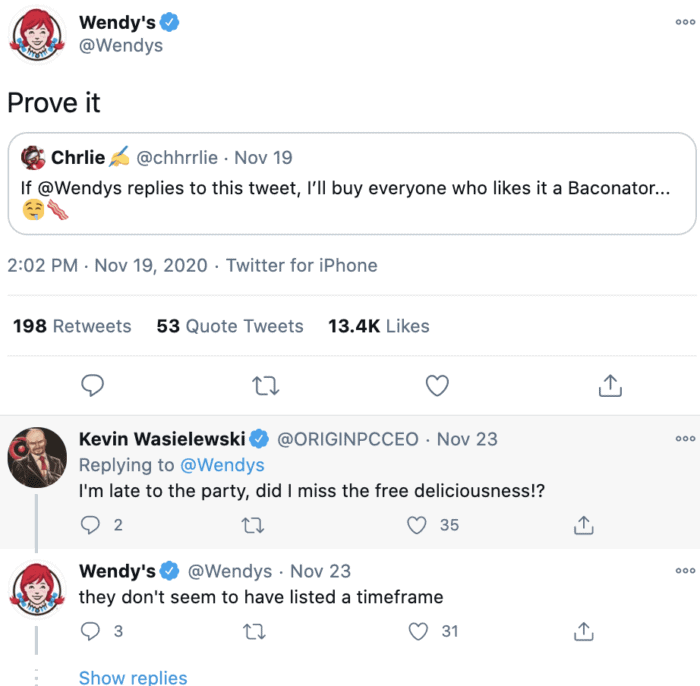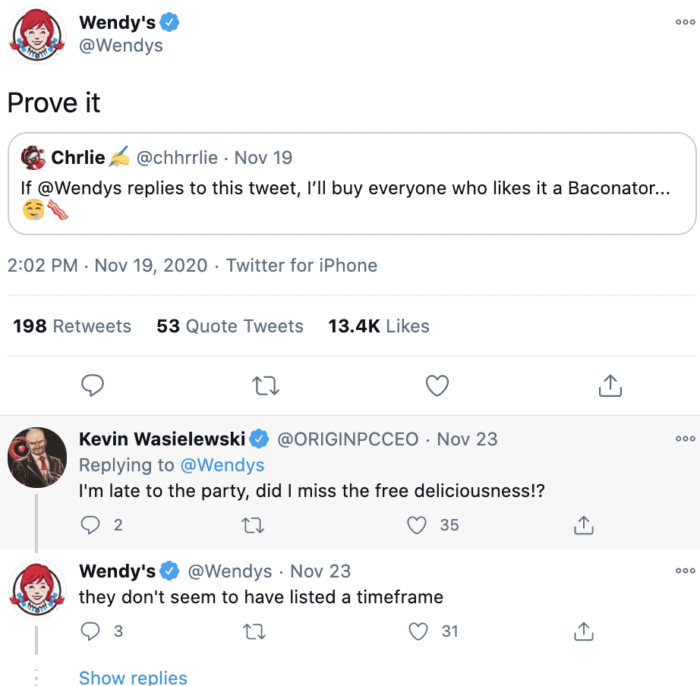 Wendy's is famous for its tongue-in-cheek interactions with celebrities, customers, and other brands. Followers purposely reach out to the fast-food chain for snappy comebacks and witty responses.
Interacting with people in a personalized way makes them feel connected with your brand. It also showcases your brand's personality. If your brand personality is quirky, feel free to use GIFs or obscure pop culture references. Your followers will love it. In addition to mirroring target audiences' communication patterns, you should engage them as often as possible. Fast responses show customers that you care about what they have to say.
Social media interactions aren't limited to two-way conversations in the comment or DM section. They include amplifying user-generated messages across your channels through tagging.
8. Tell stories about your brand
People like stories. Telling stories about your brand will tap into the heart of human connection. When brands share relatable life experiences, they create attachments with customers. Those connections establish trust and further increase brand awareness.
Brand storytelling is the use of narrative to connect customers to your brand. Like novels, your brand story should have the essential elements of storytelling: characters, setting, conflict, climax, and resolution.
Some brand stories are rooted in the company's genesis, like TOMS shoes. During a trip to Argentina, founder Blake Mycoskie participated in a volunteer project that delivered shoes to disadvantaged children. This experience gave birth to the company and its unique selling point. For every shoe it sells, the brand donates a pair to an underprivileged child.
But what if starting your business doesn't come with a touching story? You can create one. Your customers are a valuable resource for storytelling. You can craft stories around consumers and the impact your brand has made in their lives.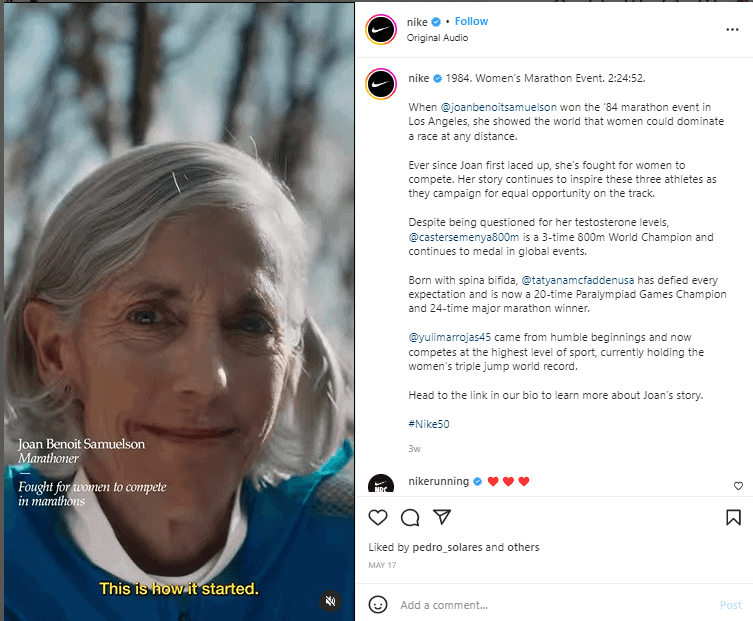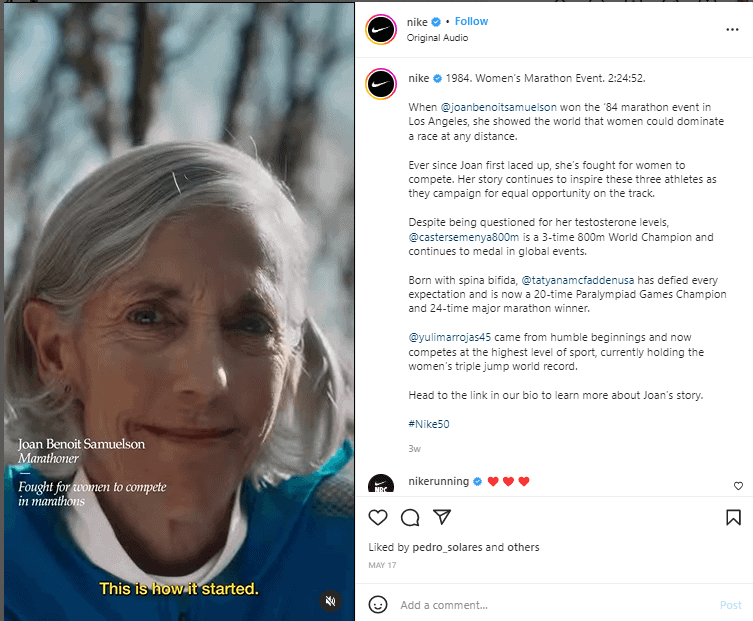 Nike does this very well. Their Instagram Reels page is full of stories about their customers, from world star athletes to local heroes working to improve their communities.
Brand storytelling isn't a sales pitch. You shouldn't repeatedly talk about a product or service. Instead, weave your brand into the story to create a shared experience between the customer and the business.
9. Communicate actively during a crisis
Social media is a remarkable marketing tool that enables companies to reach millions of consumers globally. A wrong post or comment gone viral can harm your brand's reputation. Mistakes are bound to happen. How you handle a crisis can help or ruin your brand.
Crises come in different forms:
Personnel Crisis - the action of an employee goes against brand values
Organizational Crisis - a company's practices break trust with customers
Technological Crisis -  interruption of service due to technical malfunction
Natural Crisis - interruption of service due to natural disasters
In each crisis, it is imperative to acknowledge the problem, apologize for the harm caused, and explain how you are solving the problem. For example, a technological glitch preventing customers from redeeming discount vouchers: acknowledge the issue, apologize for the inconvenience, and explain when that function will be operational.
Being open and responsive during a crisis lets your followers know you value them. A crisis communication plan can help you prepare and respond efficiently to any setback.
Conclusion
A social media brand personality is how a business presents and expresses itself on social media. It's what drives potential customers to follow a brand on social media. It enables meaningful connections and gives companies their competitive edge.
In this article, we went through nine steps that showcase your brand's personality on social media. The first step is knowing your target market. When you know your customers, you can adjust your brand persona to theirs. Buyer personas inform your tone, content, and interactions with customers.
Social media is personal. People want to know brand personalities and values, not just products. Telling stories about your brand and engaging in personalized interactions is your brand personality in action. How you convey your brand personality on social media can make or break your business, especially during a crisis.
Following the steps outlined, you can successfully and authentically connect with your followers. Good luck!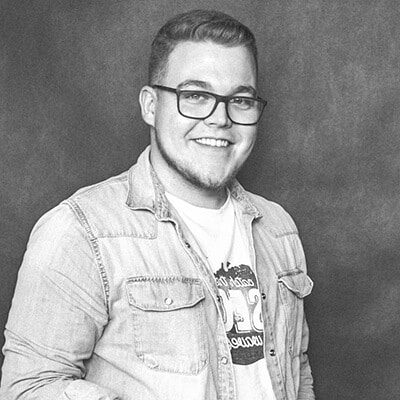 Tomasz is the Marketing Executive & Partner at Surfer, a platform that merges content strategy, creation, and optimization into one smooth process. With almost a decade of experience in the industry, he is responsible for incorporating and executing marketing strategies. Currently, he manages a team of 4 wonderful experts.
LinkedIn:
https://www.linkedin.com/in/niezgoda-tomasz/
Published July 6, 2022