5 tips that will help you develop a strong brand for your business
As a business owner, you want to make sure that you're focused on developing a strong brand. Doing so will ensure you stand out from the crowd and help you become more recognizable — this will help you get more sales!
In this article, we're going to outline how you can develop a strong brand for your business. Let's get started.
---
1. Ensure you have strong visual branding that reflects your business
Creating strong visual branding for your business is extremely important. You want to make sure that, when someone looks at your social media posts or marketing materials, they can immediately determine where they came from. Visual branding consists of design elements like colors, shapes, and fonts. Together, these elements should visually communicate your company's values and personality.
When designing your brand visuals, play around with different design elements and combinations. You can even look to your competitors for inspiration! You'll also need to consider what you are trying to convey to your customers. Are you playful? Professional? Friendly? Keep your business goals in mind when designing your branding.
In addition, if you want your brand to go global, you'll need to make sure that your visuals are adaptable to different cultures and languages.
This could mean using different colors or typography that is popular in other countries.
Also, make sure to use a professional graphic designer to help you create your visuals. While there are many free online tools available, using a professional will ensure that your visuals are high-quality and cohesive.
And, if you aren't sure what colors will best communicate your brand messaging, check out the expert guide from the logo creator Looka, which outlines some great combinations. Using color theory and psychology, you can find a combo that best suits your business.
Now, let's take a look at an example of a business that has effective visual branding for inspiration.

FreshBooks, an online accounting software company, has great visual branding. As you can see, their logo is blue — something very common for businesses in the financial sector. This is because blue instills a feeling of serenity and reliability in people, according to color psychology. Additionally, the green design features work to make different elements like CTAs and free trials stand out — plus, they're conveniently the color of money, which ties in nicely. The font that FreshBooks has chosen is easy to read, too, conveying a sense of reliability.
Consider doing a bit of research into color psychology before designing your brand logo. Different colors communicate different things, and you want to be sure that your visual elements are conveying the message you want.
2. Nail your tone of voice and inject it into everything you write
Your brand voice should convey a lot about your company's personality and help you stand out from others in your field! This will also help prospective customers relate to your brand to earn their brand loyalty and grow your business.
To determine your brand voice, think about how your customers like to be spoken to — you can look to others in your field for an idea of where to start. From there, think about what parts of your brand personality you want to communicate.
Once you determine how you want to communicate with your audience, consider creating brand guidelines that tell your writers how they should be conveying your message. This will help ensure that everyone is on the same page.
Let's take a look at a business with a great brand voice for inspiration.
Dollar Shave Club, a razor subscription service, shows off their brand voice in their copy well. In the image above, they highlight their quiz with the copy: "tell us how you get ready". This conveys that Dollar Shave Club is a casual, laid-back, and helpful brand. It also helps them better target their audience of guys who are into grooming.
Think about how your target audience wants to be spoken to! You want to ensure that your brand is relatable and communicative. Consider looking at others in your niche for inspiration. Write down what elements of their copy you like and then think about what other elements are important to your brand voice. Are you funny? Casual? Direct? Keep these in mind when creating your brand voice.
3. Be consistently active on social media
One of the best brand management tips business can take to heart is to use social media to its full capacity.
Social media is one of the most powerful tools that people and businesses can use to establish a strong brand. So, you need to make sure that your business is active on social media — you can post about your new products or services, images of people at work, or give people an idea of how to use your products.
Try to post at least a few times a week. If you're having trouble keeping up, consider using a bulk scheduling tool in order to stay on top of your output. This will help you plan your posts in advance so you don't have to do it all of the time.
Posting on social media regularly and creating content that they'll enjoy can help you build a relationship with your followers. Ideally, you want people to look forward to your posts — this will help you build your brand and ensure you stay at the top of your customers' mind when they're making a purchasing decision!
Let's take a look at an example of a business with a great social media presence for inspiration.

Moz, a digital marketing and SEO company, uses social media well. As you can see above, they use their Facebook page to promote SEO classes, blog content, and more! Showing off their expertise and available classes on social media is a great way for Moz to develop a strong brand. Their followers will see this content and note that Moz works hard to educate people in their field. Additionally, this type of content helps ensure that their followers keep Moz in mind when they need SEO help, thus making their brand stronger.
Be sure to promote your content on your social media pages, and post regularly! You want to ensure that your followers see your posts often — this will help you develop a strong brand and attract more loyal customers.
4. Publish high-quality content people love to read and share
Publishing high-quality content on your website is one of the most effective ways to show that you know what you're talking about! You want to ensure that you're publishing blog content that's helpful and share-worthy. When you publish content that showcases you're an expert, it's likely to be shared — this can help you develop a strong brand and get more eyes on your work.
Consider using native content for the platform that you're publishing on. For example, if you're publishing a blog post, consider using images, infographics, and videos to help break up the text and make your post more visually appealing. This will help you attract readers and keep them engaged.
On the other hand, if you're publishing a video, you may want to consider creating a transcript to help people who want to read more about your content. This will also help you make sure that your content is accessible to everyone.
Here are a few examples of content that you can create to show off your expertise and build your brand authority:
Ultimate guides: These should tell a reader everything they would want to know about a particular subject.
Tutorials/how-to guides: These should instruct a reader on how to carry out a process relevant to your work.
Product round-ups: These should show off some of the pros, cons, and features of different products in a specific category.
Original research: You could conduct studies relevant to your field or industry and publish your findings — this is sure to attract attention.
These types of content can give you a lot of opportunities to educate your audience and showcase your knowledge about your field. If your content is helpful, your target audience will want to read, share, and come back to it for more. This will help you build a stronger brand!
From increasing brand awareness to converting potential customers, hiring blog content writing services is a great way to execute your blog strategy to ensure you reach your commercial goals. Compose.ly, for example, has a team of professionals from various industries – so whatever niche you need to cover, there is a writer for you.
Let's take a look at a few examples of websites that have great, shareable content as inspiration.

The Tinker Law Firm PLLC, a medical malpractice law firm in Seattle, has great content on their website! They cover various topics related to medical malpractice law, like technology errors, misdiagnoses, and more. All of these articles work to educate potential clients — this helps them develop a reputation as a strong brand that cares about the people they serve.
For instance, their article on brain injury lawsuits outlines what potential claimants need to know before filing, how to work with insurance companies, and more. This guide is going to be very helpful for some of their target audience, and people who find it useful will be more likely to share it with others like them, improving The Tinker Law Firm PLLC's brand visibility.
How can you work to ensure that your target audience understands your line of work? Creating content that shows you're an expert and teaches the reader something new is great for building a strong brand. If you can help your target audience better understand your field or niche, they'll be more likely to share your work and build your brand authority for you, too.

At Loganix, we focus on publishing a lot of helpful content, as well. Because we're an SEO fulfillment agency, content is especially important — it can often be a user's first introduction to our company, and we need to prove that we're an expert in our field. Our guide to buying links outlines what backlink buying is, how much it can cost, what makes a quality link, and more. It's a very helpful and thorough guide for people with questions about backlink building — these people are in our target audience! If people read it and find it helpful, they're likely to remember that we can help them when they require more assistance in the future, boosting our brand authority.
Think about what questions people have about your field. If you can create guides to help people in your audience, they'll want to share them and come back to you for more helpful content. This will ensure that you have a strong brand presence!
5. Write guest posts for other websites in your niche
Guest blogging for relevant, authoritative websites can help you get your name out there, make connections with people in your field, and even boost your SEO! Essentially, guest blogging can help you get more eyes on your content by tapping into another website's audience, developing your brand authority and increasing awareness of what you do.
Additionally, when you guest post, you'll often be rewarded with high-quality links back to your website. This is a part of backlink building, the process of acquiring high-quality, authoritative links from other websites back to your own. When this happens, Google takes it as a vote of confidence in your work and ranks you higher on the search engine results pages! This can help even more people find your work, boosting your brand authority.
To find websites or blogs to write for, head to Google with words and phrases related to your business, and conduct searches like the following:
(keyword) + submit a guest post
(keyword) + guest blog
(keyword) + write for us
(keyword) + submission guidelines
This can give you a starting point, as it will help you find websites that cover topics you could write about. From there, look for submission guidelines or the email address of the most relevant editor, then shoot them your guest blog pitch!
Summary
In this article, we outlined how you can develop a strong brand for your business.
Knowing what your brand assets are and using them consistently is key to a successful branding strategy. Additionally, creating content that is helpful and informative can help you build a strong brand presence. When people in your target audience find your work useful, they'll be more likely to share it with their own networks, improving your brand visibility.
With the use of visuals, a brand voice, guest blogs, and more, you can help ensure that you secure loyal customers that spend a lot of money with your business.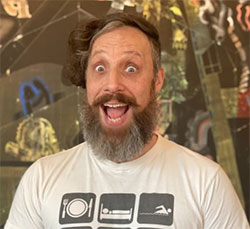 Aaron Haynes is the CEO of
Loganix
, an SEO fulfillment partner that supports marketing agencies and professionals. The company specializes in helping businesses to improve their online visibility and ultimately make more sales. The Loganix blog has a lot more information and advice, so make sure you check it out if you found this article helpful.
Published April 4, 2022