Remote Work: How to Leverage File Sharing
Despite all its perks, remote work may bring many new challenges. One of the biggest challenges associated with remote work is ensuring security and managing projects when your team members are spread across different locations.
Due to employees' lack of physical presence, communication becomes more complicated, and it can be hard to keep track of individual activities, especially for large teams and complex projects.
Thus, to help you cope with this challenge and help your remote team thrive, the Filecamp blog is here with this comprehensive guide.
To foster creativity and collaboration and to ensure critical information is protected, organizations must adopt a quality document-sharing platform. But what should be taken into account when choosing such tools? We will look at some of the key things remote employees need to know about file sharing in this article.
---

What are the security risks associated with file sharing?
Despite the convenience that file-sharing systems offer, it is not a 100% secure process since sensitive documents can always fall into the wrong hands or someone can hijack an employee's account. Here are some of the main security risks associated with file sharing.
Failing to ensure compliance
One of the main concerns for businesses that handle a lot of internal and customer data is adhering to specific data governance and compliance requirements. That means, data has to be stored and shared according to particular access and use permissions set to ensure security and privacy. These days, not following compliance requirements like GDPR, HIPAA, and appropriate ISO or NIST standards can result in hefty fines or even prosecution.
Unregulated access
When there's so much data within a company, it can be hard to manage permissions and who has access to what documents, especially when employees multitask or tend to work on a wide range of projects. Because of this, any employee can accidentally or intentionally compromise a file in the shared database or even delete it completely. But that's not the worst part – throw weak or reused passwords into the mix and an attacker can easily access sensitive information if it is available to all the users, without even needing to hijack an admin's account.
Increased vulnerability
Some file-sharing apps may require you to disable specific ports on your firewall in order to send files. However, opening some of these ports could allow hackers to enter your system and exploit any potential P2P application flaws. The worst part is, some file-sharing apps have the ability to alter firewall settings without your knowledge.
Benefits of implementing quality collaboration tools
Any business, regardless of its size or type of operations, needs a quality collaboration tool. That is especially the case when it comes to remote teams – after all, colleagues need to work on the same projects while being miles away from each other.
While one of the main goals of implementing secure file sharing systems is enhanced data security, here are just a couple of ways quality file-sharing and collaboration tools can aid communication and remote teamwork.
Increased efficiency
The first and most obvious advantage is that these platforms make it easier to share documents among team members. There's no need to email files back and forth or to carry around USB sticks in case documents are too large to send online. All you need to do is sign in and create or upload a file to add it to the document-sharing platform. Many even allow users to tag other team members on documents so they know that an item needs their attention.
Real-time collaboration
Another great thing about file-sharing platforms is that most of them offer collaboration features, allowing team members to work on the same documents at the same time. Some might even allow you to create message threads or comments on the file, which is a great way to share ideas, make corrections and address any issues as soon as they arise.
How to choose a reliable file-sharing service?
These days, there's no doubt that every business needs a reliable way to collaborate and share files. So, while looking for a file-sharing service for your organization, make sure the platform not only preserves confidential company information but also is easy to use.
Here are some tips and tricks to help you choose a reliable file-sharing service:
1. Security must be your top priority
When sharing files, make data protection a top priority by adopting a service that adds a strong layer of security and enables users to send and receive files regardless of their size, thus eliminating the need to use different channels.
With email, for instance it refers to the domain security, that is you need to use an SPF flattening to stay away from any spamming activity.
2. Opt for a system suited for businesses
Usually, consumer-grade services are not suited for huge numbers of users and large files. Not only that, consumer-grade solutions often don't have all the necessary security measures that enterprises need to ensure compliance, which can expose you to serious security risks and even lead to a data breach. But that's not the only reason you should choose a file-sharing solution designed for an organization – besides providing enhanced security, business-grade platforms often offer more collaboration features, the ability to organize documents by tasks or teams, and more.
3. Look for cloud-based services
Select a system that is simple to set up and use in your office. Cloud services designed for businesses usually take no time to set up and offer easy accessibility, allowing your employees to work on documents and share files wherever they might be.
4. Build an integrated system
Finding a standalone system that only provides file sharing may be the main goal, however, it's worth giving thought to a more comprehensive system that incorporates additional crucial features, like email security, options for collaboration, or even project management.
5. Convenience is important
Your selected business solution must be as frictionless as possible and just as simple to use as the consumer-grade options or other communication channels. This is essential to ensuring the company's data is protected and employees don't resort to sending confidential files via email or messaging platforms.
Three of the Best Document sharing platforms of 2022
With the number of document-sharing platforms available today, choosing the right one for your organization can be tough. So, here are our top three recommendations for secure file-sharing platforms for businesses listed below.
1. Filecamp
Our cloud-based digital asset management (DAM) platform, Filecamp is a great tool that enhances productivity and efficiency by allowing your team to spend less time looking for files, keeping you up to date with file versions, and ensuring security and access management.
Features
A brief overview of Filecamp's features is given below:
No requirement for an FTP client
Adaptation to a business website
Asset collections can span several folders
Secure HTTPS protocol for any file transaction
Controlled access, usage, and log-ins
Secure Sockets Layer (SSL)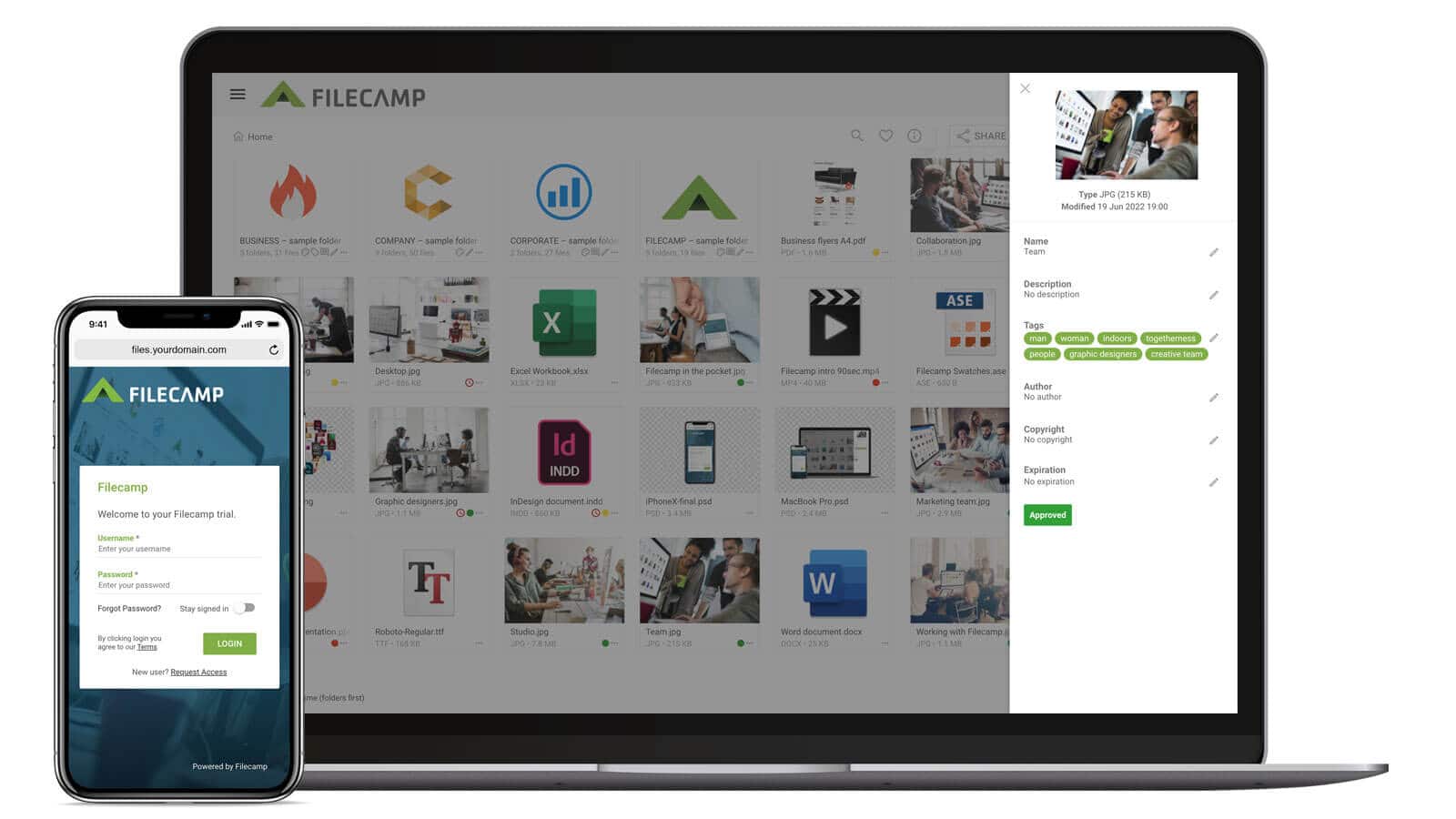 Filecamp is a great software investment for any type of business, especially because the interface is intuitive and extremely easy to use, making file sharing a breeze for any user. You can also try our 30-day free trial to find out whether it is the right fit for your organization.
2. Encyro
Encyro offers robust secure file and data management features and is designed for SMBs and independent contractors. It offers multi-layer, enterprise-grade encryption that guarantees secure file management, backup, and transfer.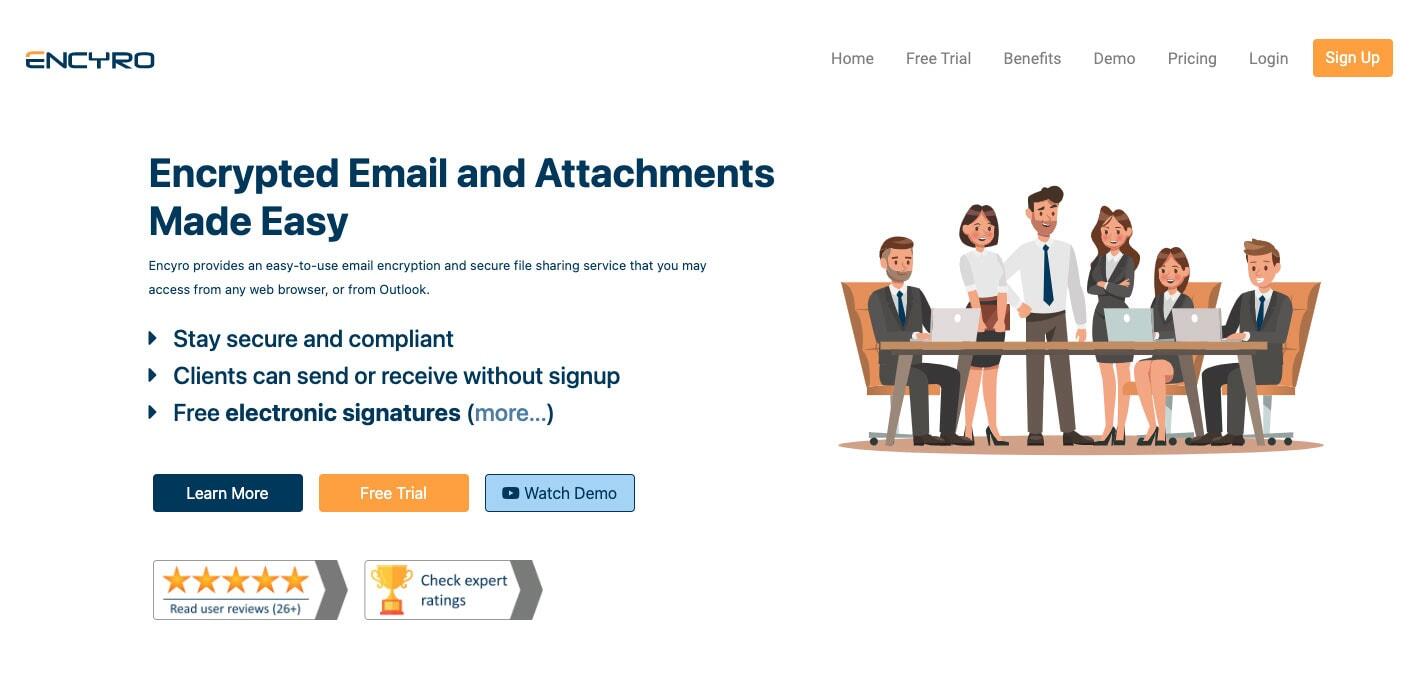 Features
Auto-encryption technology
No-cost tamper detection
Built-in audit trails
Multiple-site backups
Automatic client accounts
Authentication with many factors (2FA)
With all these useful features, Encyro is a one-stop solution for sharing files across the globe. It also offers a 14-day free trial so you can try it out for yourself.
3. Google Drive
With Google Drive, you can store all of your documents, videos, music, images, and other types of media in one place. What's great is that all the devices connected to your account are automatically synced, so any updates or changes you make on one device are immediately applied to all of them.
Google Drive also keeps track of your modifications over the previous 30 days, allowing you to go back and make any adjustments if needed. The platform is also powered by the same technology as Google search and uses well-known tools like image recognition to browse your photos and OCR to extract text from images.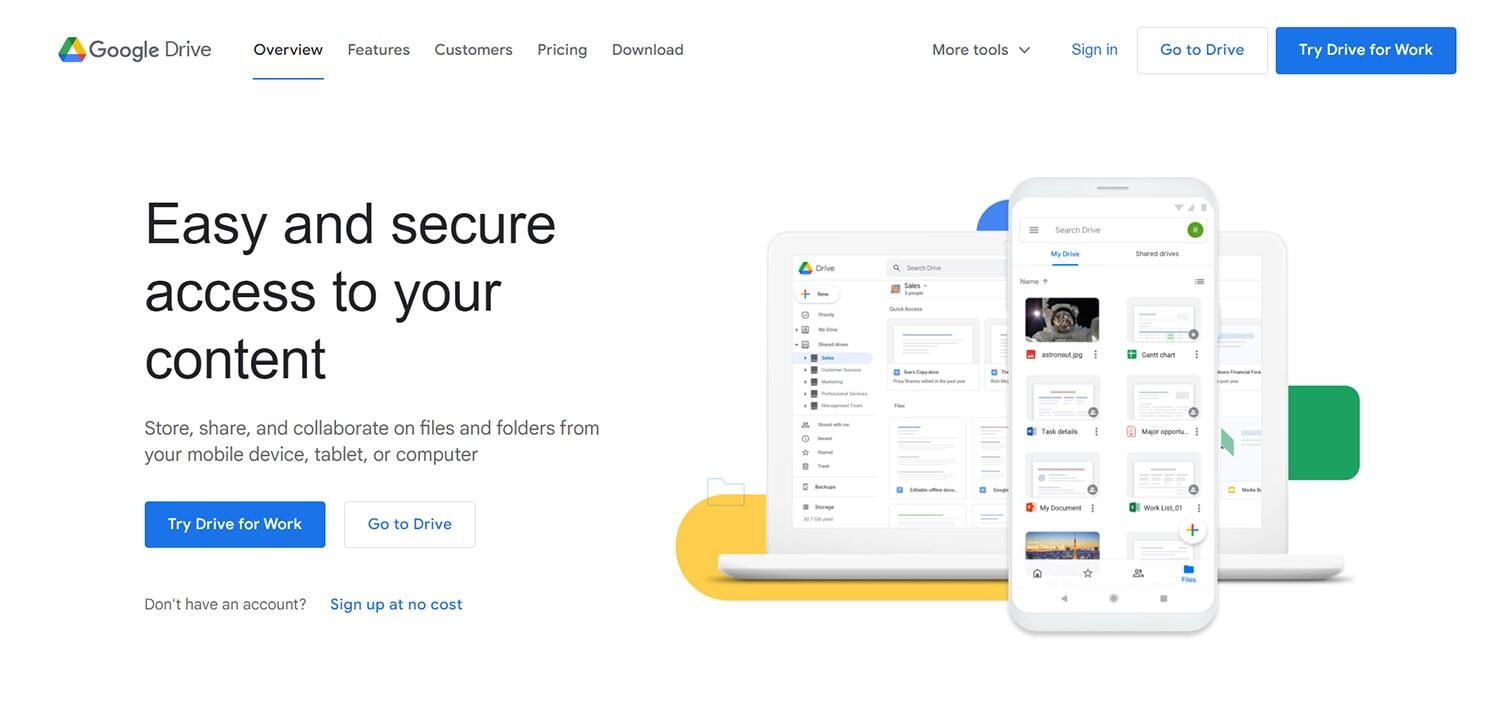 Features
Huge storage capacity
Share any file on any platform
Saving Gmail attachments
Advanced Search
Offline support
Document scan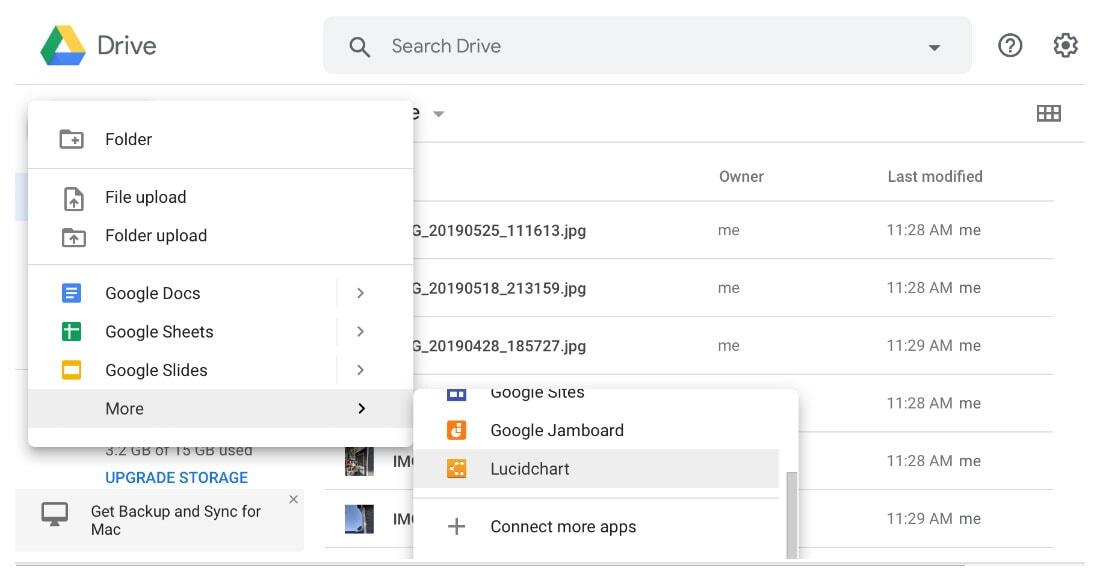 The main benefit of Google Drive is that it provides quite the capacity without charging extra. Furthermore, you'll be glad to know that you can acquire 100GB for just $1.99 a month if you ever need more storage space.
How can employees play their role in ensuring secure file sharing?
It is important to remember that even with the most robust cybersecurity measures and quality file-sharing services, remote team members could compromise data security if they are not careful.
Choosing the right filesharing platform is only half of the job – you have to make sure your employees are aware of the risks associated with handling sensitive data as well as the best practices to follow when exchanging files.
Setting strong passwords
Every employee must be aware that setting a secure password for their file-sharing account is the obvious first step in preventing cyberattacks. Thus, they must avoid using a password that would be easy to guess and not use the same password for multiple accounts. Moreover, they should use a combination of letters, numbers, and symbols with a minimum length of at least 14 characters.
Using a VPN
There may come a time when remote workers will need to utilize public Wi-Fi to complete some work. In this case, employees should use network encryption to safeguard their online activity when connected to public Wi-Fi.
Using a secure and reliable VPN service is the ideal approach when working outside the office. Wherever the team members may be, having a company VPN server is a great way to stay connected and secure. Determine the features you need, calculate how many employees will be using the network, and compare some of the best VPN services out there before you settle on a provider.
Managing permissions
Carefully managing access levels is a crucial component of maintaining document-sharing platforms secure. Teams should enhance security by limiting each member's access only to the files and folders they require for work and should remove users from the system as soon as they leave the company or finish a certain project. In this manner, if a hacker obtains a user's password, they will only be able to access the resources made accessible to that user.
Archiving files
Backing up all of your files is another security practice organizations should follow in case data gets compromised or unintentionally erased. Although some document-sharing platforms already offer a feature that automatically backs information up, you might want to think about using a third-party service to create backups as an extra layer of security.
Final thoughts
These days, file sharing is a daily process for many remote teams. However, in the age of frequent cyberattacks and data breaches, organizations must go the extra mile to avoid compromising confidential client and company data.
To ensure collaboration, productivity, and data security, organizations must adopt secure yet easy-to-use file-sharing systems, like the ones mentioned in this article. Most importantly, companies must raise cybersecurity awareness among employees and have CISOs regularly audit the operations to guarantee compliance.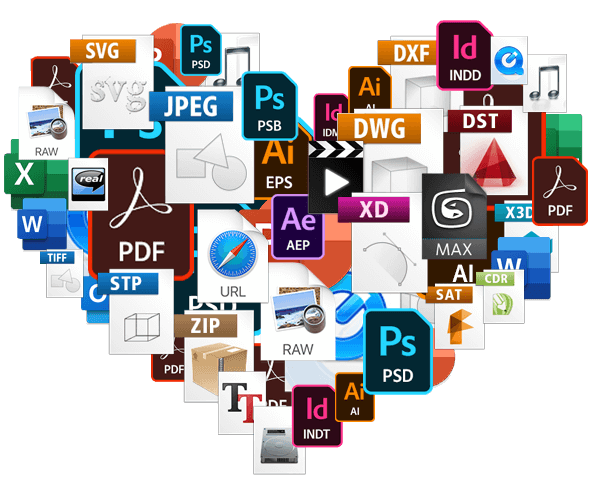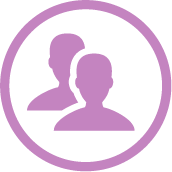 Cybernews.com
is a research-based online publication that helps people navigate a safe path through their increasingly complex digital lives. Our
Cybernews Investigation
team uses white-hat hacking techniques to find and safely disclose cybersecurity threats and vulnerabilities across the online world. Leaks of users' personal information? Security flaws in enterprises? Exchanges of sensitive data on the dark web? We're on it. The
Cybernews Editorial
team provides cybersecurity-related news, analysis, and opinions by industry insiders. We are working independently and transparently following our
Editorial guidelines
.
Published December 5, 2022