7 Ways To Quickly Optimize Creative Workflows Today
It's imperative that creative and digital agencies have a standardized way of operating without running into delays and confusion during content production. If you jump ahead on any part of the process, then the whole project will fall apart.
In reality, many creative geniuses are left scatterbrained, searching for the right solutions, and how to do things effectively. That's the thing – if a team wants to be successful, then it must establish some sort of order to get off the ground. Similarly, creative agencies must have the order to get things done. That's why they have their own project managers who are responsible for organizing tasks throughout the stages of the project.
That's where the term "workflow" comes in. A creative, or marketing, agency must have a creative workflow to follow, to develop useful habits and routines, and to create without missing a beat.
With that said, here are 7 ways to create and optimize your creative workflow to achieve the best project performance possible.
---
1. Start With A Creative Brief
"For every project that your agency takes part in, you'll need a creative brief to get it started," says Ethan McCue, a business writer at OX Essays and Boomessays. "A creative brief ensures that your whole team knows exactly what needs to be done, and what the end goal(s) will look like. As a result, with clear goals, your team will take clearer actions."
In your creative brief, keep in mind these questions when it comes to your project:
What part(s) in the project should be done or changed? Why?
Who's the target audience for your project? And based on this target audience, whom will be the buyer personas?
What's the timeline and due dates for your project?
What will be your project's budget?
What are the project's milestones? And what are the timeframes for each?
As you establish this brief, be sure to get plenty of feedback from each member of the team. Chances are, your team members' schedules and skillset will differ from each other's. Therefore, the creative brief must accommodate to everyone's schedules and skillset, or else the brief will not work.
2. Have Milestones
Milestones are important from start to finish, since a project can take months, or possibly years, to complete. Since goals are important in defining a project's direction, a set of milestones act as a roadmap for the project, to ensure that you're heading in the right direction. Milestones break up the project into measurable parts, so you can see where you need to be and when by establishing roles and deadlines, and tracking your progress.
Plus, when having milestones, be sure to identify them. Here are some examples of how you can identify milestones for the entire team to see:
"Phase 1 is finished."

"Get approval on finishing Phase 1."

"Phase 2 will start now."

"Requesting approval to greenlight Phase 2."
That's where Filecamp comes in! Filecamp has Digital Asset Management software that can help you:
Organize your (or others) files

Boost team productivity, AND

Easily collaborate among team members, and even other teams
With Filecamp, creative workflows can operate smoothly from beginning to end, without the constant headache if guessing and second-guessing on milestones.
3. Establish Team Member Roles
So, now that you're building a team, who will do what on that team? If you haven't figure it out yet, now is the time to do.
Now, this tip is, of course, the most important one, because like any team, a creative team must have structure in order to get things done. That means that everyone on the creative team must have something to do, when going about your project.
So, be sure to set up a system where you can assign different roles to each member of the team. And, when you delegate the roles to your team, and establish a clear and stable chain of command, everyone will know what their responsibilities are, and how they can prevent miscommunication and production issues.
With that said, here are some common roles to consider when building your creative team and assigning responsibilities:
Project Principal

Project Strategist

Project Manager

Marketing Specialist

Designer

Developer
Of course, these desirable roles depend on the nature of the project. For example, if your creative team is redesigning a website, then you'll need a designer and a developer. On the other hand, if the task is to create flyers, then generally, the entire team will work on it – not just the designer.

4. Clients Come First
Clients should be the number one priority for your project. In fact, no matter the project, your clients will have a set of expectations. If the client is happy with what they're shown, the easier and more productive your workflow will be. Therefore, when their expectations are met, the happier they'll be.
Next, be sure to manage and satisfy these expectations. Besides delivering the best results for your clients, you should also consider the following techniques:
Proactively ask your client(s) for expectations, and then set them as needed.

Be sure to stick to your set goals, and demonstrate weekly progress.

Create an accessible timeline (preferably on a spreadsheet) that you can regularly update.

Don't promise too much to your client(s); be realistic about expectations.
By considering the client's wants and needs, you'll keep them happy and well-informed, and your team will be on track.
And, don't be afraid to take inspiration from your client's competitors, to better understand their expectations. Do plenty of research, create a list of things that stand out, and then conduct a competitor analysis. In the analysis, do the following:
Check out their website and blog to learn about their niche and who their target audience is.

See if they've had any press mentions and interviews to learn more about their mission and business practices.

Follow them on their social media channels (i.e. Facebook, YouTube, and LinkedIn), and leave some likes and comments showing your support.

Sign up for their newsletter and or download their eBooks.
5. Visualize And Create
"Your creative agency must be able to… well, create," says Jackson Veale, a marketing blogger at State of writing and Academized. "Therefore, your team has to act as a visionary. By making everything in your project visual – from the data to presentations."
Plus, why start from scratch in every project when you can create templates that you can use to save time and effort? With templates, you can use them over and over, especially for future projects. For example, if your client has you create blog content in a certain format, be sure to establish a template to not only save time, but also have your team simply fill in the gaps.
With that in mind, consider using one of the following useful templates that you can keep or change, depending on the project:
Buyer Persona Template

Storyboard Template

House of Quality Template

Character Bio Template

Story Canvas Template
"Also, look to using job dashboards to give you at-a-glance insights on how each role in your team are doing," adds Veale. "And, make sure that you create templates that your team can save time and effort now and in the future."
Software like SmartSheet and LucidChart allow you to present all of your project's activities in an innovative way, helping you come up with appealing visual timelines for your team.
6. Have Effective Communication
Communication is essential for every project or process you and your team work on. Without effective communication, misunderstandings may rise, and it can make things hard on production.
Plus, make sure that you have seamless communication that isn't solely dependent on emailing. If you rely heavily on emailing for communication, then that might be the reason why your communication flows aren't as smooth as you'd like it to be. But thanks to technology, effective communication is not only easier, but also more organized than ever. In fact, there are many online communication tools to choose from, and whichever ones your teammates are comfortable using, go for it!
Here is some software to consider, if you want to partially replace email:
Slack is an instant messaging software best known for internal communication, which is a plus for creative teams that constantly collaborate with each other.
Filecamp is software that makes reviewing and approving communication easier in the following steps:


Commenting on files

Organizing the process

Tracking any progress from said process, AND

Getting approval

Asana is software that enhances project communication by organizing work so teams know what to do, why the work matters, and how to get it done.

7. Analyze And Anticipate
Finally, towards the end of a project, be sure to look through everything that has transpired, and deeply analyze each step in the process.
Reviewing the project in its entirety is extremely important, since these cycles are often messy, and can take a lot of time. Though, the reason why these cycles are messy and time-consuming is not just because there's no alternative, but more so because no one wants to be stuck spend analyzing and optimizing them. As a result, this reluctance can potentially ruin your team's productivity, and be costly to the company.
So, that's why a workflow analysis is the key to success. Here's how to break down your workflow analysis:
First, understand and documenting the workflow.

Next, collect important data that transpired from the workflow.

Then, analyze the collected data. Study it vigorously.

Afterwards, see if there are any possible improvements that can be implemented in future workflow and processes.
As you analyze and anticipate any improvements for future workflows, keep these questions in mind:
How long did certain tasks take? And can certain tasks be shortened next time?

How much did certain resources cost?

How can you approve things next time?
Plus, keep in mind that every project will have problems along the way. Therefore, take advantage of the collective intelligence of your team to anticipate and prevent any problems before they rise.
Resources like Filecamp offer Online Proofing and Approval services to help you review files, comment on them, and approve them – anytime, anywhere — online.
Conclusion
Ultimately, having a creative workflow comes down to staying organized, active, and structured in all projects from start to finish. Not only do creative workflows make the entire product creation process a lot easier, but it also saves your agency time and money. Plus, keep your clients in mind, as you and the team work together to create the best results from your project. And, the more organized your team is, the easier it'll be for everyone to work collaboratively through tasks and milestones to get a product to the client on time.
So, we hope that this article has shed more light on how creative workflows can be managed which, in actuality, aren't as hard as one might think it to be. As you follow these 7 steps, your agency will thrive in any project you handle, and you'll be able to deliver great results for clients.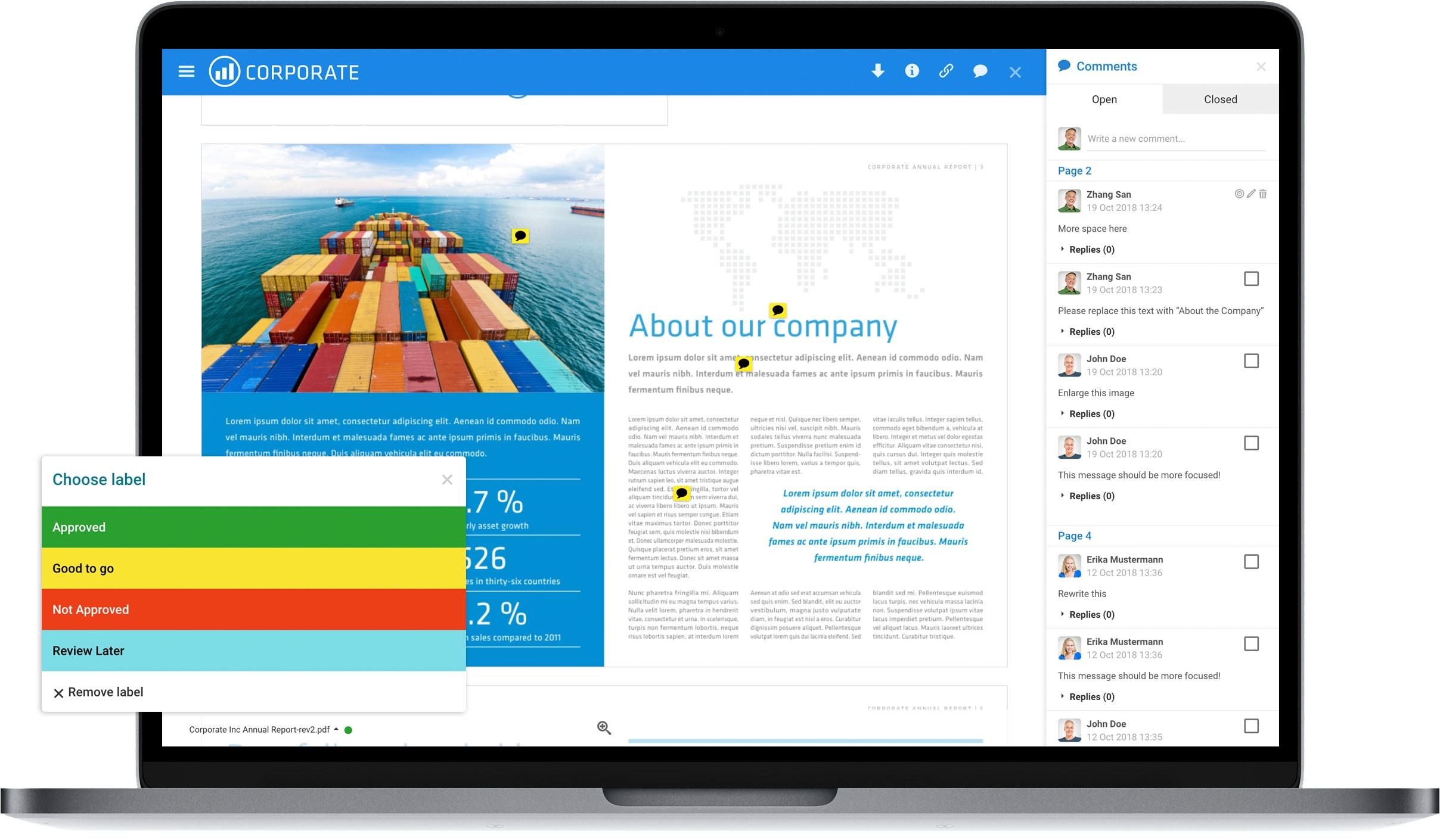 Filecamps' online proofing tools are focused on speeding up the review and approval process by improving collaboration, centralizing feedback, and eliminating manual steps through automated workflow.

Kristin Herman is a marketing writer and editor at
UK Writings
.
Published November 22, 2020