Custom Terms
Add custom Terms to your account and present these terms to your users.
Use Custom terms
If you enter custom terms in Admin > Themes, these terms will be shown to all users on your login page: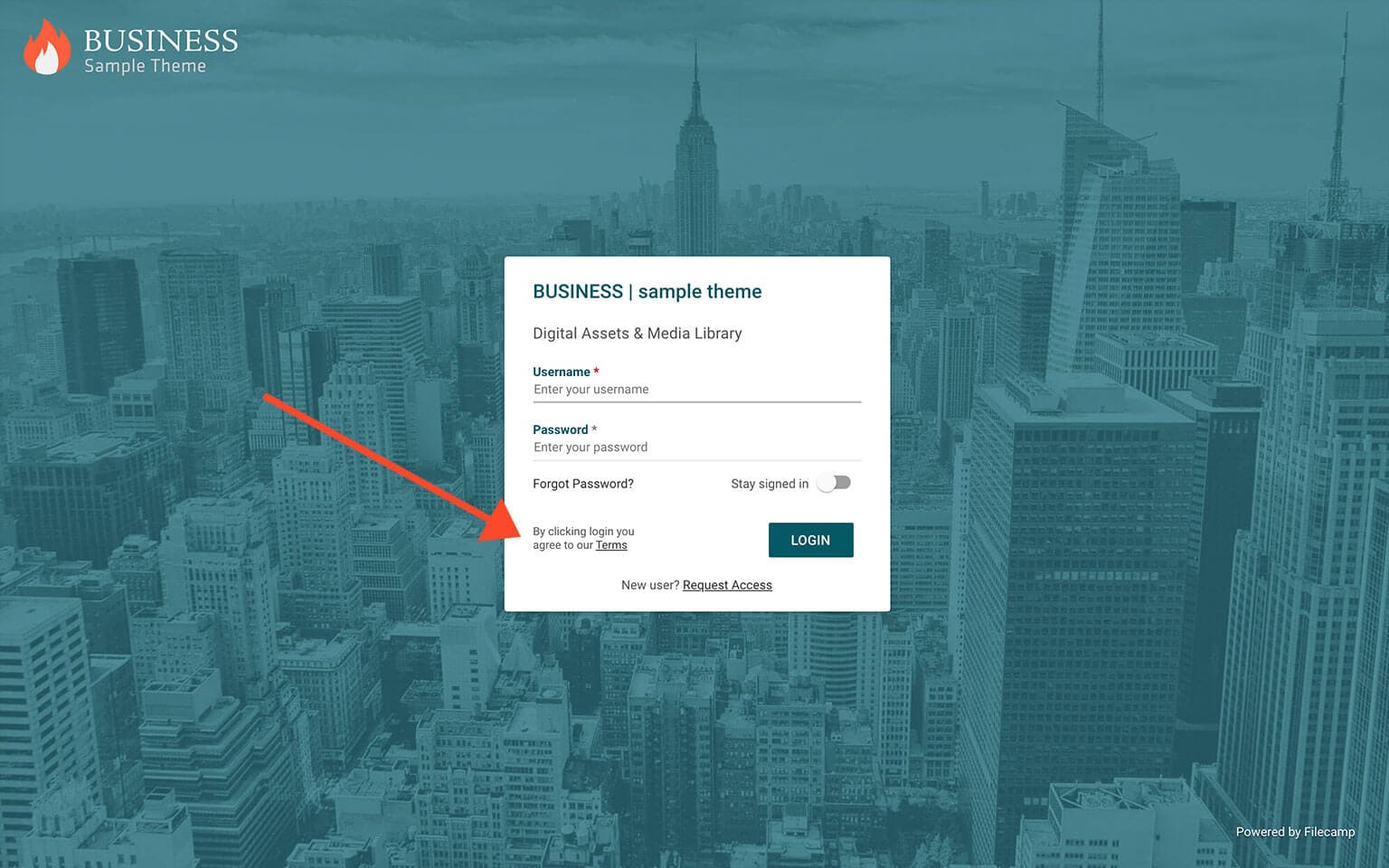 ---
Related articles
Look and feel
---
---
---
With Filecamp´s custom Terms feature, the account administrator can write completely custom terms of service. Some system administrators prefer a short, general explanation, while others prefer a very detailed, more formal agreement, written and approved by their corporate legal team. It's up to you. But here a couple of samples to get you started:
Terms & Conditions
---
COMPANY X offers this collection of digital assets for download and use at your own risk. You are solely responsible for the consequences of any use you choose to make of the assets you download from this portal, and for any changes that you make to the content of the files. 
COMPANY X does not guarantee or warrant that assets available for download through this collection will be free of infection or viruses, worms, or other code that manifest contaminated or destructive properties.
You are responsible for implementing sufficient procedures and check points to satisfy yourself as to the integrity of files downloaded from this portal. Provided you keep intact all copyright and other proprietary notices, you may use the information and materials in the files for appropriate professional purposes.
You agree not to use the information and materials in the files in any way that is knowingly false, defamatory, inaccurate, abusive, vulgar, harassing, obscene, profane, threatening, invasive of a person's privacy, or otherwise in violation of any law.
All files are the sole property of COMPANY X and are provided 'as is' without warranty of any kind. All implied warranties, including, without limitation, implied warranties of merchantability, fitness for a particular purpose, and non- infringement, are hereby expressly disclaimed. Images and other files downloaded from this site are for the sole intended use of advertising or promoting COMPANY X products only, and may not be used for any other express purpose.