How to Create a Digital Asset Management Strategy in 8 Steps
Managing assets are a crucial aspect of any organization, and digital assets are no exception. With the massive supercharge of digital media, companies are creating more digital than physical assets. These include but are not limited to images, videos, blogs, and digital products.
If you're creating these digital assets, it would be best to manage them through a seamless process that allows you to categorize, organize, and find them whenever you want while maintaining security and flexibility in collaboration.
Storing, accessing, and sharing these assets when you need them would be extremely difficult without a structure.
Enter Digital Asset management (DAM).
DAM is a system that organizes, stores, and shares digital assets in a central location. In short, it's the ultimate solution to a company's content sharing and access issues.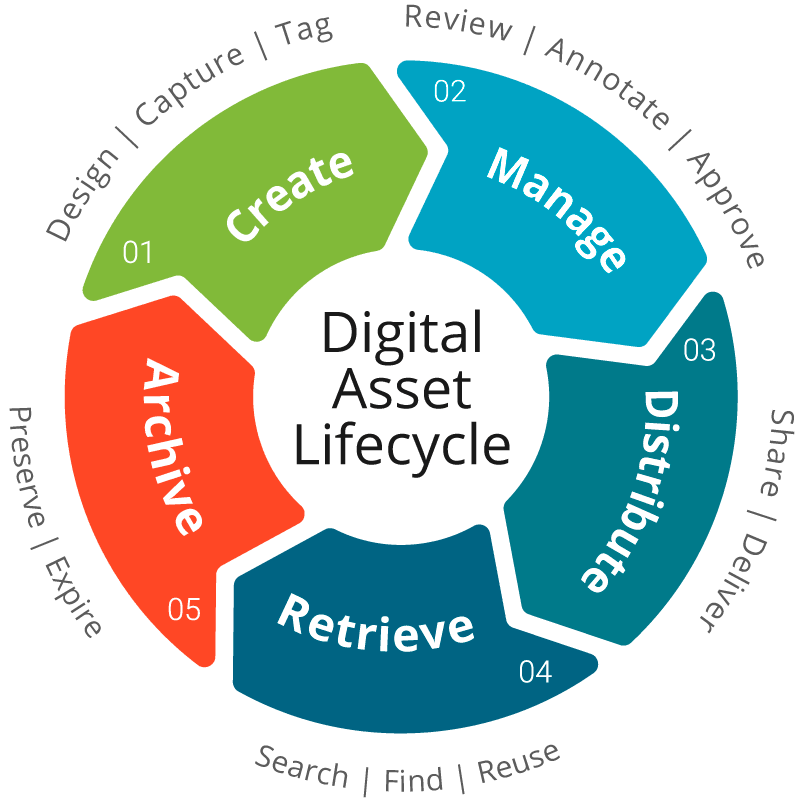 DAM also facilitates the storage of large files like video libraries. Most importantly, it helps employees of an organization utilize their time better. Instead of finding a particular file from millions of them, they can focus on more critical, revenue-generating tasks.
8 steps to create a Digital Asset Management strategy
Without a good DAM strategy, businesses can't function efficiently in the long run. You might have purchased or created many digital assets over the years, but it'll be challenging to keep track and use them when needed if you fail to manage them.
Let's see how you can create a solid strategy for your company and manage your digital assets in the right way.
---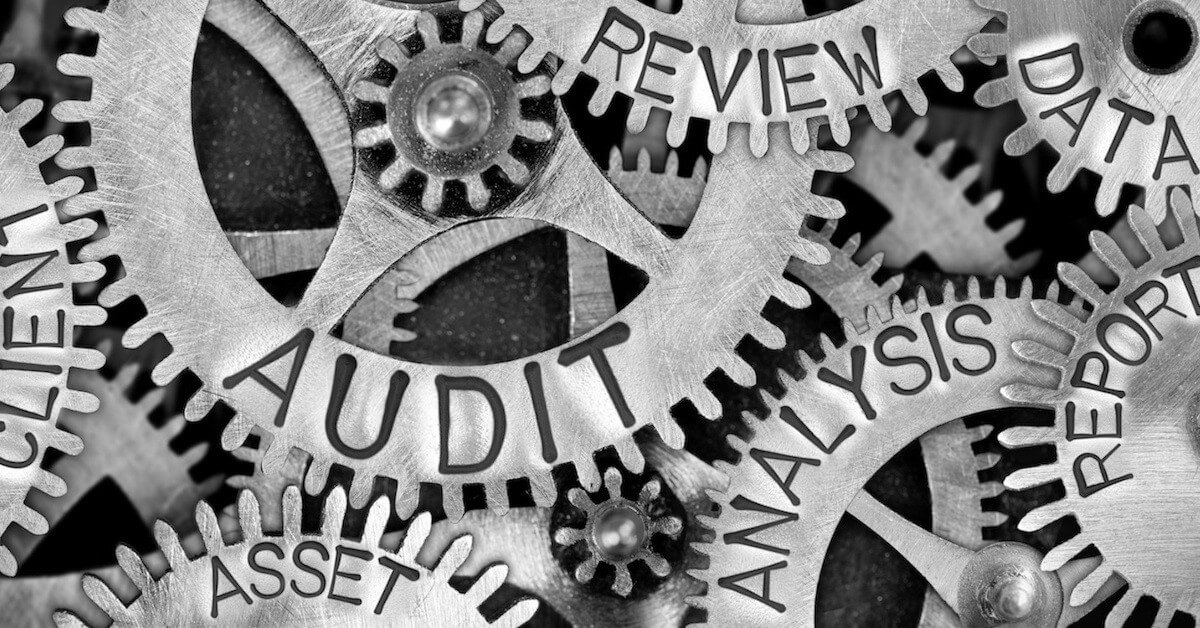 1. Audit existing digital assets
Carrying an audit of your existing digital assets will help you understand which assets need to be managed, allowing you to make informed decisions. Most of the time, they sit in your company's folders unknown to many of your employees—along with being undervalued, poorly used, or never found.
As a starting point, try to analyze and understand the digital assets currently present and owned by your organization. Next, answer these questions:
Where are these assets stored currently?
What software do you use to manage it?
Who is taking care of the process right now? Is there a team?
Are all the employees aware of these assets?
Do you have a labeling system for them?
Use this data to identify the gaps in your current DAM strategy. The idea is to troubleshoot the current system and create a new one that is more organized, automated, and secure.
This audit will help you understand what's missing right now, what you need, and how it will help you. Don't forget to record all these observations in a Google sheet as a track record that you can come back to if there are any confusions.
---
2. Establish an action plan and define objectives
After carrying the audit, it'll be easier for you to understand where the organization is going wrong in managing these assets. Let's use that to create a better and more effective action plan that can put your DAM on auto-pilot and make it a regular part of your management structure.
Here are some best practices to keep in mind while creating your plan:
Identify the problems you're facing right now and what steps are needed to resolve them.

Create milestones and goals attached with realistic timelines.

Clearly define what this plan will help achieve and the results you expect from this.

Create an outline of the resources, team members, investment, tools, tech, and other variants required to make the strategy successful.

Document your action plan for reference during the execution.
 This action plan is important to see where you're headed and how you should carry out your next few steps. It'll also divide clear roles for the team members, so there are no discrepancies, and everything is accounted for in the system.
It'll also divide clear roles for the team members, so there are no discrepancies, and everything is in line with your editorial calendar. 
---
3. Discuss the plan with your C-level executives and decision-makers
If you are not the decision-maker in the organization, take this discussion to the executives. Ideally, make a presentation from steps 1 and 2 and present it in a meeting that includes those affected by this plan or key execution members.
Not everyone understands the importance of having a DAM strategy and what it means for your company, so make it a point to communicate that. This will justify your efforts and show the decision-makers how it will help grow the business.
In today's data-driven world, assumptions don't work—so, lead with data. Elaborate on how your company can do better than your competitors and provide an even better customer experience by adopting and investing in the DAM strategies.
This discussion is a crucial part of digital asset management because it will:
Solidify your plan.
Help prepare a proper budget, and get a go-ahead on it.
Give you the motivation to execute it with full force.
Make the project involvement much more solid.
Ensure that everyone is on the same page, and understands the depth of the situation and how it can do a 360 on the company's outlook and marketing processes.
Leadership buy-in is a non-negotiable aspect of DAM, so ensure you prepare for it properly if you want to transform and elevate the organization's success in marketing and related activities.
---
4. Assign a team and workflow for the plan
Digital asset management is not a one-person role; it requires multiple people to succeed in execution and get you closer to your DAM goals. As a general rule of thumb, write down the kind of expertise you need for different sections of your strategy. Here's what you will need:
IT Team
Business Team
User community
Members managing asset management earlier
Part-time or full-time DAM administrator or project manager
Once the team is formed, it's time to create and set up workflows. Start by uploading your assets and granting permissions to team members.
It would be best to have different categories based on how much information access you want each member to possess. These categories can be—advanced, general users, and basic users, with the advanced users having the maximum flexibility and permissions.
Ideally, a creative DAM workflow process will look like this:
Upload the digital asset or media file.
Add metadata information.
Update existing files (if any) to ensure they all follow the same naming convention.
Create additional folders, if required.
Create a shareable document to detail the process of organizing for member reference.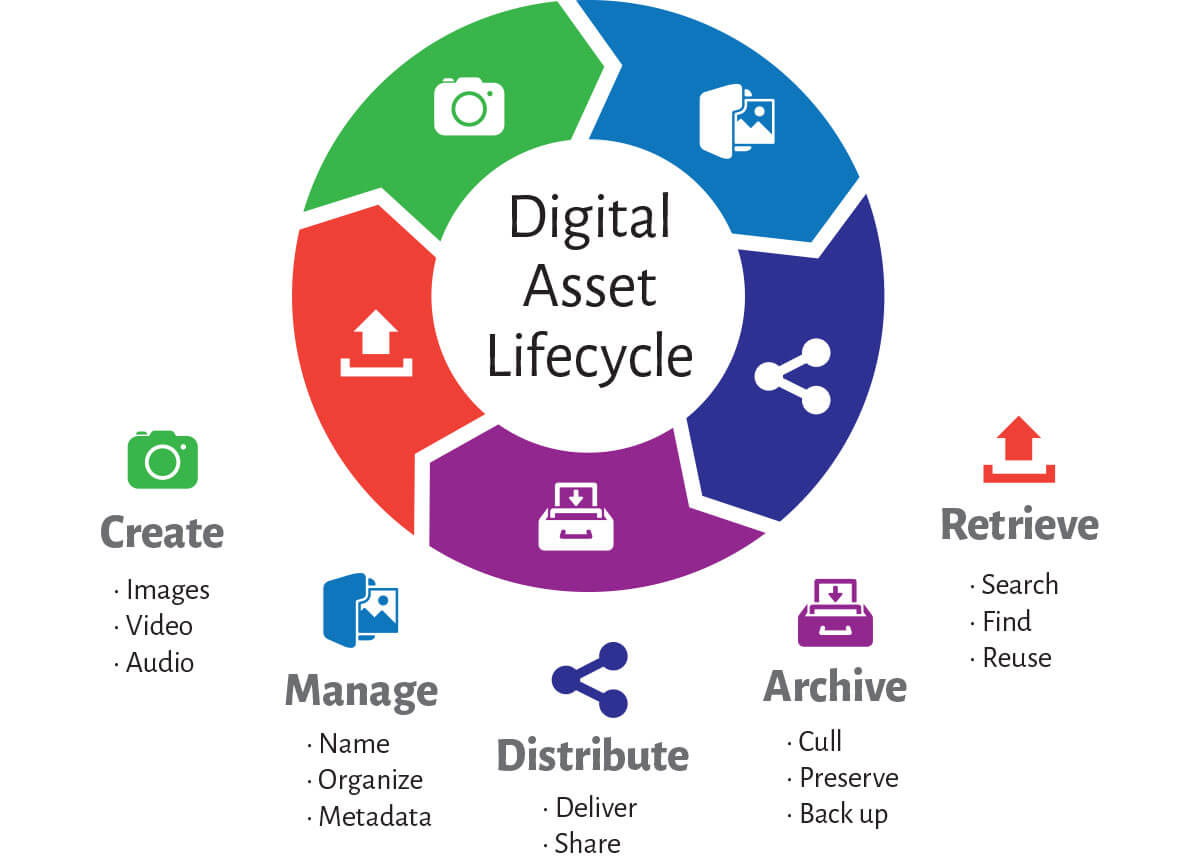 Once every DAM team member is familiar with the workflow, try to automate it.
Why? Because it can save time spent on doing manual and repetitive tasks. The AI can carry out routine tasks, while members can focus on things of greater significance.
---
5. Identify where you will manage these assets
When it comes to managing assets, there are multiple software and tools to choose from—but try not to jump into new systems all of a sudden.
An example of asset management software is Adobe creative cloud. It can be integrated with your system to store your company's digital assets. Adobe's Photoshop can also be used from the same software while editing the media files, and adding watermarks.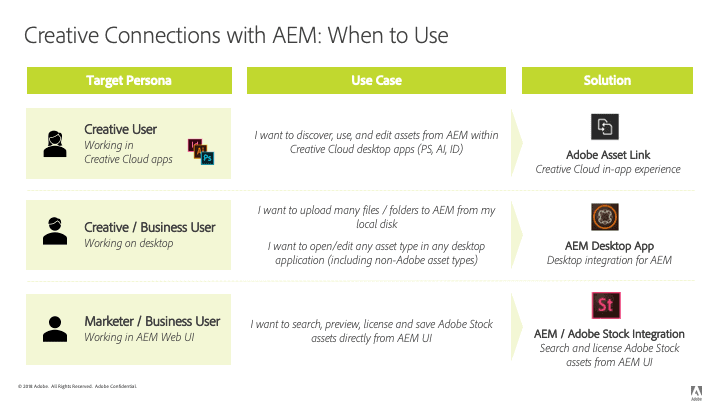 You can analyze the features you would require in a management tool. It would be best to discuss this with your team while exploring various options to choose the finest DAM tool that fits your requirement.
While choosing the management software, keep these points in mind:
What are the licensing options available? This will tell you how many members can get access.
What if your company grows 2x to its current size? Will this solution still work fine and provide access to additional users?
Is it cloud or premise-based? Discuss these options with your IT department and decide which option is suitable for your company.
It's essential to choose the right DAM software because that's where everything will be organized and managed—so don't compromise in this particular aspect as it can make or break your DAM efforts.
---
6. Create a standard structure for naming, tags, and categories
Imagine you have thousands of pictures submitted by different photographers. There are high chances to have multiple pictures with the same file names. So, how will you differentiate and find the image you're looking for?
This is precisely why a naming convention is essential—to allow easy sorting and differentiation.
While creating this structure for your DAM efforts, you can consider categorizing the assets through these:
Name or function of the asset
Date of development
Serial number
Department
Country of development
Product line
You can even create a cascading folder structure—where folders are saved for better organization and discoverability. The idea is to create a naming and structuring system that everyone can follow and understand in your organization.
You can also create a guide for this structure, so if anyone wants to find a particular asset, they can refer to the guide.
7. Roll out the implementation in small phases
Rolling out a massive change in your organization like DAM cannot be done abruptly. You need to start implementing small runs so everyone can understand what's happening, you can fix mistakes on the go, and the business doesn't take a sudden hit due to the change.
Here's an example of DAM implementation phases: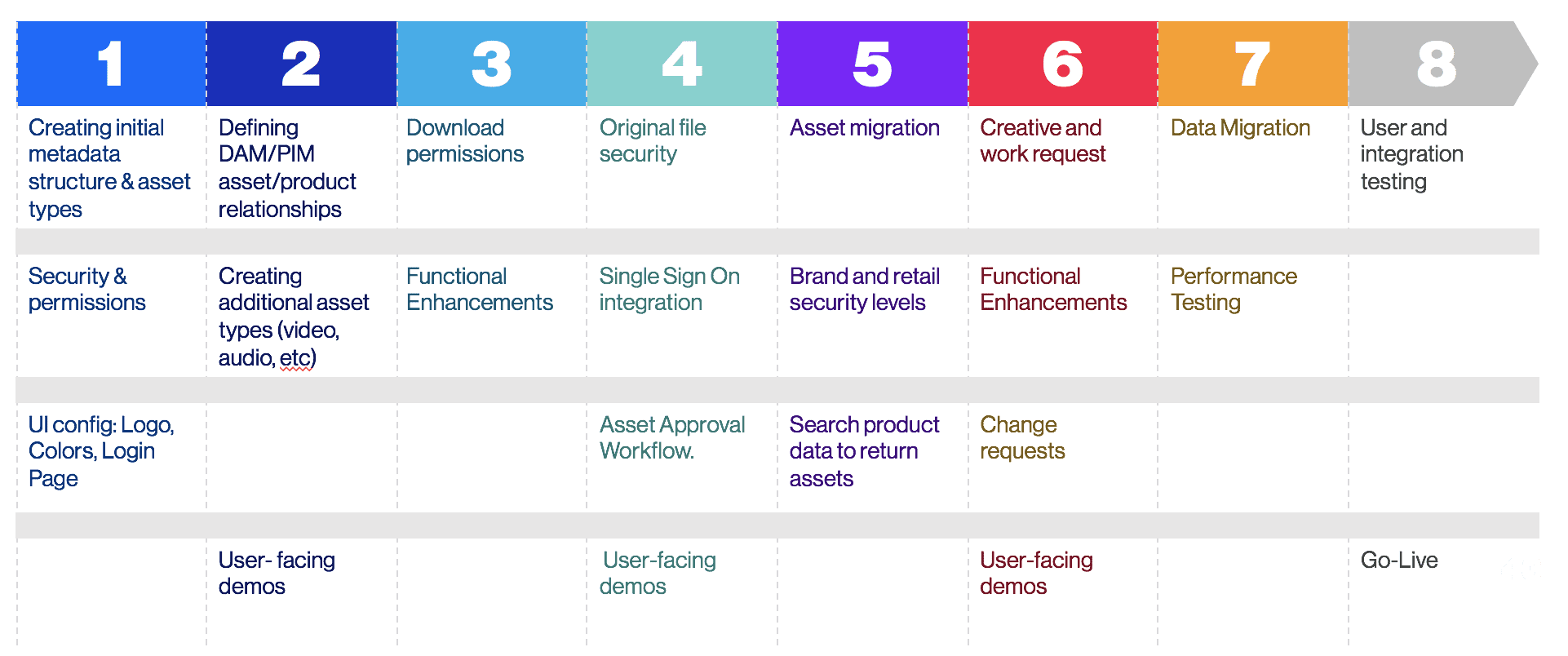 This process will also ensure that your strategies are working out the way you intended, and if not, help devise a plan to introduce improvements.
Slowly, you can start expanding your operation and get more members to understand the process while ensuring transparency and crystal comprehension.
Also, try to inculcate agility in your company dynamics. It lets you accommodate changes at any point in time during the project execution and allow you to get timely feedback on tasks. Moreover, it trains the employees to adapt to dynamic changes—a force for enterprise success.
Since DAM implementations also involve the utilization of complex hardware, software, people, and systems, you can reduce the failure rate and reach your goals faster by rolling out the implementation in phases.
8. Use data and analytics to increase the system's efficiency
In today's data-driven world, if you think there is a business that does not require data to scale its performance, you need to rethink. Every strategy is analyzed and improved based on data findings, and DAM is no exception.
Once you've had a good run with the strategy, pause and assess your route. See how your plan is working out and if you need any changes or improvements.
Through this, you can identify bugs, troubleshoot problems, and fix the leakages to make the DAM strategy much stronger and fail-proof. You can use this in two ways:
Study how employees search for the assets to find patterns, create unique data assets, and develop security measures against data exploitation.
Analyze metrics like how many times the asset has been downloaded and shared to identify issues, and make changes to metadata, tags, etc.
The only way to move forward and ensure that the DAM strategy improves and benefits your asset management is to make improvements. So, set up regular meetings to assess performance and make tweaks wherever needed.
Conclusion
DAM has countless benefits and will ensure your company's digital assets' productivity, organization, and brand consistency. When everything is well-organized, you can prevent publishing assets that are off-brand or outdated by accident.
Not only does DAM preserve brand integrity, but it also reduces any additional costs if you lose the data. With planned backups and secondary storage practices, you can be stress-free about losing them.
Now that you know how DAM can improve your business asset management, use the steps mentioned in this article to create a solid strategy for your brand that can help you manage and use the assets in the right way.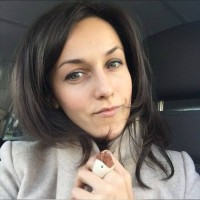 Adela Belin is a content marketer and blogger at
Writers Per Hour
. She is passionate about sharing stories with the hope to make a difference in people's lives and contribute to their personal and professional growth.
Published May 18, 2021