Case Study
TRUE
Learn how a small (but cool!) design agency in Denmark benefits from Filecamp.
---
In today's world, a brand needs to represent itself across a wide range of media. It's got to have a uniform tone and presence across screen, print, and visual media. It's a must. TRUE™, a design agency based in Copenhagen, Denmark proves that when two talented and caring designers get together and get the tool they need to get the job done, a brand can be sure its voice will truly be heard online and in the real world.
---
Founded by Jan Ligaard and Mark Christensen, TRUE™ combines their talents in digital and print media to deliver effective design solutions for their clients and other agencies that seek their expertise. As Christensen puts it, "We have a lot of tools in our kit, but we aren't bound by those tools, we have the flexibility to meet our client's needs and achieve their goals".
It was this unique goal-oriented approach that brought Jan and Mark together to form TRUE™ in 2010. At the time, they were each working on their own as independent designers — for other agencies and on behalf of clients.
When they met to talk about working together over some bites of hamburger, they spoke about their shared approach to design. Both Jan and Mark feel the main goal of design is to achieve results for their clients. As they put it, to be TRUE™ to their client's brand.
A modern client-focused design tool
TRUE™ takes a client-focused approach to their design work and Ligaard also works as an advisor to startups on communications strategy. Jennifer Hicks, Founder of Ink Communications had this to say about Ligaard and TRUE™, "He is unlike any designer in the market today because he doesn't bind himself or TRUE™ to the old school one-way communication of designer to client, rather he works to find the right design in tandem with you and evolves it along the way."
Taking a modern client-focused approach to design takes more than a new mindset — it takes a new type of collaboration tool. When it came time to find a tool for managing their clients' brand assets and collaborating with clients and other agencies on designs, Filecamp truly felt right to Christensen and the team at TRUE™.
When TRUE™ was called upon to produce a series of advertisements and posters for the well-known brand Georg Jensen, the team at TRUE™ knew that all the people working on the campaign would need access to the brand assets and files.
With Filecamp, TRUE™ found all the features and the flexibility they needed to execute on their modern client-focused design approach. The team at TRUE™, their clients, and the media outlets running the ads had access to everything they needed, whenever they needed it — in one simple and secure interface.
White label features for the win
For TRUE™, the decision to use Filecamp was more than choosing a file sharing and collaboration tool that allows them to take a modern client-focused approach to design. To deliver results for their clients, it's about more than first-hand access. It's about first impressions. Truly designers at heart, Jan and Mark took this into account when they chose Filecamp over the other file sharing solutions available online.
According to Mark, "UX is something we do, so when we look at tools, even a task management tool, for instance, we immediately get a feel for it, the purity of the system". He goes on to say, "I would trade more features for a cleaner interface, because I know I'll be able to actually get more work done".
The simple functionality, clean aesthetic, and white-label features of Filecamp allow TRUE™ to provide a clean and uniform presence to their clients when they're managing brand assets, sharing files, and working on projects. "Filecamp makes TRUE™ look as professional as we are. As a dedicated studio, our clients need to know we take our work seriously."
The white-label features of Filecamp give TRUE™ an added edge when it comes to meeting the goals of clients like Georg Jensen. "You can see when a business has poor identity management", says Mark. In other words, for a design agency to succeed it not only has to do good work, but it also has to look good doing it.
Filecamp's white label features deliver a professional feel and experience that equals the talent and depth of the team at TRUE™. When clients log in to access their files, they truly feel as good about a project as the results they get from the work delivered by the agency.
Coming full circle
Covering all forms of media, TRUE™ provides designs for websites, apps, social media content, and social media apps, as well as real-world marketing materials — signs, brochures, flyers, visuals for trade shows. They're a seasoned group that knows how to use visuals and graphic design to paint a compelling story for a brand. More importantly, they know how to keep a consistent brand tone and speak to an audience.
When Jan and Mark first teamed up, it was over burgers as they shared their appetite for meeting their clients' needs. Now, their latest campaign for partner agency Revolt is one of their biggest yet, a Facebook app for Hellmann's Big Burger Battle followed by a transformation of the campaign into the Big Burger Book.
It seems things have come full circle for Jan, Mark, and the team at TRUE™. While the bites of burger maybe bigger since they joined forces together, their appetite has stayed the same — delivering world-class designs that achieve their clients' goals.
Working for blue-chip firms and collaborating with other agencies, TRUE™ needs a sound digital asset management platform that is as professional as their approach to meeting their clients' goals. Filecamp gives TRUE™ everything they need to get the job done, plus a bag of chips — white-label features that make them look good doing it.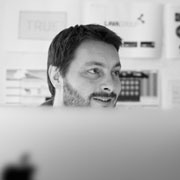 "… for a design agency to succeed it not only has to do good work, it has to look good doing it."Mark Christensen,
Partner, TRUE™