Case Study
Creative Momentum
Creative Momentum has mastered the dao of discipline when it comes to delivering results for their clients.
---
There's one thing that the best independent designers don't talk about very often — discipline. Why? Because the best independent designers are disciplined by their very nature. With design tools more easily available than they ever have been, nearly anyone can get a PC with the Adobe Creative Suite and get to work. But design tools only become practical in the hands of a disciplined designer who is familiar with the workflow of the design production process. As an independent designer, you've got to be disciplined to deliver results. Oh, and there's one more catch, to be successful, you've got to know how to pick the right tools for the job.
---
Glen Webster at Creative Momentum has mastered the dao of discipline when it comes to delivering results for his clients. He also maintains a curated taste in all things, whether it's the Nikon DSLR he uses for product shots, the white label branding he uses for his Filecamp platform, or a bottle of red wine that pairs well with a good home-cooked meal.
Creative Momentum combines his discipline and curated sense of 'what works best' with over 20 years of experience designing and leading design projects for well-known brands. Ironically, when Glen took a step back so he could find more balance in his life as an independent designer, he ended up taking a step forward and now works directly for RKW, one of the largest importers of consumer products in the United Kingdom.
The Dao of Discipline and Design
Before founding Creative Momentum, he worked as a designer and a project lead for clients at a larger agency. While he excelled as a designer, he was equally skilled at understanding clients' needs and guiding large design projects.
It's a common story and one that many designers have mixed feelings about. As you continue to excel in an agency your work becomes more about management and less about design. Some designers see this as an opportunity to build a broader skill set, while other designers feel it takes them away from their primary role of making the world more beautiful. Before any designer on a career path at an agency starts to think about heading for the door, there's one thing to remember — working as an independent designer requires a ton of discipline.
At Creative Momentum, discipline is a big part of what keeps every project moving from start to finish. Glen has a peaceful sage-like quality to his manner, which balances this intense discipline and work ethic that his clients have come to rely on and trust. Gazing out at the view from his one-room design studio, he relates this bit of wisdom:
"Being disciplined isn't about the work, it's about the results, the right process to deliver the right results. But guess what? I've learned it's not even about that, it's about this other part of life […] delivering quality results on time so that I can be with my kids. Or, be able to relax on a Friday afternoon with a glass of wine knowing that every design piece has been done properly that week."
As he goes on to elaborate his workflow, it's astounding how fluid the routine he has developed is. Moving from his custom-built invoicing and job system to the design process, and on to sharing his designs for review via his Filecamp platform, it's no surprise that he keeps Creative Momentum going and delivering world-class results each and every day. With a disciplined work ethic and the tools to get the job done, Creative Momentum can compete with larger agencies, and Glen can manage the priorities in his life the way he sees fit.
The Tools of the Trade
When it comes to finding the right tools to get the job done, he uses the same sense of taste that guides his judgment in design. And, he doesn't take 'no' for an answer.
For instance, when Creative Momentum needed an invoicing and job system for tracking the administrative side of the design process, he wanted something that was agency-grade. When he didn't find what he was looking for, he built his own database from a custom template he helped produce.
By this time he had started working for RKW, one of the largest importers of consumer products into the United Kingdom. His role was expanding from designing product manuals to designing the product packaging, the media for promotions, and more. Creative Momentum was quickly becoming the go-to agency for RKW as he used his experience to understand RKW's needs and his discipline to deliver results.
There was one thing missing though. With over 60,000 palettes of goods in their main warehouse, RKW was sending Creative Momentum an equally high volume of designs to support the products. Glen knew RKW would need a reliable digital asset management system to streamline the process of going from production to proofing and final printing. A good digital asset management platform would enable product manufacturers to download designs for printing as soon as Creative Momentum received approval on the designs from RKW, and the team at RKW wouldn't have to lift a finger.
Beyond product packaging, there were also the visuals for the stores, and the designs for marketing materials, each of these would require more third party access to the digital assets of RKW. From his experience working in design agencies, Glen understood his clients' needs and knew that most digital management systems cost way too much — often these systems cost more than the software the designs are made with! Clearly, the tools of the trade he was familiar with were not going to work for Creative Momentum and RKW.
Setting the Table
So the hunt was on and he began a review process of comparing features for different file-sharing platforms, brand portals, and digital asset management systems.
Have you ever had a friend or relative and it feels like they take too long at the store selecting produce or ingredients for the meal? But, when your friend or relative cooks, you're so glad they took the extra time to do it right.
Glen is the same way. He takes the time to make sure everything is done right and his clients are glad he does! Things are always moving in the design process, but quality can't be rushed at Creative Momentum. As he puts it:
"Once the right frameworks are in place, you don't have to think about it as much, you can focus on getting the work done."
It's like taking the time to find the right ingredients, or cleaning and setting the table before a meal. With the right framework in place, quality is a result of the process and more attention to detail can be applied throughout production.
At first, he thought Filecamp was too good to be true, considering that Filecamp is affordable for all businesses, including independent designers. Once he took the free trial and started using the system, he knew it was the right tool for Creative Momentum. After he knew Filecamp was the right fit, he kept on moving and immediately set up the white label features to provide RKW a fully branded digital asset management portal with their logo and mission statement right in the interface.
Done for the Day
At the end of the day, Glen and Creative Momentum are responsible for designs that influence the purchase decisions of millions of people in the United Kingdom. A master of the dao of discipline, and with an innate sense for the right tools to get the job done, he is one man that delivers the output of an entire agency and matches quality every step of the way.
As a result, RKW has been able to move even faster through the design and production process. Creative Momentum and Filecamp give the team at RKW, the product manufacturers, and marketers, access to the files they need without any major effort on their part. He's not only improved the designs at RKW, he's improved their entire design production process while improving the quality of the results. Not bad for a day's work!
Glen takes it all humbly in stride and remains gentile despite an amazing level of discipline and attention to detail he carries into all aspects of his life. Closing his MacBook at the end of a day, he quietly steps downstairs from his studio to set the table for dinner with his kids that night.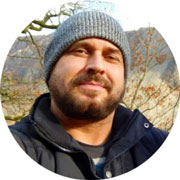 "Once the right frameworks are in place, you don't have to think about it as much, you can focus on getting the work done."Glen Webster, Creative Momentum