Supported file types
You can upload any file type to your Filecamp account … and preview most file types directly in your browser!
File types
All file types can be uploaded and stored in your Filecamp, and you can preview almost any file format, including .pdf, .psd, .ai, .eps, .jpg, .tif, .mov, .avi, .mp4, .svg, .doc, docx, xls, xlsx, ppt, pptx, etc.

Notice: If you're having trouble previewing a file, Filecamp may be unable to support your file type, or it might be too big to be previewed.
You can upload all file types and file sizes to Filecamp, but if your files are larger than 200 MB / 100 megapixels, you will not be able to preview the files.
A file megapixel number is calculated by multiplying the number of vertical pixels by the number of horizontal pixels. For example, an image that is 4000 x 6000 pixels will be a 24 megapixels file.
Video / audio transcoding
Video and audio files depend on browser plug-ins to play properly. If your video files are in .mp4/.m4a (H.264) format you are able to preview the original video/audio file directly in the browser.
If your files are in another format/encoding, Filecamp encodes a copy of your video/audio file to ensure that your video/audio file can be previewed in a browser and on all devices. This copy is used for preview purposes inside Filecamp only. The original file uploaded to Filecamp will, of course, not be affected!
The encoding process will start automatically when you upload video and audio files to Filecamp. If you don't want Filecamp to encode your video files just upload them as .mp4/.m4a (H.264) files.
Most video and audio files are encoded almost instantly. For larger files (+1GB) the encoding process might take up to an hour. All encoded video files are previewed as an mp4, H.264, ACC, 720 px, wide format file. But you will always download the original video and audio files.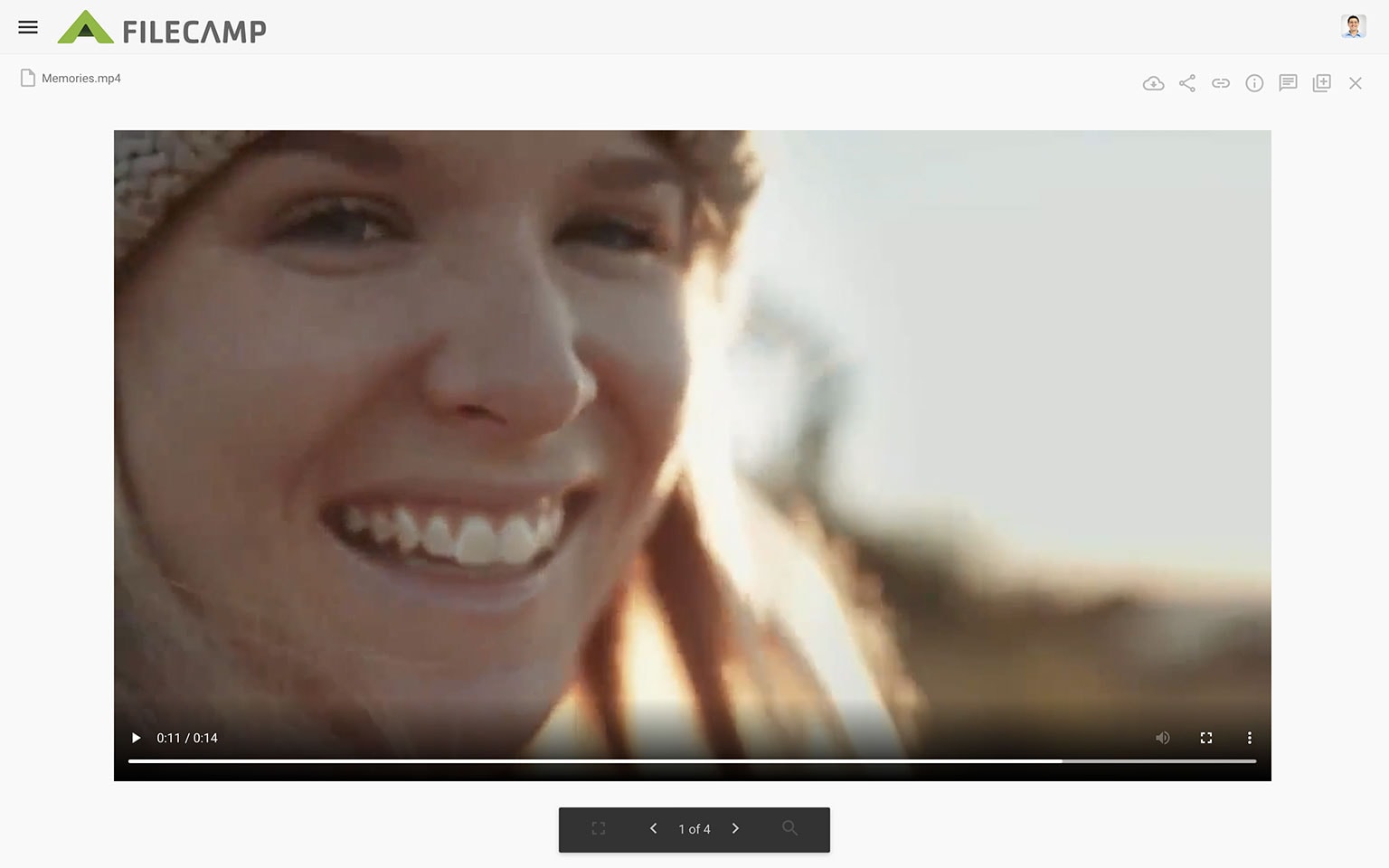 Notice:
By default Filecamp encodes a mp4/.m4a (H.264) version of all video files so that they can be previewed in a browser. The encoding process starts automatically, but for large video files, it might take 10-15 minutes before they can be previewed in your browser. Also, notice that these preview versions of your video files take up extra storage in your account. If this is a problem, you can disable encoding of video files in
General Settings
.