Search for files & folders
Filecamp's search tool makes it possible to quickly search huge quantities of files and folders.
Search for files and folders
Click the Search
icon located in the Toolbar.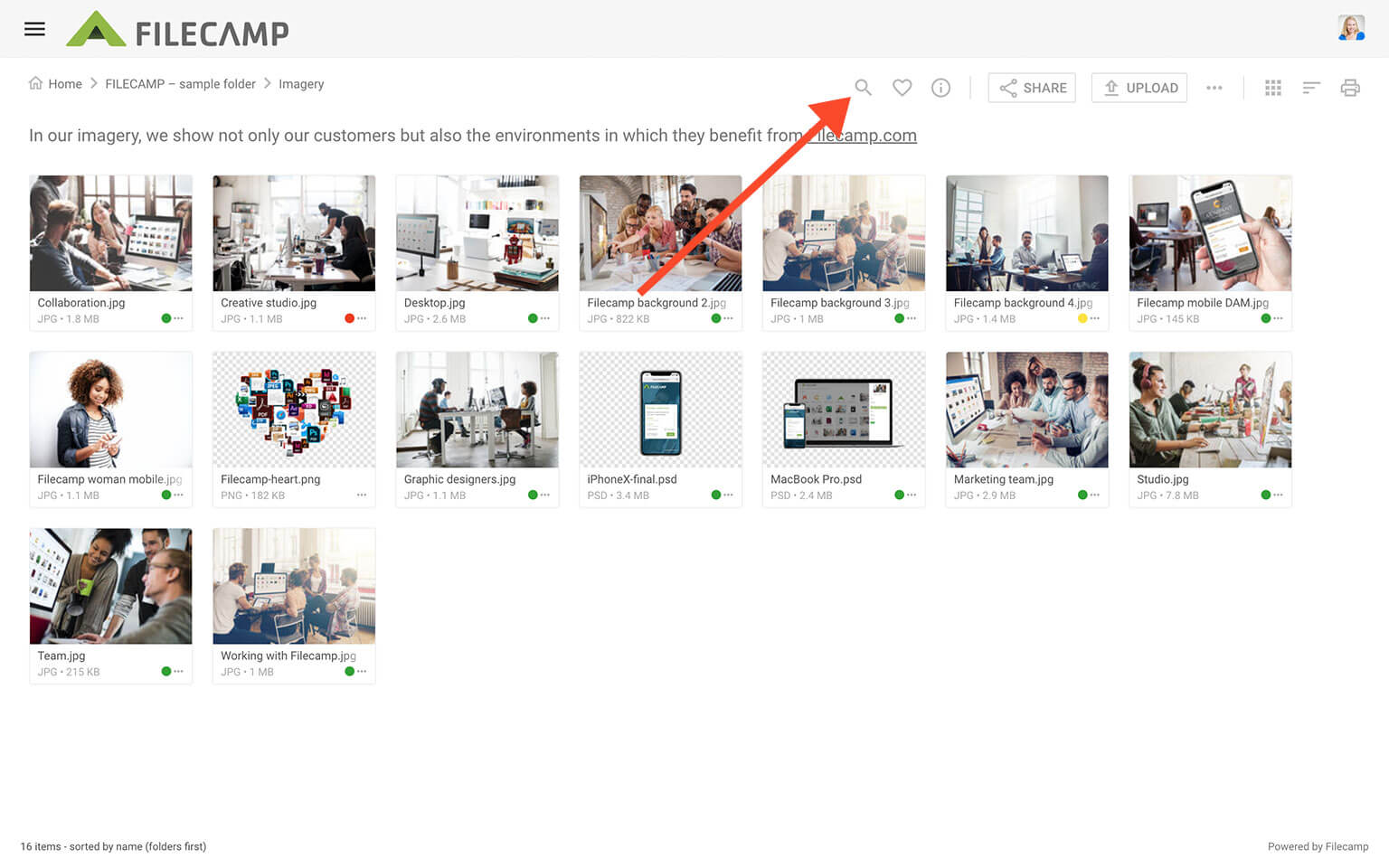 ---
In the Search window you can type anything related to the stored files. Press Search to execute the search.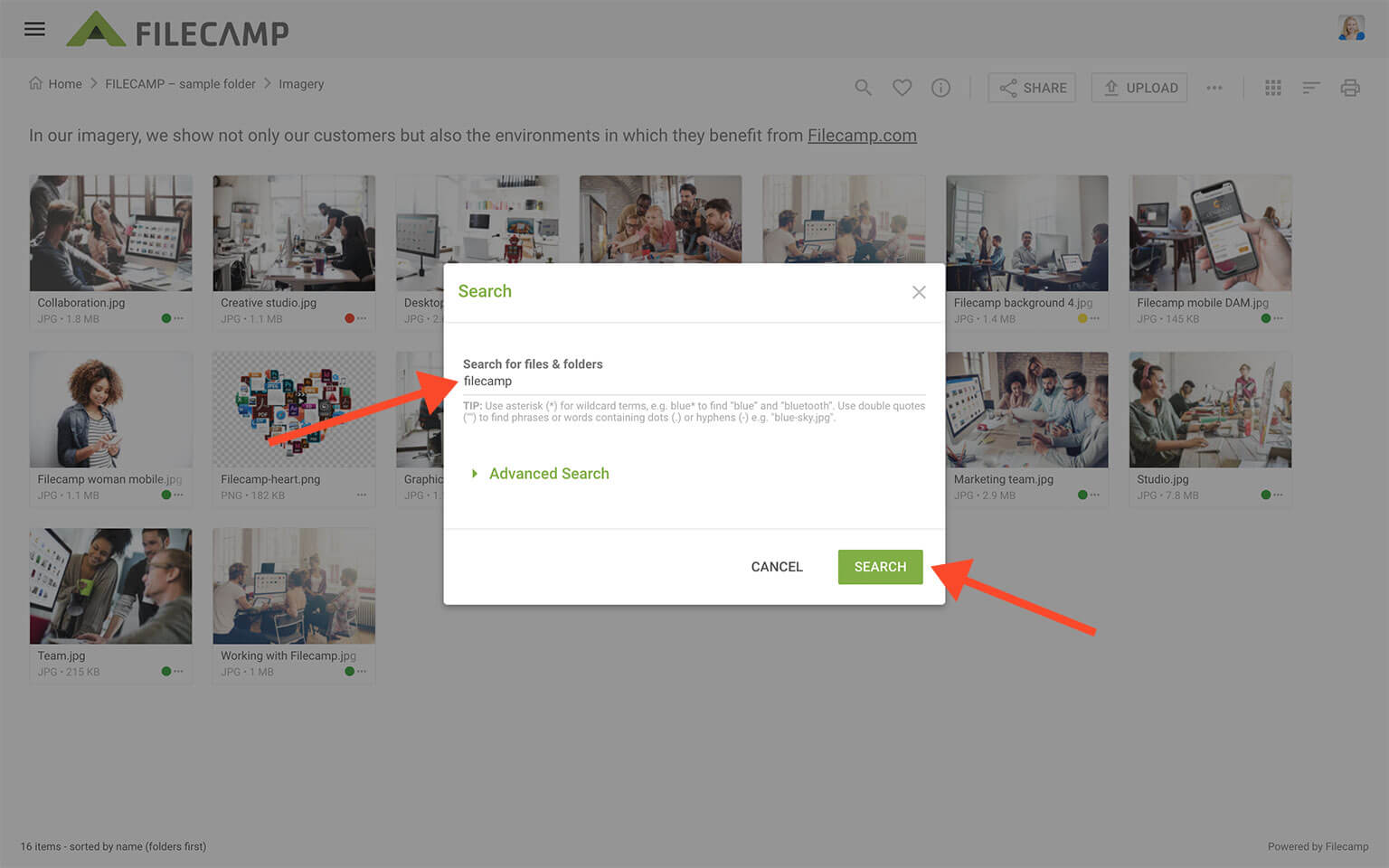 A normal search will be a global search; anything in the files that are related to what was searched will be displayed. This can be file names, descriptions, tags, keywords, folder names, etc.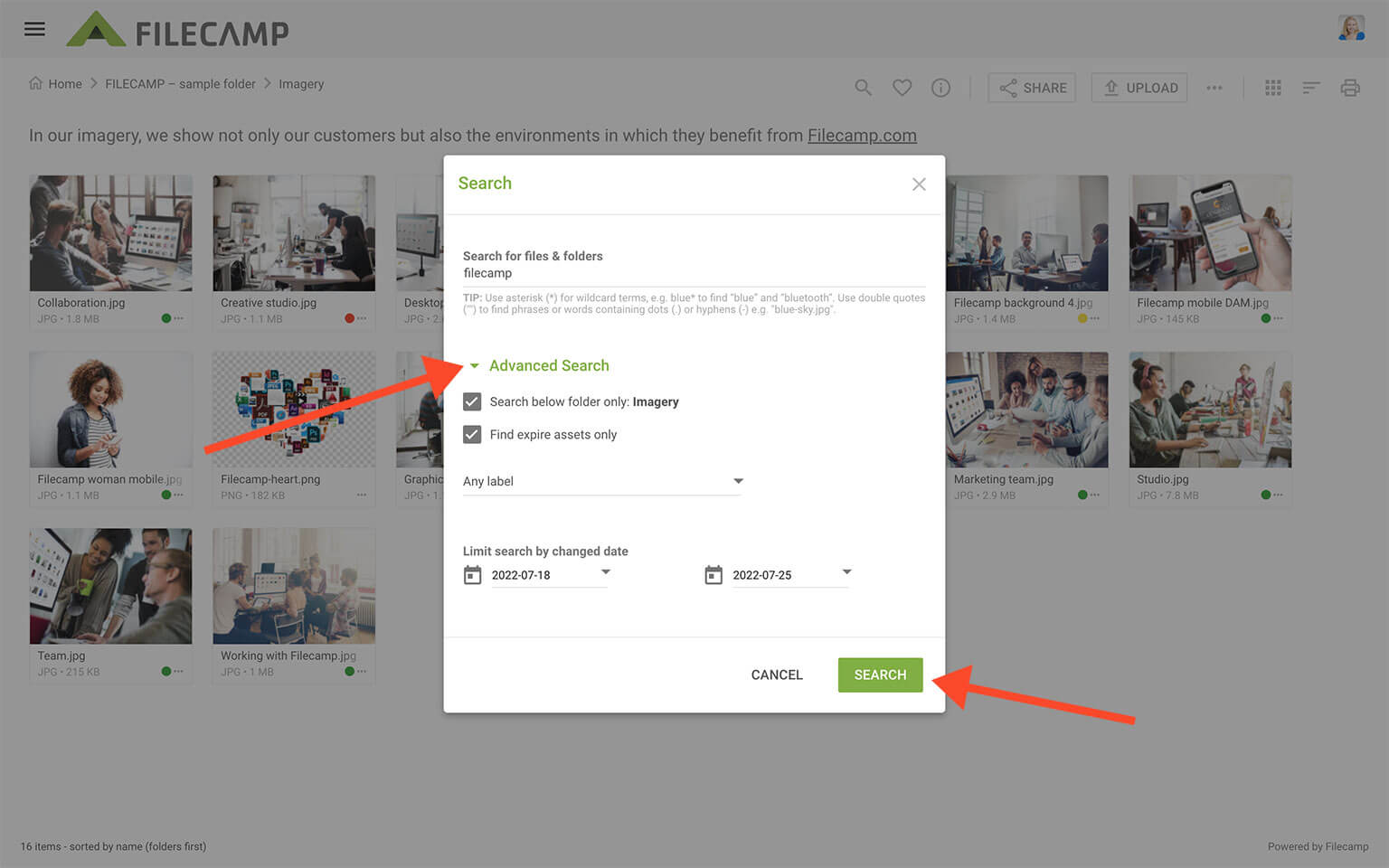 The Advanced Search options enables users to search for assets by entering values for specific attributes:
Search below folder only – narrow your search to items contained in your current folder and below.
Find expired assets only – narrow your search to expired items only.
Find files with label – narrow your search to specific labels only.
Limit search by changed date – narrow your search to a specific time frame.
Press Search to execute the search.
---
Search Result page
The Search result page shows you a list of all the items that have been found.
You can click on the View toggle 
icon to toggle between Gallery View and List View.
To go to a specific search entry, just double-click on the item in the search results, and you will see the file in a larger preview.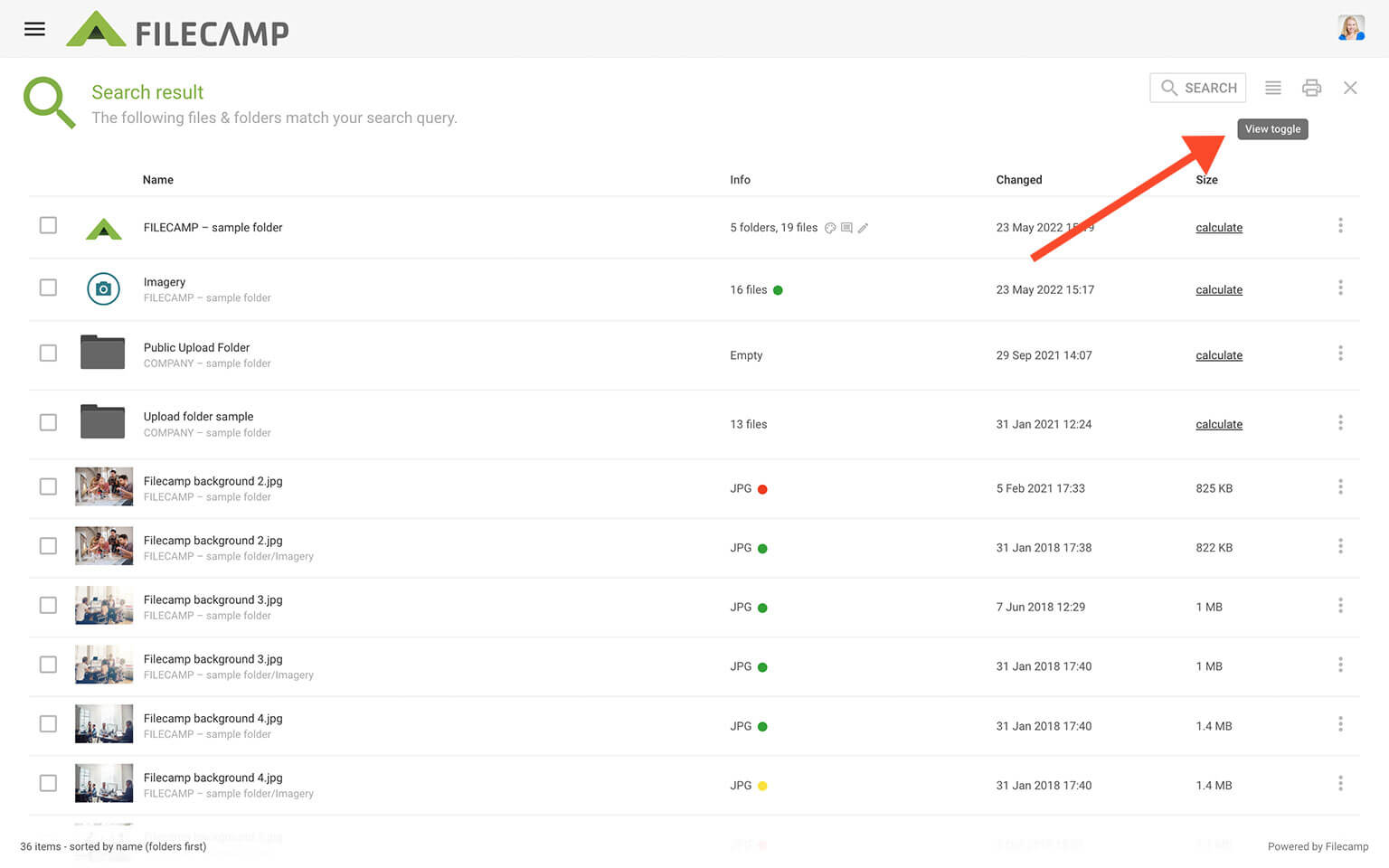 Downloading from search results and other actions
From the Search Results list you can download a file by clicking on the Three Dots Menu
and selecting
Download.
If you want to download multiple items you can select all the files and folders you want to download and choose
 Download in the Bulk Action Bar.  A .zip archive will now be created and the download process will begin.
You can also
Share,
View info,
Change label,
Comment,
Move,
Copy,
Add to collection, and delete files directly from the Search Results page.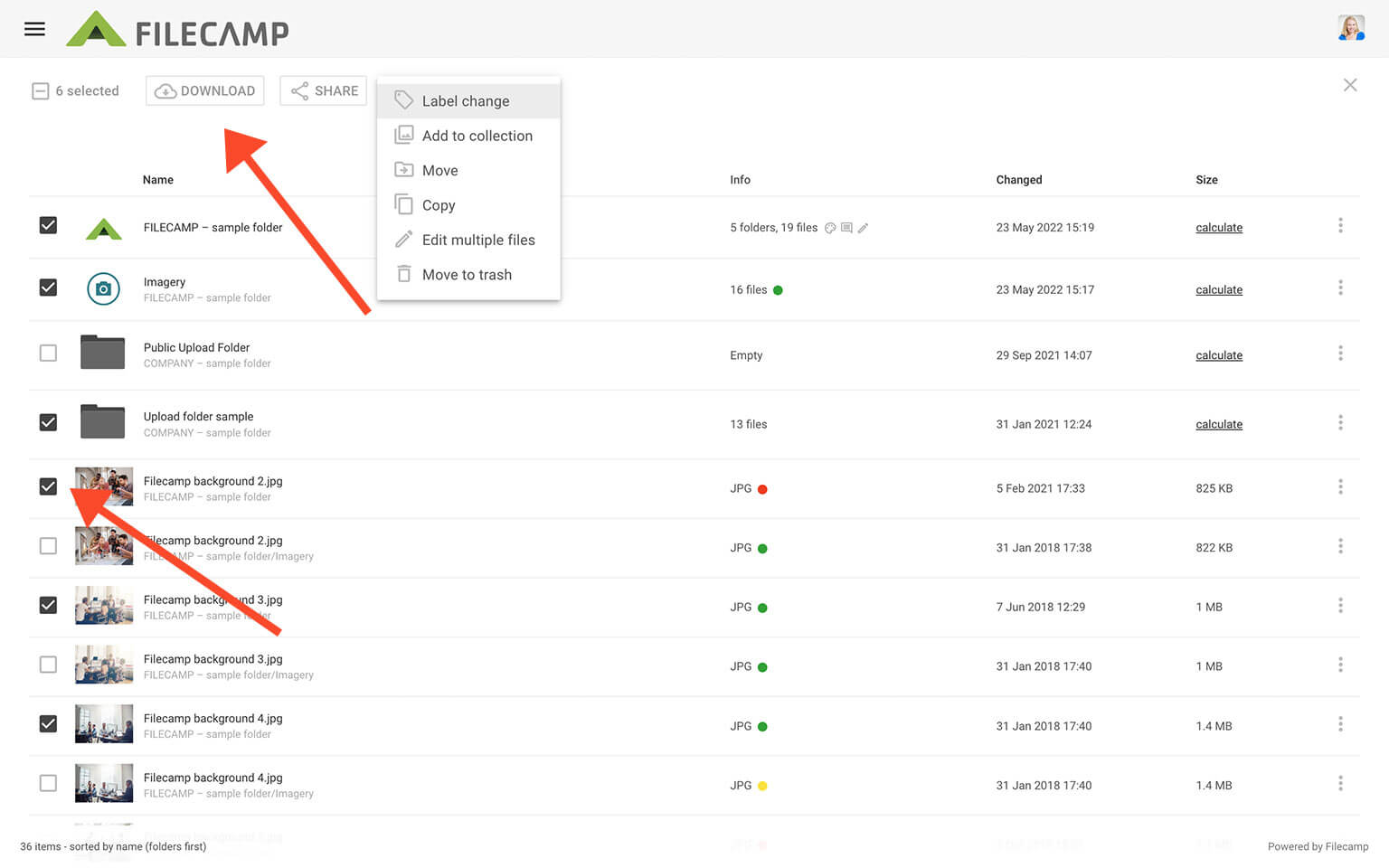 Notice:
 You will only be able to search the files and folders you have been granted
access
to. So don't worry; your customers and collaborators won't see files from folders they do not have access to in the search results.
Tip: When using Limit search by changed date notice that "From date" and "To date" cannot be the same date.
Boolean Search
Boolean search lets users identify assets based on a true or false (binary) basis, allowing you to specify exactly what information you want to retrieve using the terms "and," "or," and "not." Boolean search logic comes in especially handy when you're searching through a very large collection of assets.
Read more.
Related articles
Files
Look and feel
Folders
Users
Favorites
Search
Collections
Labels
Commenting
Trash